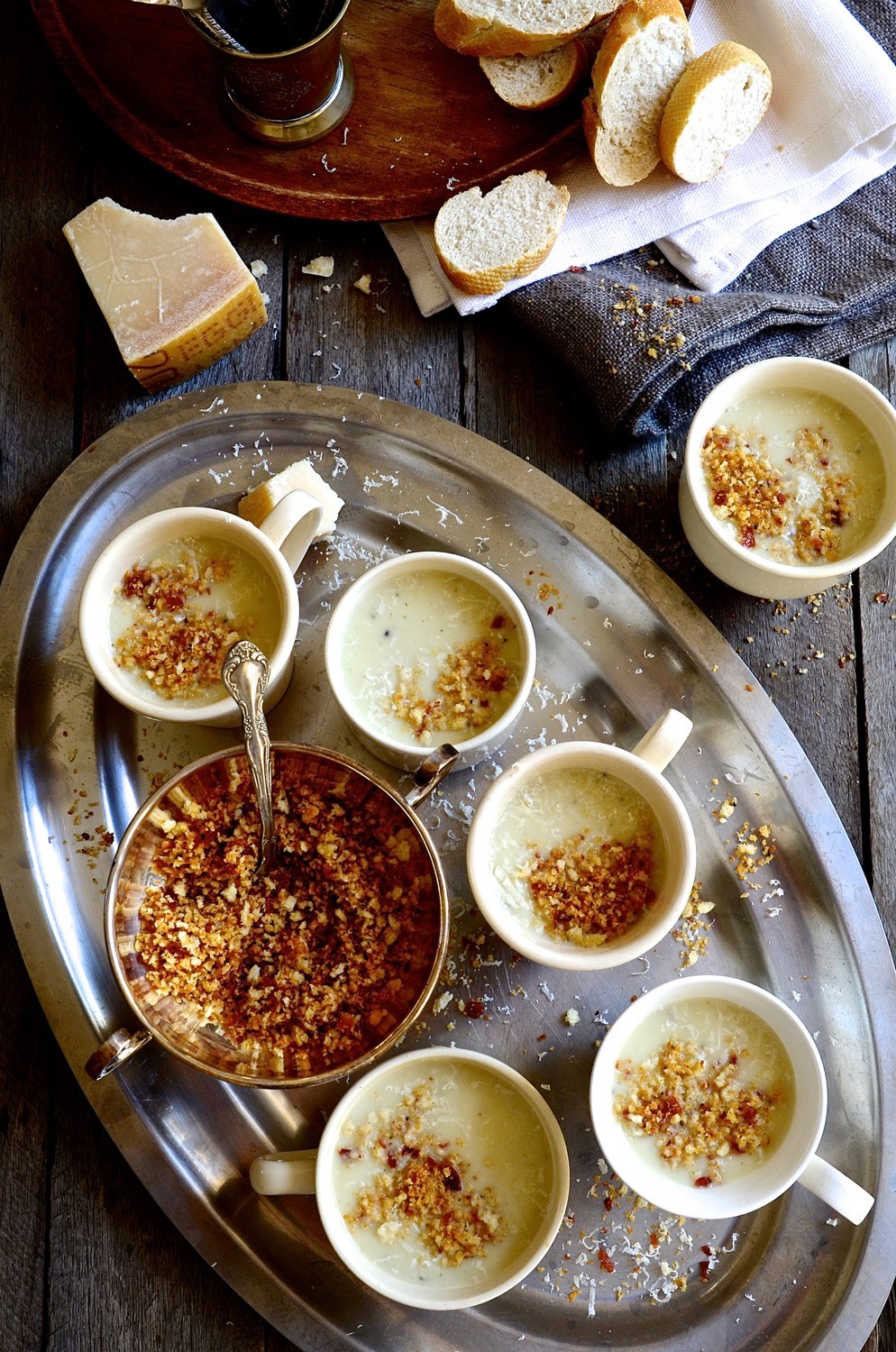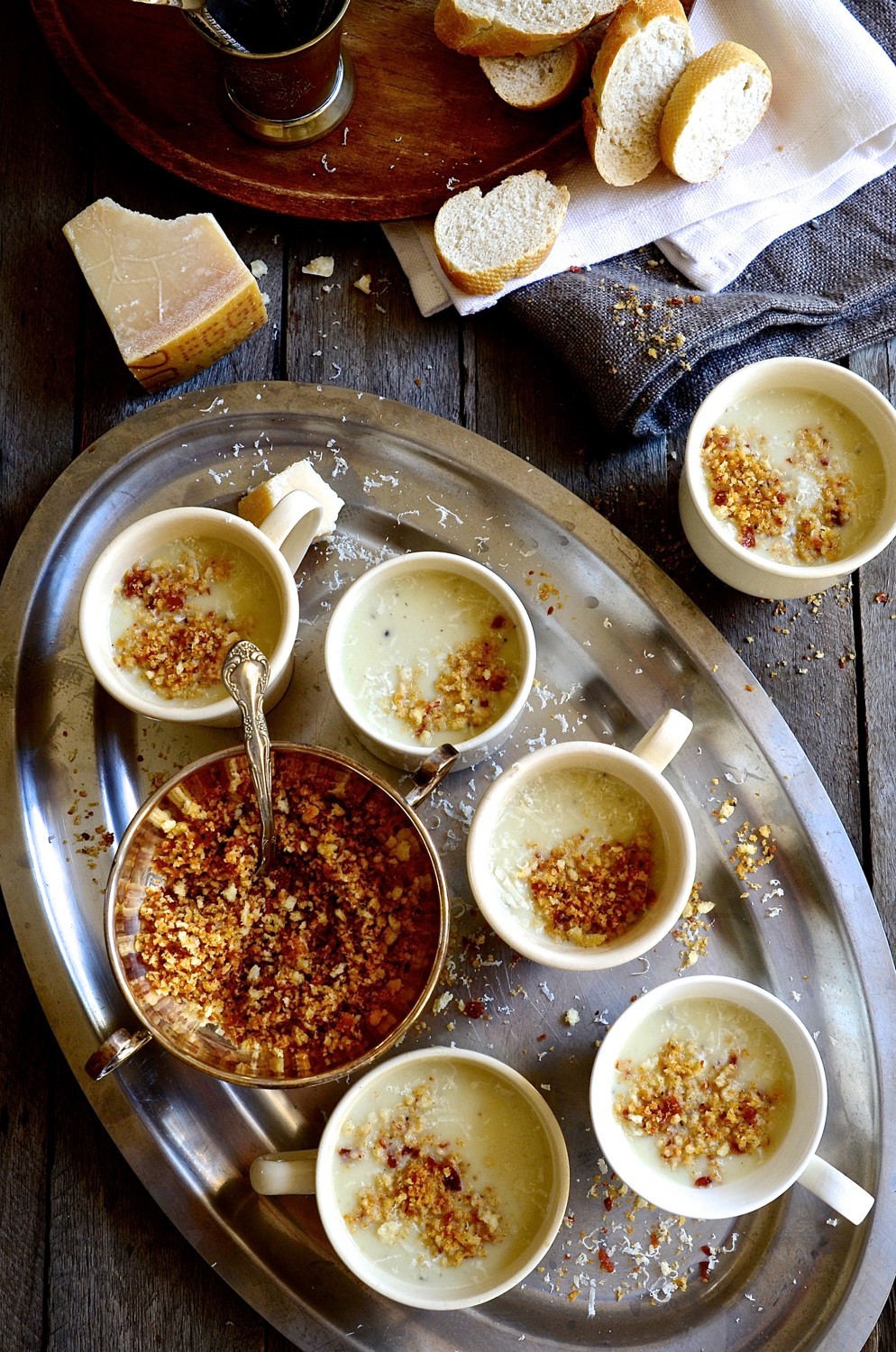 This is my interpretation of vichyssoise, the famed French classic, leek and potato soup. Typically served chilled, but equally good hot. Said to have been created by a French chef working at the New York Ritz Hotel in 1917, the original vichyssoise was laden with cream. French chef Jules Gouffé published a recipe for a hot potato and leek soup, which appeared in Royal Cookery, dating back to 1869. It's true origin is contested. Some say it belongs to France, others claim it's an American invention. Ownership aside, my vichyssoise is lighter but equally delicious.
Soup is the quintessential winter, meal in a bowl. All it needs is a crusty baguette and some toppings. Crumbly croutons are to soup what streusel is to a muffin. Because the soup is quite rich, I like to serve smaller portions in either cups or mugs. The crumble contains bacon bits, so if you're wanting a vegetarian option, swap out for chopped walnuts. This leek and potato soup can be made in advance and frozen in suitably sized portions. When reheating remember to whisk with a balloon whisk to break up the tiny ice crystals.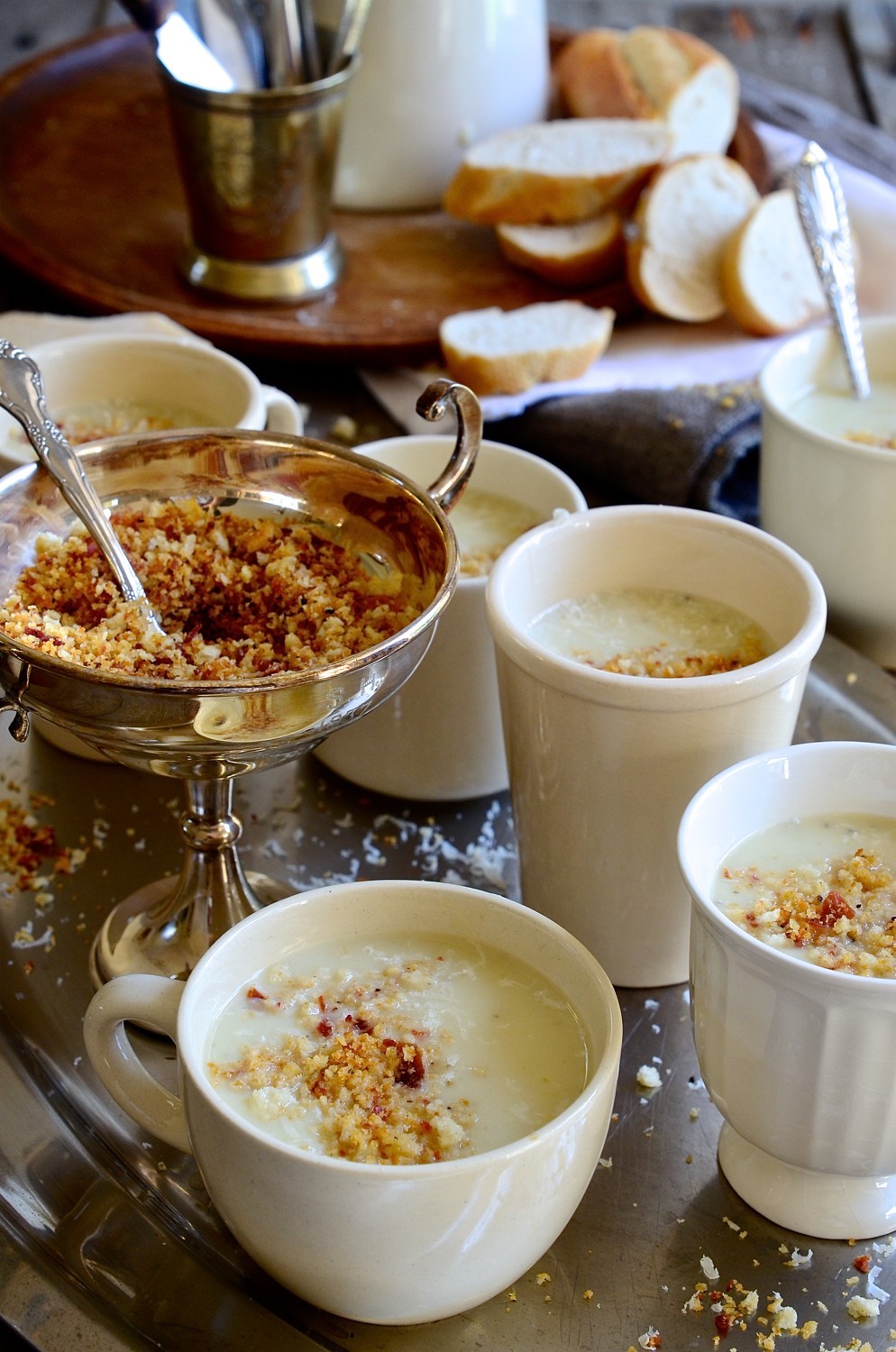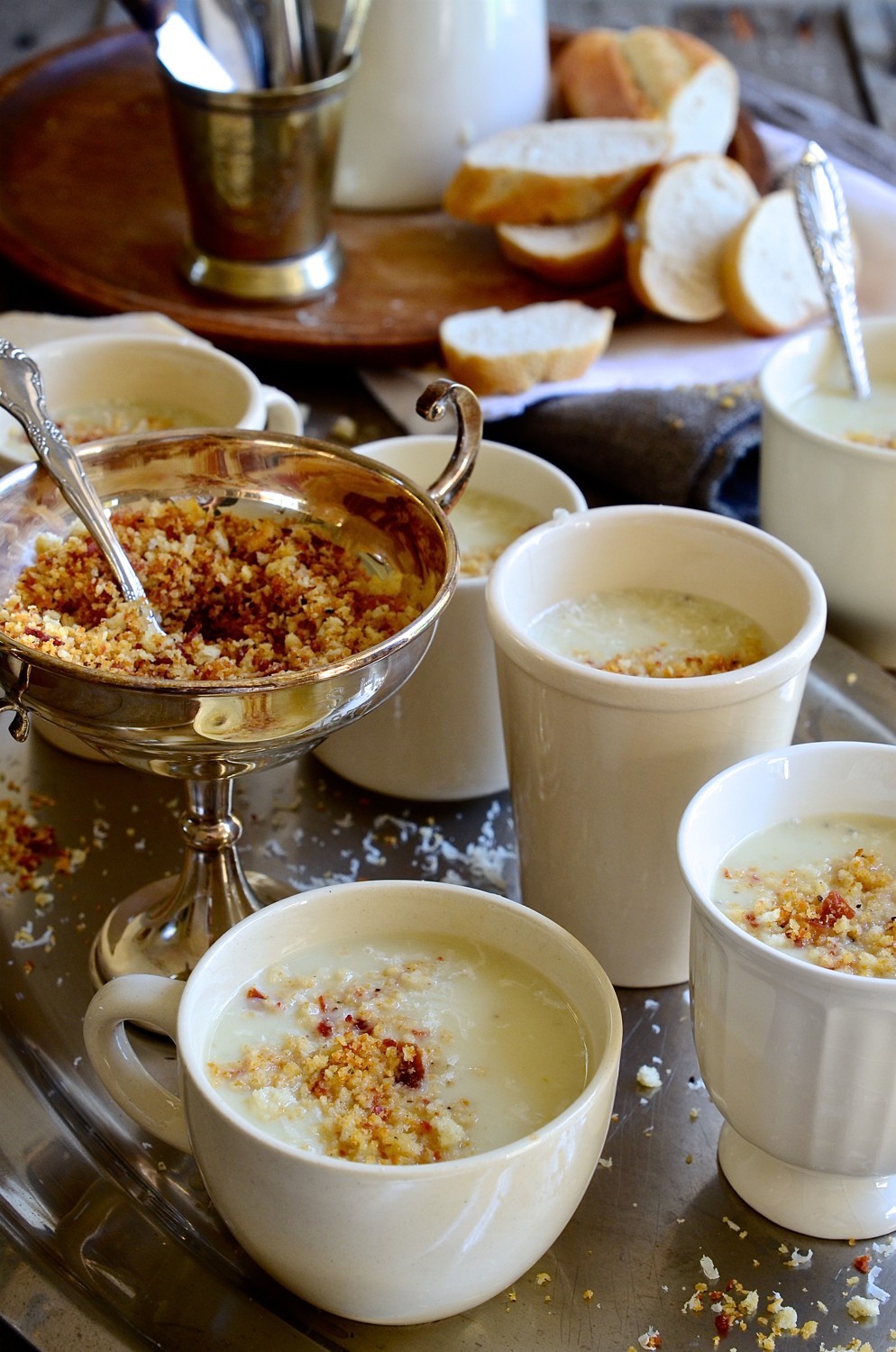 Vichyssoise soup
Serves 6
2 tablespoons butter
1 tablespoon olive oil
1 shallot, peeled and finely diced
3 medium sized leeks, cut into rounds
900g starchy potatoes, peeled and diced
several sprigs thyme
1/2 teaspoon dried oregano
2 bay leaves
4 cups vegetable or chicken stock , if you're not doing the vegetarian option
1/3 cup single cream
1 cup full cream milk
1/3 cup parmesan cheese, grated
For the bacon crumble
1 tablespoon olive oil
3 strips smoked, back bacon
1/2 cup, day old ciabatta breadcrumbs
2 tablespoons parmesan cheese, grated
In a deep saucepan, heat the butter and olive oil. Sauté the shallots and leeks until soft and just starting to colour. Add the potatoes, thyme leaves and oregano. Season with salt and pepper and cook for about 3 minutes. Add the bay leaves and stock. Simmer with the lid on for 35 minutes. Check that the potatoes are tender and soft. Remove the bay leaves and transfer to a blender. Blitz in batches until smooth.
Pour the soup back into the saucepan and add the cream, milk and parmesan cheese. Bring back up to a simmer and whisk with a balloon whisk to incorporate the cheese thoroughly.
For bacon crumble, heat 1 tablespoon olive oil in a frying pan. Brown the bacon on both sides until crispy and well coloured. Drain on a paper towel. Chop the bacon into fine pieces. Add the ciabatta crumbs to the pan and fry until golden and crisp. Season the croutons with a little salt and pepper. Add the bacon to the breadcrumbs and stir through the 2 tablespoons parmesan cheese. Set aside to cool and crisp up. Serve the crumble topping alongside the soup.