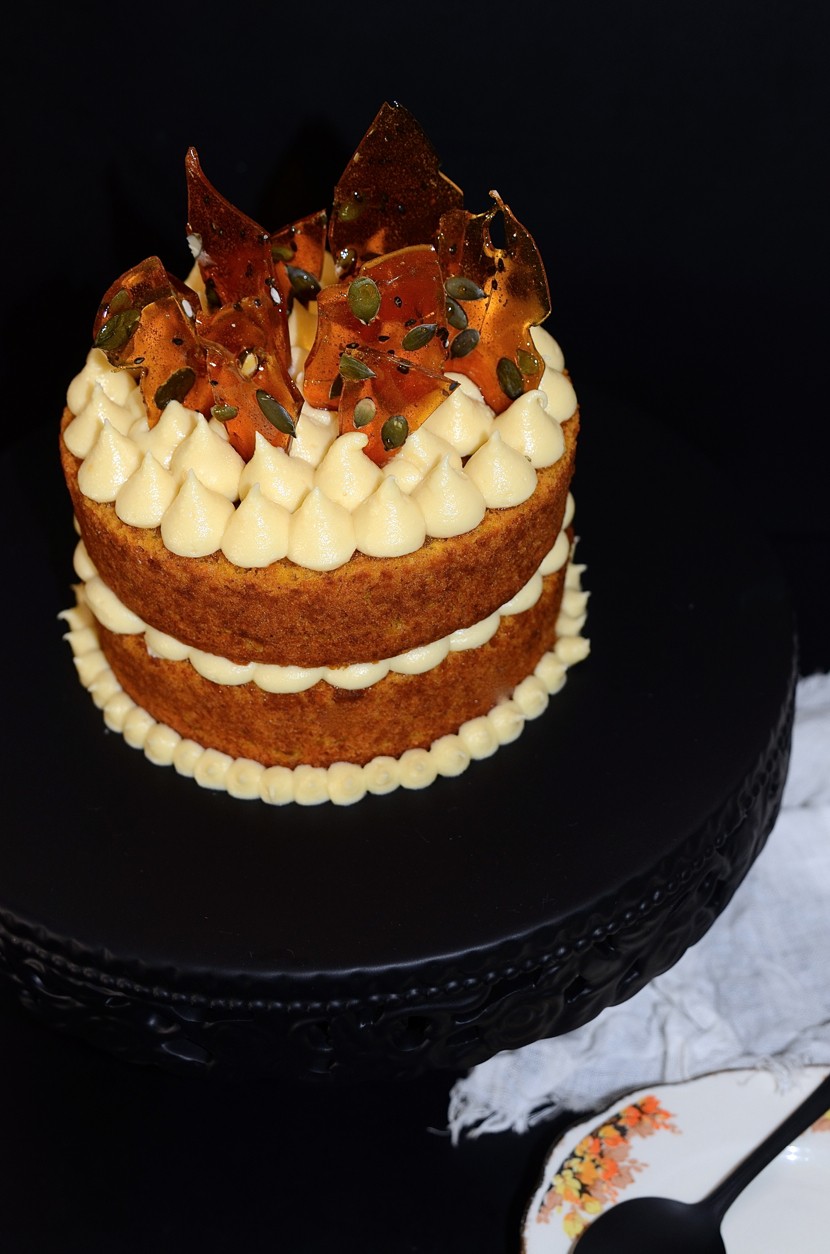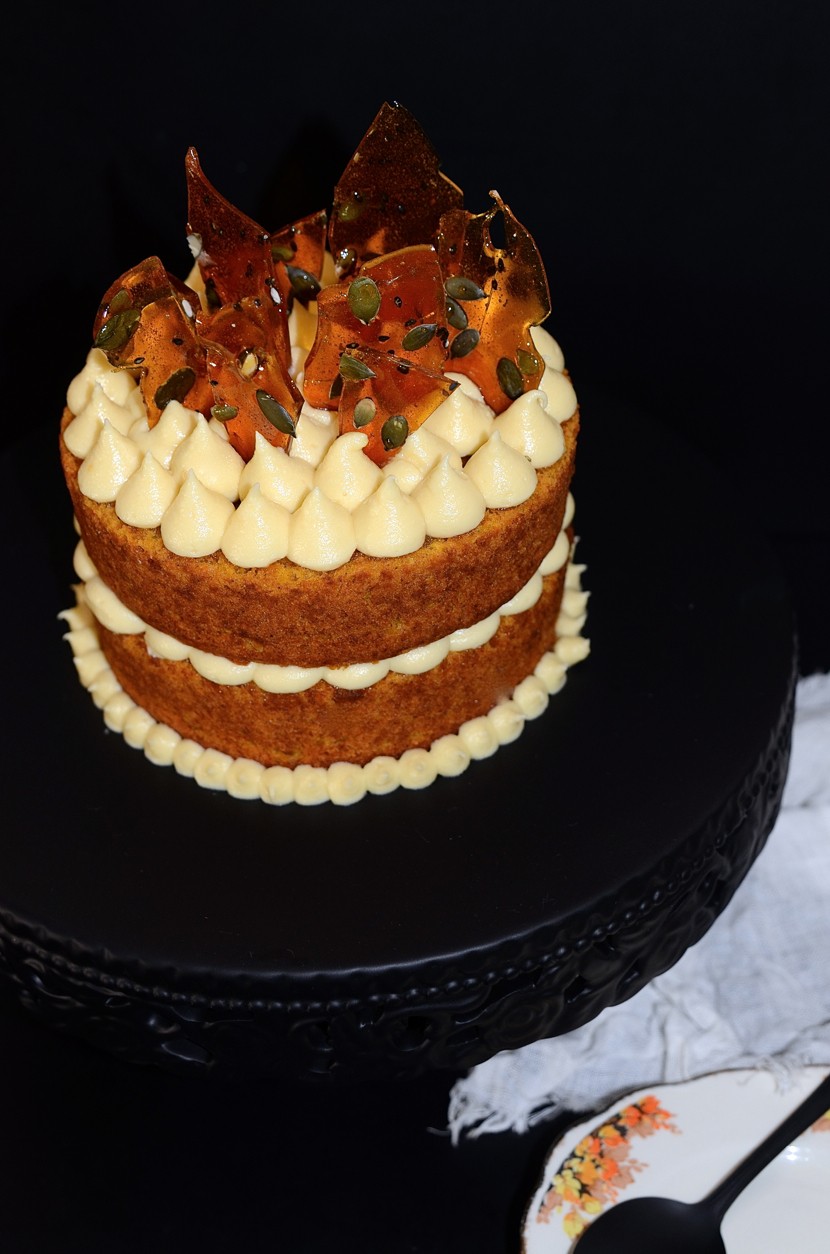 Truthfully, I've never made a pumpkin cake before and now I'm wondering why. Suffice to say, I'm smitten. If Red Velvet had a twin, this would be the flaming, feisty twin. The cake itself is fragrantly aromatic with an utterly tender crumb, but if this is not quite enough to move you, consider for  a moment the maple mascarpone frosting. It is quite simply s.u.b.l.i.m.e. I'm pretending it's yoghurt and just eating it by the spoonful.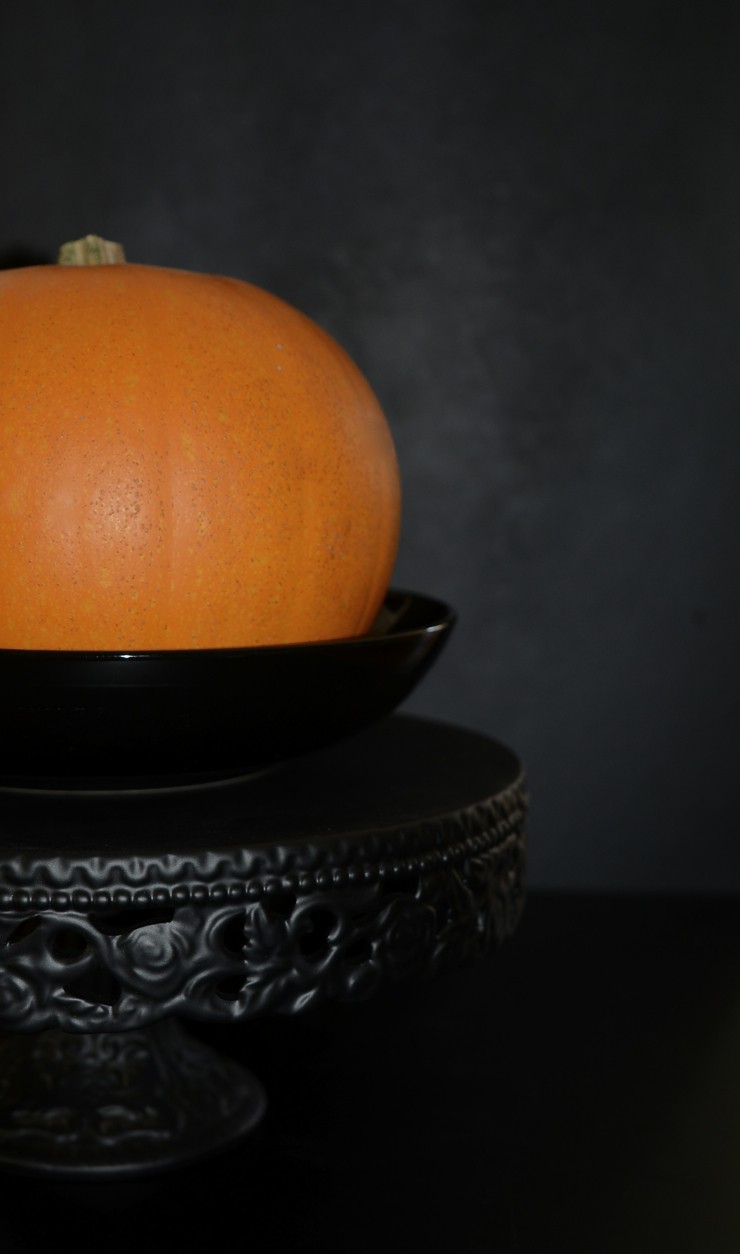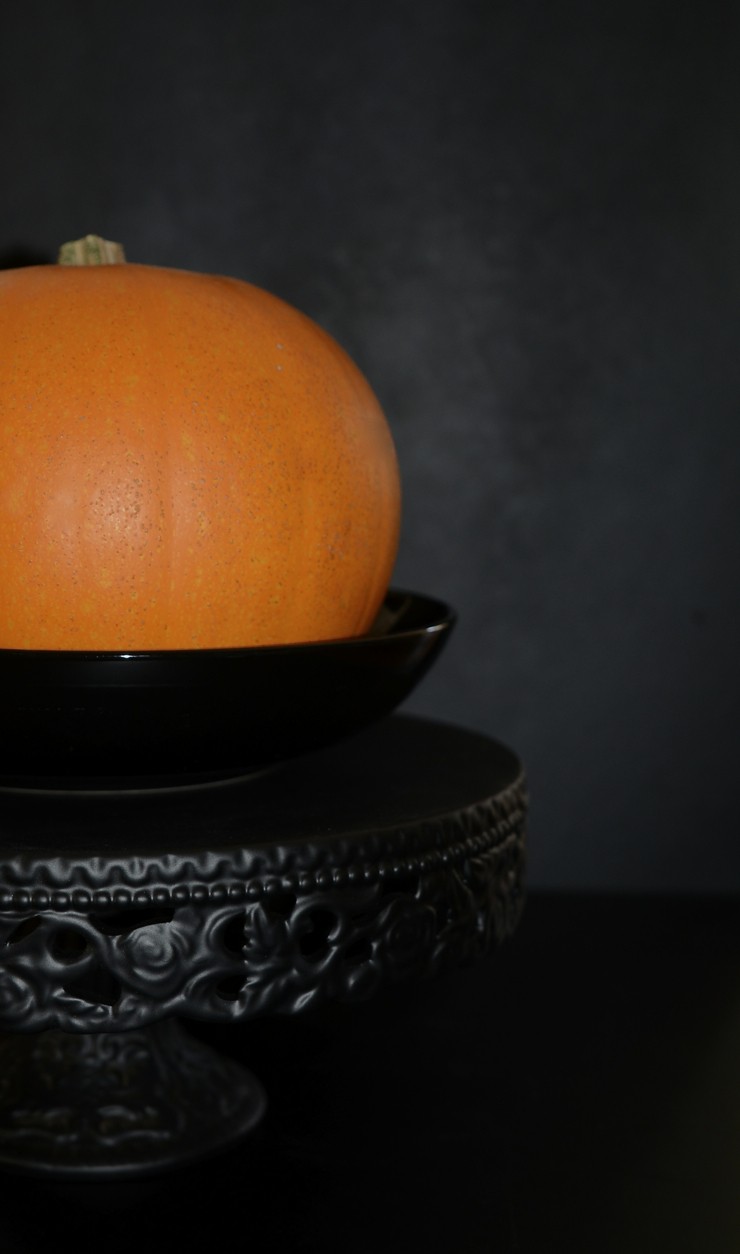 Cinderella had one and it whisked her off to the ball. I have one too and it's sitting atop my kitchen counter. My aspirations for it are slightly less ambitious, but thoroughly comforting and rewarding. Although we don't go the Halloween route, I found it impossible to resist this orange ball-shaped, sweet as pie, little pumpkin. As we've had our fair share of 'pampoen koekies' around here, I thought we'd up the stakes and go with something more jovial. So, while the kids are running rampant through the neighbourhood on Halloween collecting candy, cut yourself a dignified slice and enjoy.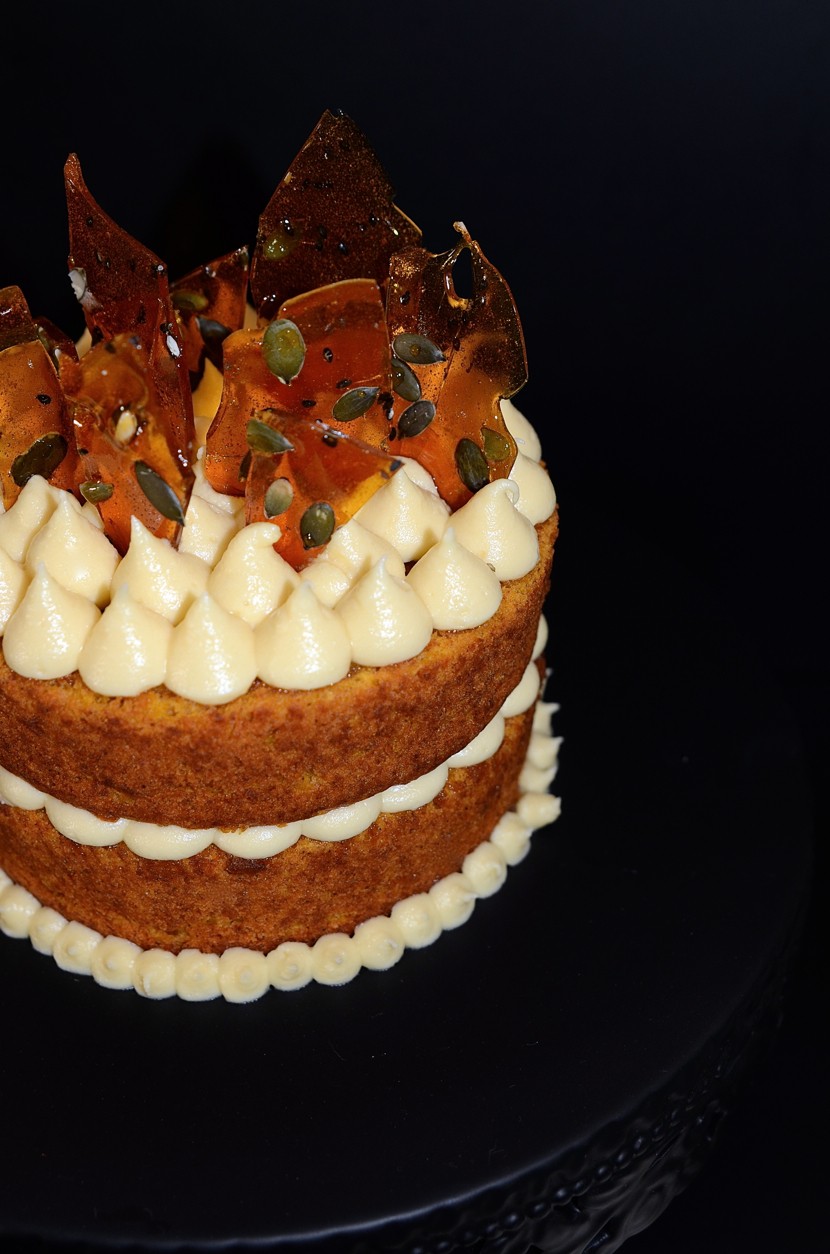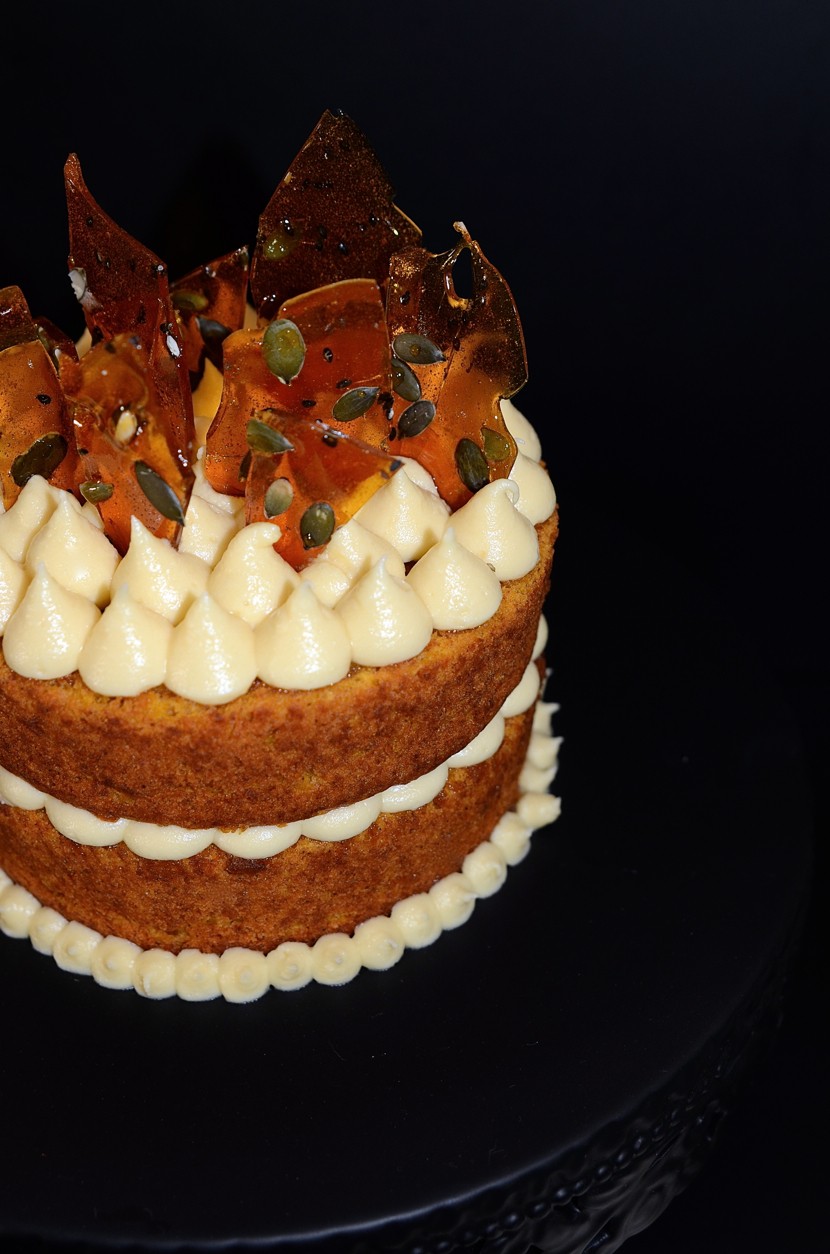 If you live in the US, tinned pumpkin pureé is readily available off the shelves, but here, down south, it's a little more DIY. There are two simple ways to do it – steam, or cook in a little water on the stove-top. Once all the water has cooked off, blend the pumpkin in a food processor or with a stick blender until smooth. Allow to cool completely before adding to the cake batter.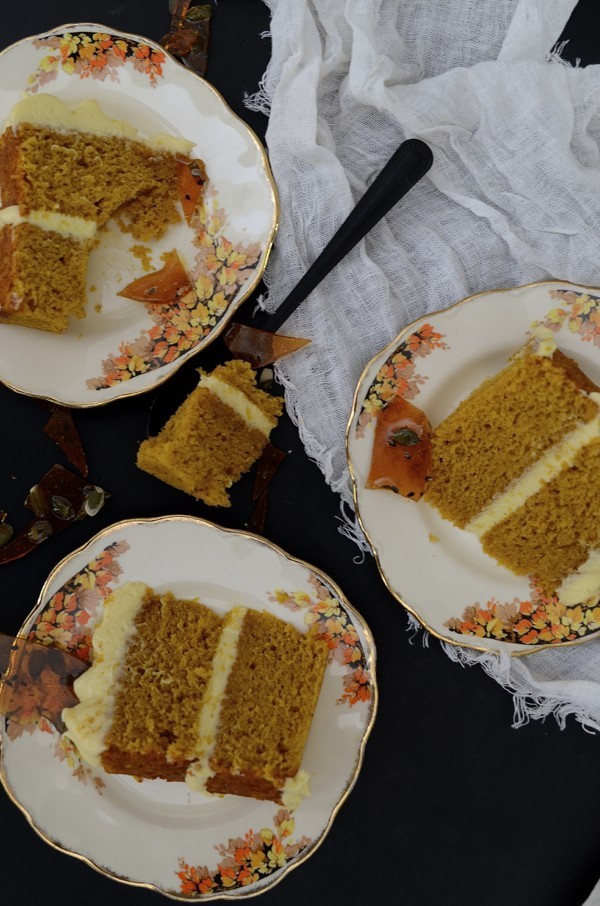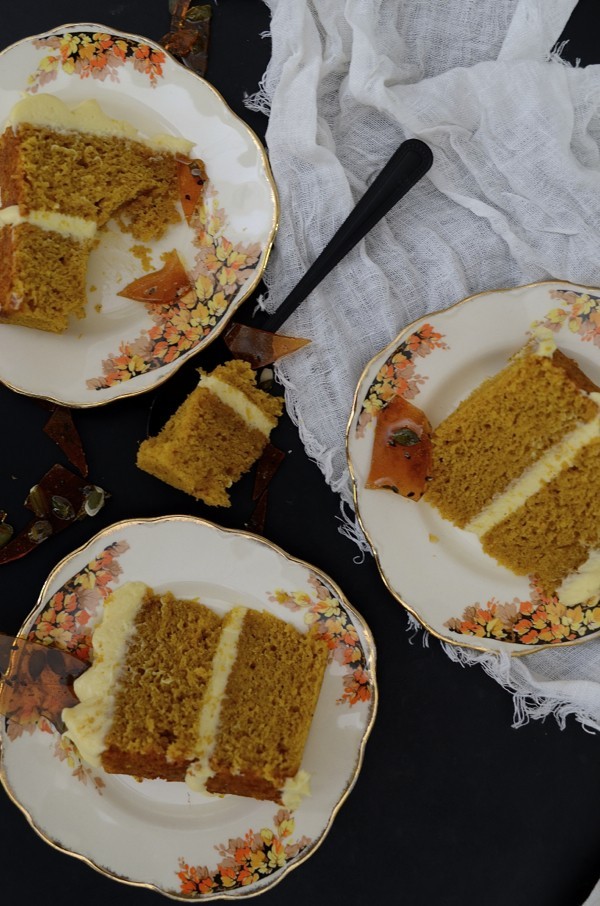 Spiced pumpkin cake with maple mascarpone buttercream frosting
125ml vegetable oil
200g brown sugar
1 teaspoon vanilla extract
2 eggs
240g cooked pumpkin
160g all-purpose cake flour
7.5ml baking powder
7.5ml ground cinnamon
1 teaspoon mixed spice (all spice)
1ml nutmeg
a pinch of salt
Preheat the oven to 180ºC. Grease and line 2 x 15cm cake tins with parchment paper. Place the oil, sugar and vanilla in a mixing bowl and beat until well combined. Add the eggs, one at a time , beating well after each addition. Now whisk in the cooked pumpkin pureé.
Sift together the flour, baking powder, spices and salt. Fold the dry ingredients into the pumpkin mixture. Divide the batter evenly between the baking tins and smooth over with the back of a spoon. Tap the tins firmly on the counter to remove any air pockets. Bake for 35-40 minutes.  Allow the cakes to rest in the tins for at least 15 minutes before turning out. Set aside to cool completely before frosting.
Maple mascarpone buttercream frosting
90g softened butter
100g cream cheese, at room temperature
120g confectioner's sugar
100g mascarpone
30ml Canadian maple syrup
5ml lemon juice
a pinch of salt
In a small mixing bowl, whisk together the butter and cream cheese until light and well combined. Sift in the confectioner's sugar and beat again. On a low-speed, add the mascarpone, maple syrup, lemon juice and salt. Over beating at this point will cause the buttercream to split due to the high fat content of the mascarpone, so just a gentle mix is necessary.
To assemble, place your first layer on a cake stand. Spread a with butercream or pipe it on if you prefer. Place the second layer on top and press down gently, with just enough pressure to bulge the frosting over the edges. Ice the top and the base of the cake with the remaining buttercream. Decorate with seeded caramel shards.
Pecan and sesame caramel chards
100g castor sugar
1 tablespoon of each, pumpkin and black sesame seeds
For the caramel, place the sugar in a small saucepan on a medium high heat. Do not stir the sugar until pools of golden liquid start to form. Once the caramel is a deep amber colour, add the black sesame seeds. Pour the hot caramel out onto a greased baking sheet. Top with the pumpkin seeds and allow to cool and harden, before breaking up into shards.