Besotted, to be blindly or utterly infatuated. Prepare for the inevitable. A baked custard-y affair with a soft belly and burnished caramelised crust. Traditionally flavoured with vanilla and a generous splash of rum, I've given this classic French pastry a little Swedish make over. I've tested the recipe several different ways, adjusting flavour combinations, fat content and baking times. These Speculaas Cannelés are the final result.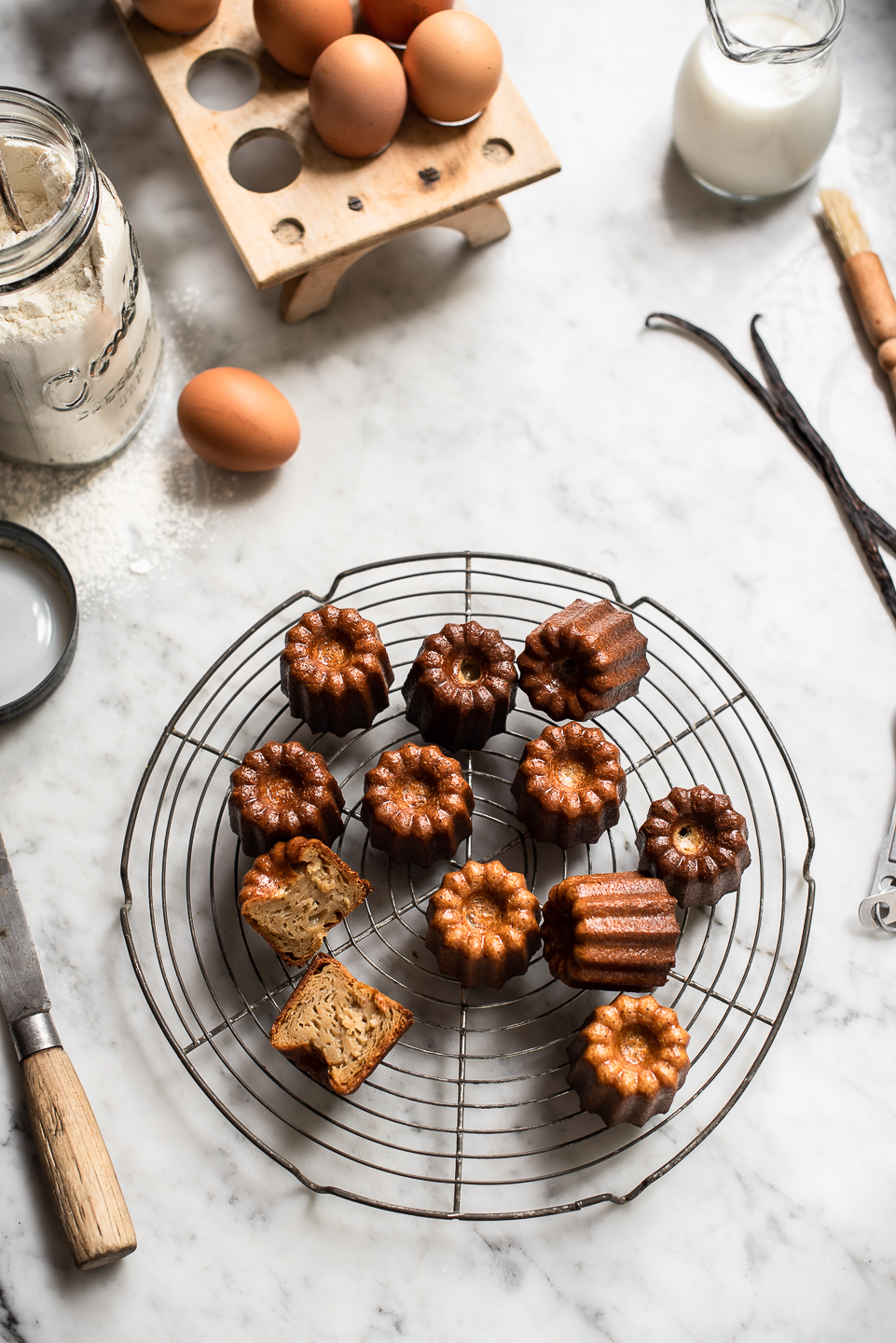 The ingredients are kitchen staples. Milk, flour, sugar, eggs. Almost like a pancake story, we're after a pouring cream consistency. How then does this runny batter turn into one of Bordeaux's most famous delicacies? As with most things, the secret lies in method. When mixing the batter, incorporate as little air as possible. Then, and possibly one of the most important factors, a 24- 48 hour resting period. Slow hydration of the flour softens the texture and deepens the flavour. And lastly, a really hot to encourage intense caramelisation, followed by a lower temperature bake for a further hour or so. None of the steps are difficult, just different. To make things very doable, I use Le Creuset's non-stick Cannelés tray, which does away with fussy beeswax and shopping on Etsy for teeny tiny copper moulds. I do hope you try these Speculaas Cannelés. They are utterly charming and so very French. They're lovely with mid-morning coffees or for dessert, if you prefer something light and not too sweet.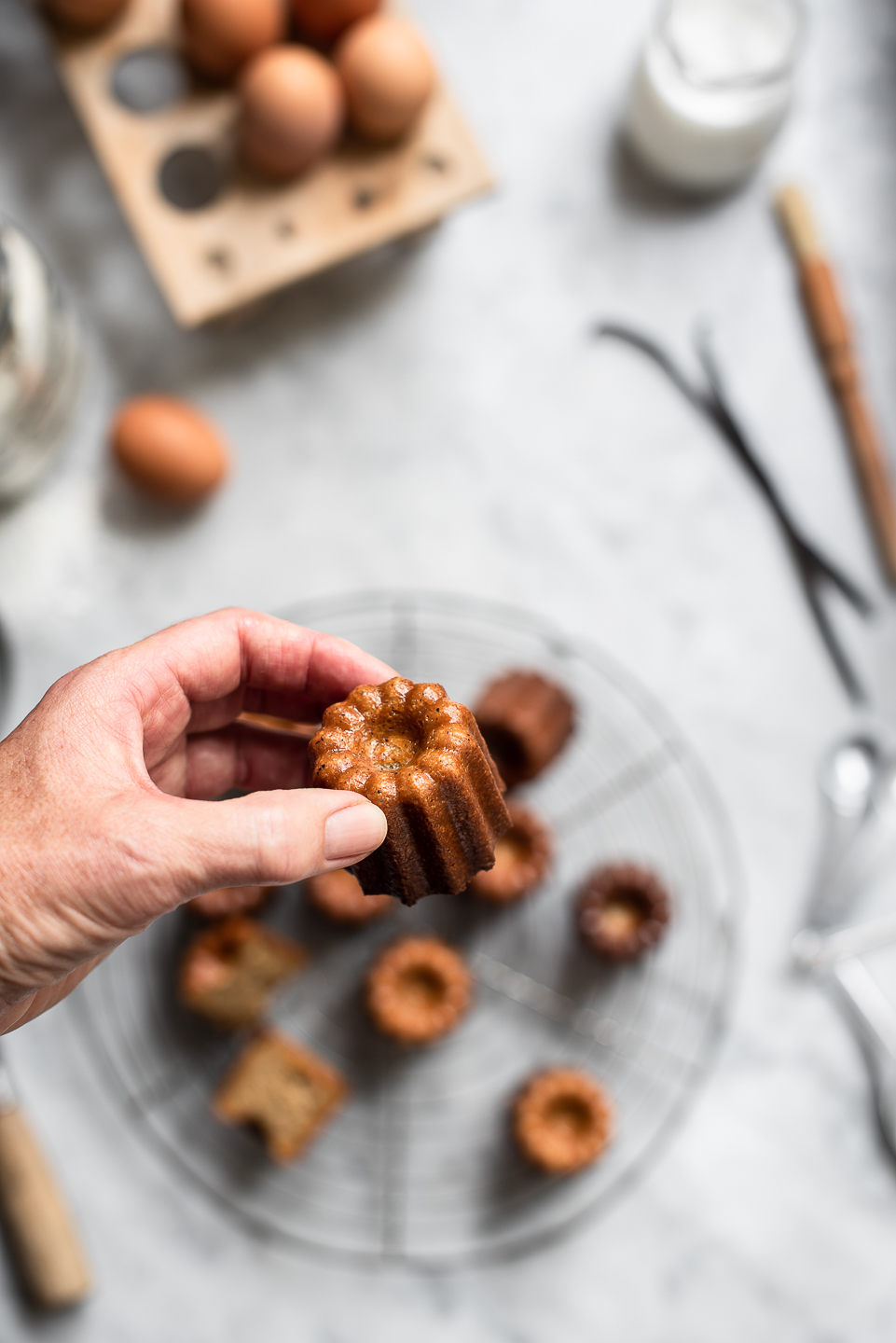 Speculaas Cannelés
Makes 12
500ml (2cups) full cream milk
1 vanilla pod, split and seeds scraped
210g (1 cup) granulated white sugar
3 egg yolks
50g butter, melted plus extra for buttering moulds
125g cake wheat flour
3/4 teaspoon ground cinnamon
1/4 teaspoon nutmeg
1/2 teaspoon mixed spice
a pinch of fine salt
60ml (1/4 cup) Bourbon or dark rum
Place the milk, vanilla seeds and pod, in a deep saucepan. Bring slowly up to a gentle simmer, then remove from the heat and set aside to infuse for several minutes.
Place the sugar and egg yolks in a mixing bowl. Whisk to combine, then drizzle in the melted butter and mix to incorporate.
In a separate bowl, combine flour, spices and salt.
Remove the vanilla pod from the milk. Slowly add a 1/4 cup of the warm milk to the egg mixture, whisking all the while.
Add the flour and whisk gently until the batter is smooth.  Add the remaining milk slowly, mixing slowly to avoid lumps forming. Drizzle in the Bourbon or rum and mix through slowly. Strain the mixture through a fine sieve. Cover and chill for 24 to 48 hours.
Preheat the oven to 240º C. Brush the Le Cruest Canelés moulds generously with melted butter.
Bring the canelé mixture to room temperature before continuing. Stir the mixture well, then fill each mould three quarters of the way full, about 8 mm below the rim.
Bake the canelés for 10 minutes at 240º C. Turn the oven down to 180º C, then bake for a further 60-65 minutes. The canelés should be deeply bronzed.  Rest in the tin for about 10 minutes before inverting onto a cooling rack. Allow to cool completely.
Canelés are best eaten on the day they are baked. Strain the mixture through a fine sieve. Cover and chill for 24 to 48 hours.