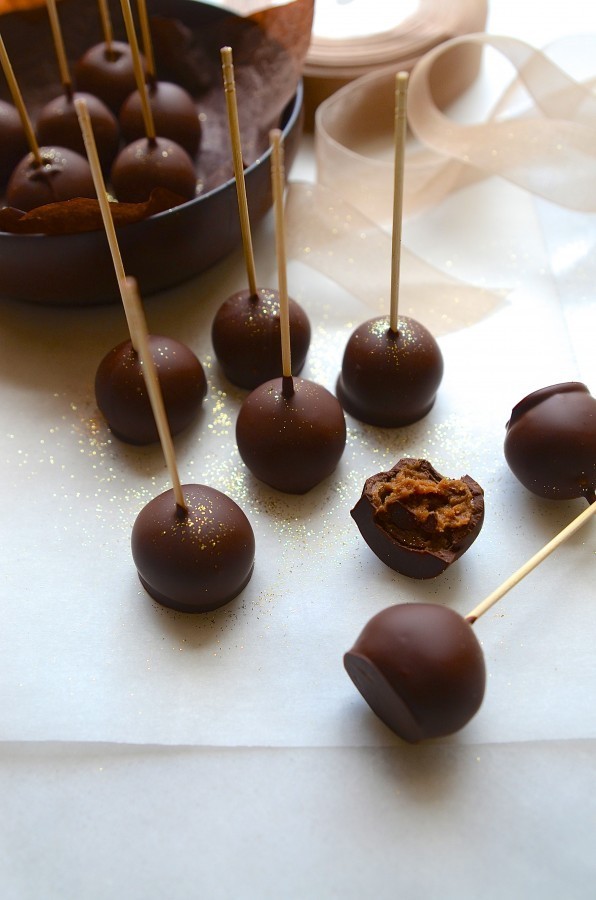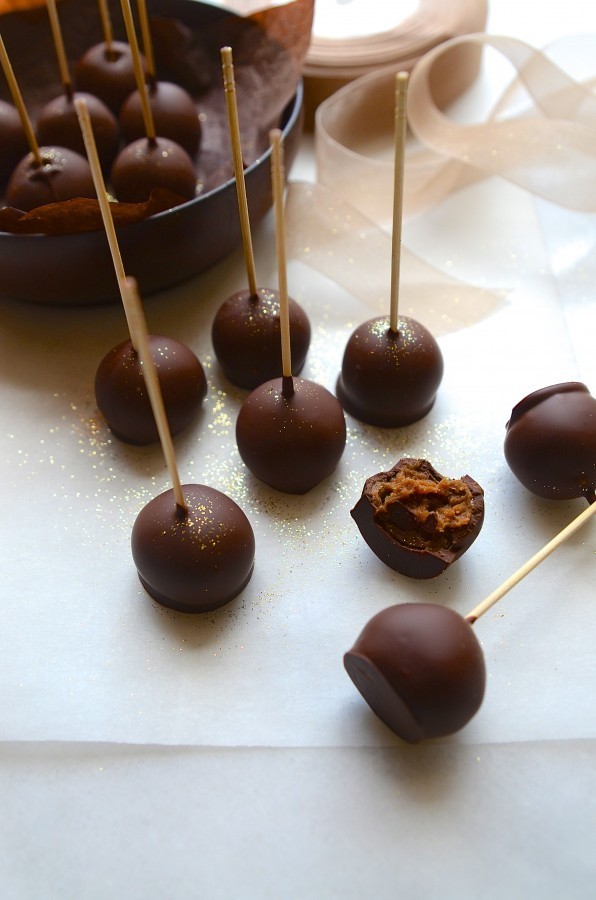 I have no words…. No wait, I do. Imagine – smooth, creamy peanut butter, whipped salted caramel chocolate pops, encased in a dark chocolate shell. Crazy, I know, but these sweet, pixie sized chocolate pops are ridiculously good and if you're a peanut butter nut, this could be the begining of something wonderful.
First there were cupcakes, then came macaroons, followed shortly after by cake pops and now, this! Salted caramel peanut butter chocolate pops. Quaint little pleasure orbs that make an exquisite hostess party gift. Sitting pristinely plump and gorgeous on your kitchen counter, you'll be hard pressed to part with them, so maybe just make double. A truly decadent combination that will delight the grateful recipients and leave them begging for more.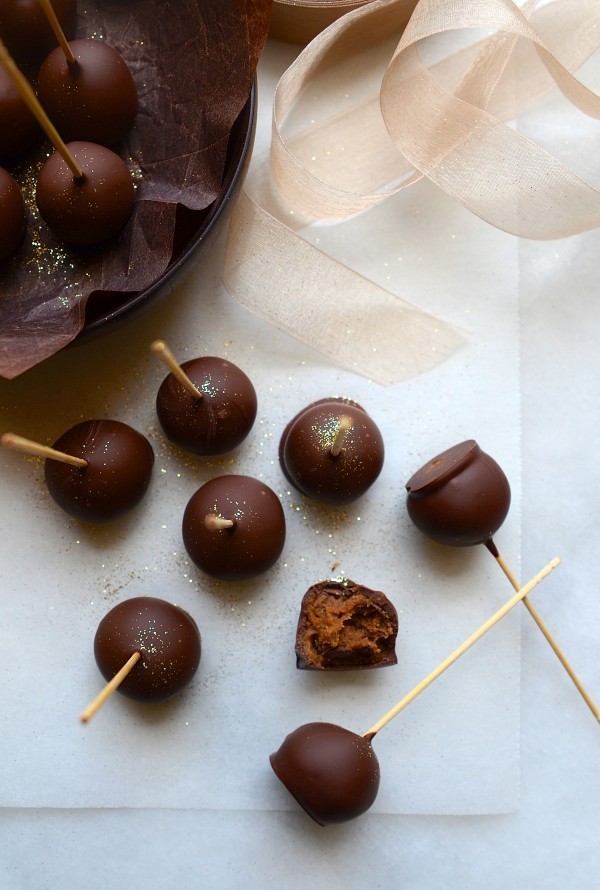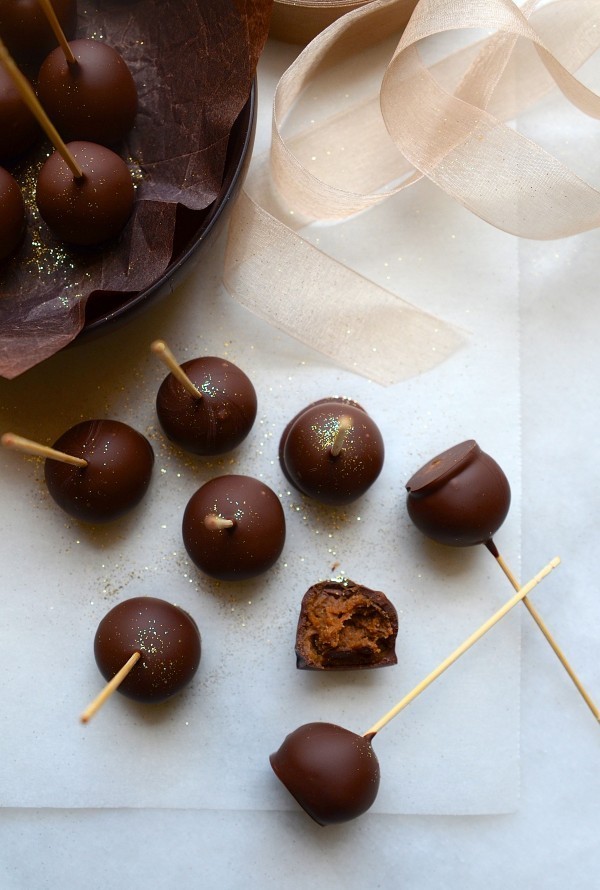 To be honest, this was the first time I've tried these, so it had to be passed by the testing panel, which is made up of enthusiastic teenagers (always hungry members of the team), level headed middle-aged representatives and finally, the slightly more elderly, whom I'd hoped would be more self controlled and mature. The first question is always, "What is it?" Does it really matter, I think. It's round, covered in chocolate and comes with its very own stick! What ensued was hardly respectable. Elbowing in for the last pop is generally a good indication that it passed the test panel's approval.
This recipe was loosely inspired by well known British chef, Glynn Purnell who serves his peanut chocolate pops as petit fours. His recipe calls for a homemade caramel and plain peanut butter. The boiling of condensed milk to make the caramel is quite a lengthy process, so I've opted for a store bought variety which will simplify things considerably. The addition of milk chocolate turns it into more of a peanut butter truffle, with a scattering of Maldon sea salt providing a necessary savoury contrast. The recipe is quite simple but it does require that you follow the steps. Holiday baking is all about getting the kids involved, so get them into the kitchen, start rolling and enjoy some festive cheer!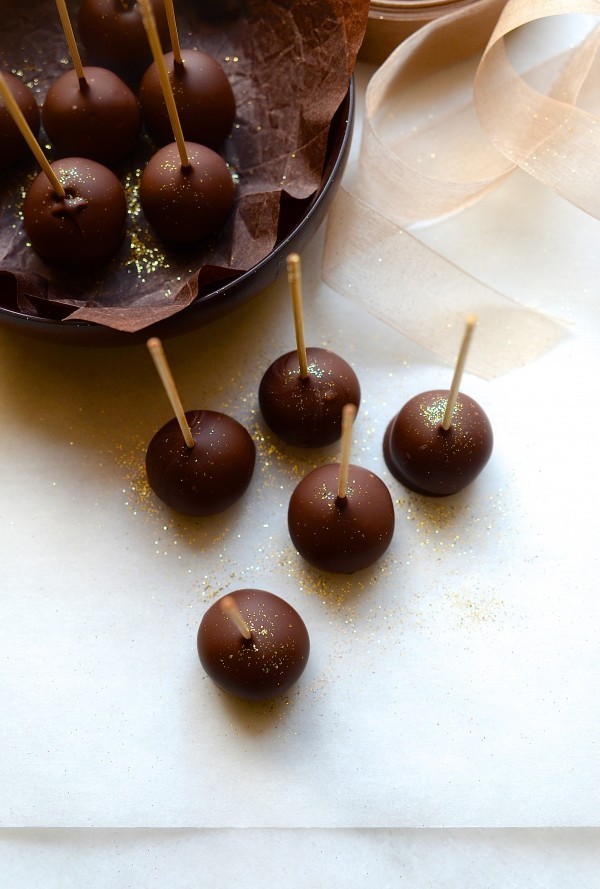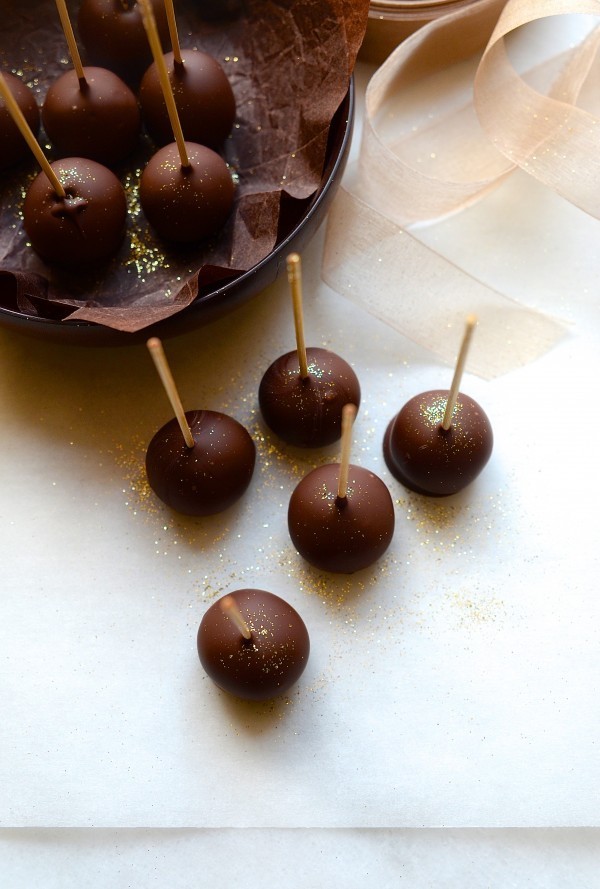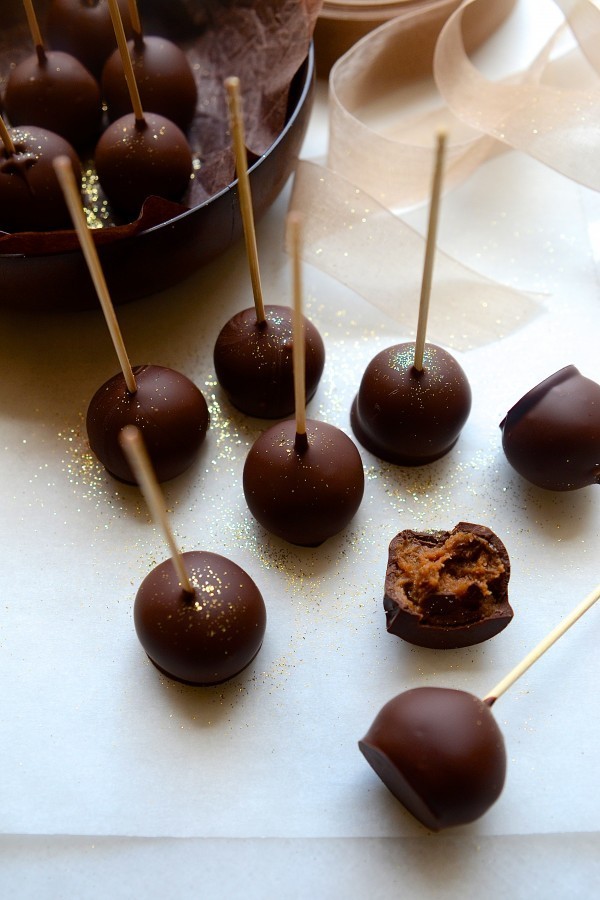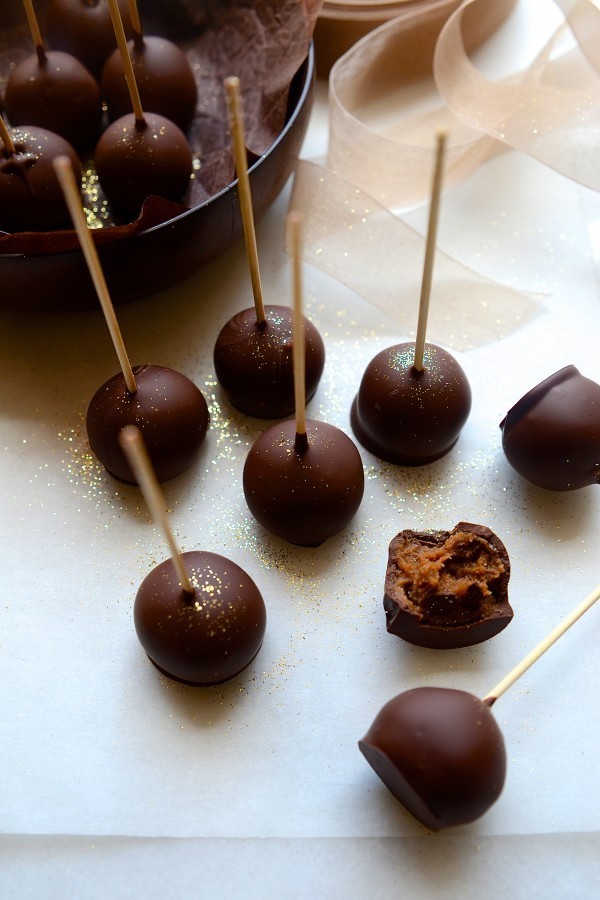 Salted caramel peanut butter chocolate pops
Makes 18
100g caramel (Nestlé caramel treat is perfect)
60g smooth peanut butter
50g milk chocolate (Cadbury), melted and left to cool
a pinch of Maldon sea salt
120g dark chocolate (Lindt 50% or 70% if you prefer it less sweet)
Place the caramel and peanut butter in a small bowl and mix thoroughly until well combined. Add the cooled chocolate and sea salt to the peanut butter. Be careful not to add the chocolate while it is still warm as the mixture will seize. Cover with cling film and refrigerate for about an hour until firm.
Roll the peanut butter filling into tiny balls. Each ball should weigh approxiamtely 10g. Try not to get too enthusiastic and go large golf  balls sized as they will get even bigger once dipped and they are super rich. Set the balls on a small lined tray or baking sheet. Insert a level edged toothpick/cocktail stick into each. Chill to firm up for 30 minutes.
In the meanwhile, melt the dark chocolate in a double boiler or in the microwave. Pour the melted chocolate into a narrow, shot glass to make dipping easier. Dip each ball into the chocolate and allow the excess to run off. Place on a parchment lined baking sheet to set. Dust with gold or silver dust for a touch of festive glam. Store in a cool place or refrigerate until ready to serve. Yummo!