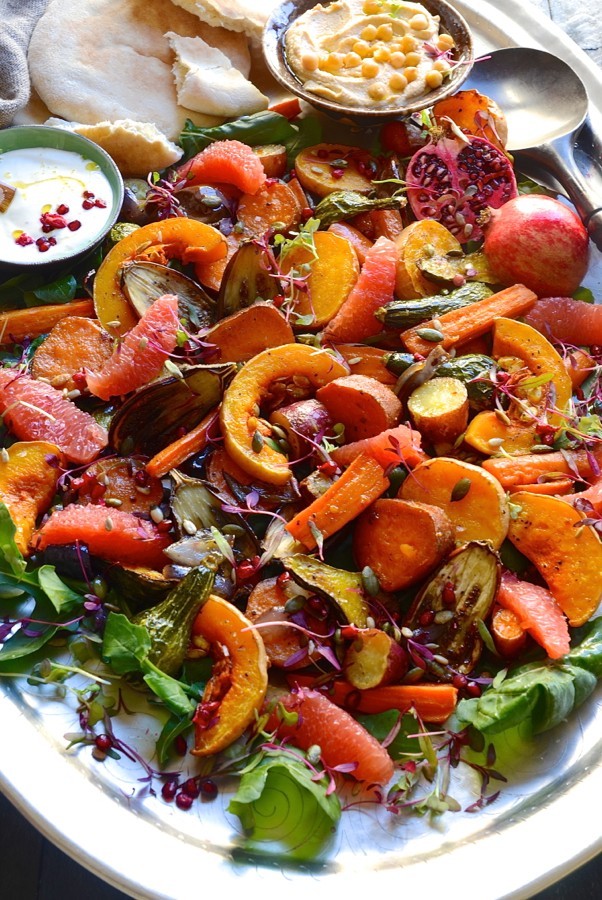 A feast of rainbow coloured roast vegetables with peppery rocket, toasted seeds, feta, tart pomelo segments and a creamy tahini-yoghurt drizzle. Dreary and dull just left the building, replaced by a fiesta of colour and texture. Flavour galore is happening all over this Meat-free Monday page.
It's a fact. Advertising sells. However, some brands mislead and delude consumers. You don't always get what you pay for which ultimately leads to disappointment. Others stand by their policy of what you see is what you get. I'm with the latter, but, there's more. Aside from the vibrant and delicious banner flagging down all the loyal Meat-free Monday supporters or would-be-joiners, this lavish offering of caramel-tinged roast vegetables with a nutty, sesame seed drizzle is also nutrient dense and just about the tastiest way to get more than your 5 a-day ticked off in one sitting! I like to serve this ample roast vegetable platter with warm pita breads and my ultra smooth hummus. You could also make scrumptious vegetarian tortilla wraps. It's worth mentioning here that the Tahini drizzle is the trump card. This is the drizzle to bank, especially if you're a fan of Middle Eastern flavours. It's nutty, creamy and utterly addictive, almost like a savoury peanut butter. I love this stuff!
Apart from being one of the simplest ways to clear out your refrigerator, this abundant tray of roast vegetables is perfect to serve alongside a Sunday roast and especially good with bulgur wheat or couscous for a packed salad lunch.
The addition of seasonal pomelo creates a tart and refreshing contrast to the warm roast vegetables and salty feta cheese. If fruit and vegetables sharing one common space is  a bit of a stretch for the family, just leave it out, but I strongly suggest you give it a try. You might be pleasantly surprised.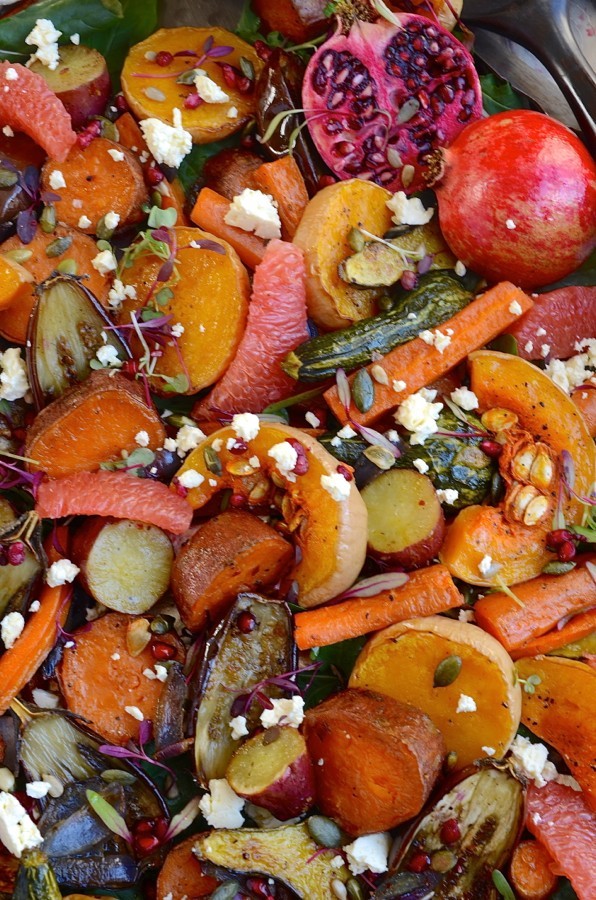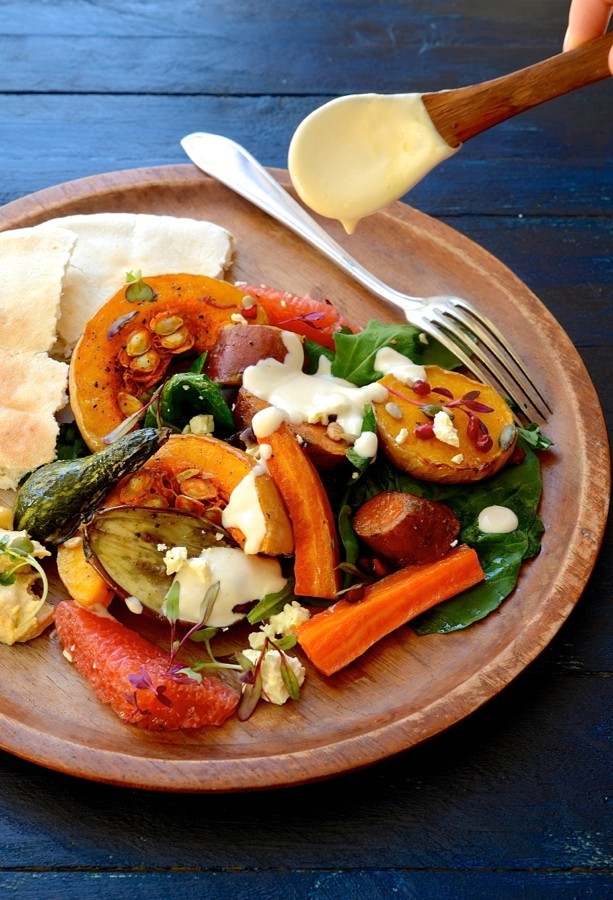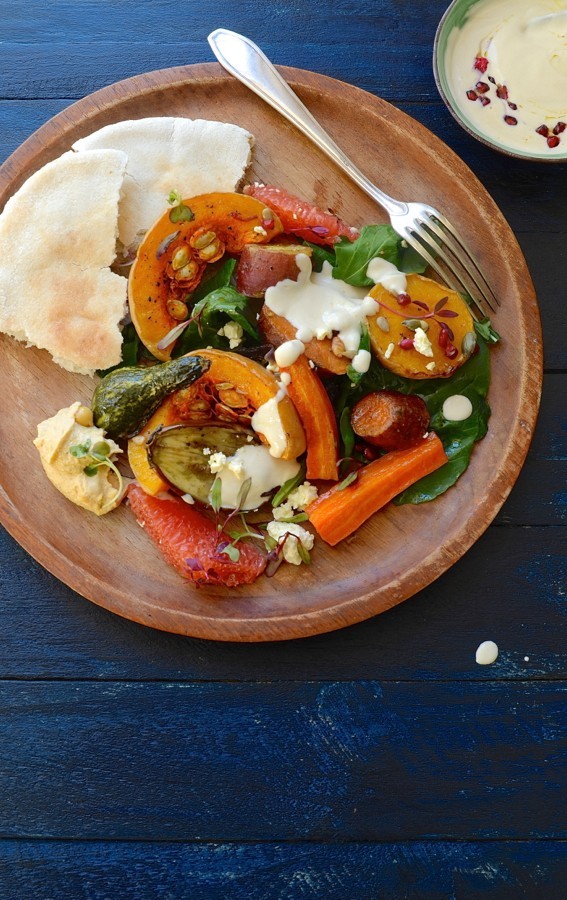 Roast vegetables with Tahini-yoghurt drizzle
Serves 6 (as a main)
3 tablespoons olive oil
1 small butternut, peeled and cut into wedges or rounds
1 large red onion, cut into wedges
6 green, baby butternuts, well rinsed and halved
3 large carrots, peeled and cut into 5cm lengths
3 orange sweet potatoes. skin on and cut into 2cm thick rounds
6 mini purple aubergines, halved
salt and pepper
1 teaspoon dried oregano
1/2 teaspoon mixed spice
1/4 teaspoon dried red chilli flakes
1 large pomelo, peeled and cut into segments
1 bag (80g) wild rocket
100g feta
1/2 cup roasted, mixed seeds and nuts (pumpkin, sunflower and pecan nuts)
pomegranate arils
Tahini drizzle
2 tablespoons tahini
2 tablespoons Greek yoghurt
1 tablespoon extra virgin olive oil
1 tablespoon lemon juice
5-6 tablespoon cold water
salt and pepper, to taste
To serve
warmed pita breads
ultra smooth hummus (Click here for the recipe)
Preheat the oven to 200º C. Line two large baking trays with foil and spray with non-stick spray. Spread all the vegetables out onto the trays and drizzle with olive oil. Season generously with salt and pepper. Scatter over the oregano, mixed spice and red chilli flakes. Roast for 50-55 minutes until tender and the edges are just starting to caramelise.
For the drizzle
Place all the ingredients in a small bowl and whisk until smooth. The consistency should be like that of single cream. Check the seasoning and add either a little more salt or lemon juice if you prefer a slightly more tart taste.
To assemble, spread the rocket onto a large serving platter. Place the hot, roasted vegetables on top. Add the pomelo segments, feta, toasted seeds and pomegranate arils. Drizzle generously with the tahini dressing and serve with pita breads and hummus.