It's a colour fest for Meat Free Monday. Sweet peppers, butternut and aubergines are oven roasted with earthy spiced and tossed together with herbed couscous. Topped with pan-grilled chunks of warm feta and a crushed pistachio and lemon dressing, this is a complete meal-in-bowl.
There's not much to say about this dish other than, SUPER-YUM. If choosing foods were based on visual appeal, I'd definitely favour this roast vegetable and couscous salad, if for no other reason other than the rainbow colours. As fickle as it may seem, our food choices are largely based on 'looks'. Here, caramelised vegetables are balanced with salty feta and a palate cleansing citrus dressing. The couscous brings the entire salad together and turns this dish into a satisfying supper. Roasting the vegetables intensifies the flavours and caramelises the natural sugars. Cumin and coriander lend a warm, earthy slant and compliment the aubergines perfectly.
Now for the feta….. Pan roasted feta is quite unlike anything you can imagine. It softens the cheese inside while browning up the exterior, becoming saltier and slightly elastic. The texture is quite similar to halloumi and is totally delicious. I'd recommend quite a firm feta though as it hold its shape best. If you feel that a salad alone will not be substantial enough to satisfy for dinner, try it as a wrap. Slather a thick layer of hummus onto flatbreads, pile in the salad, roll up and tuck in. This bears repeating, but here it comes again….. Lunch box candidate. This salad will also do nicely as a side with barbecued chicken kebabs or a juicy rib-eye steak for weekend feasting.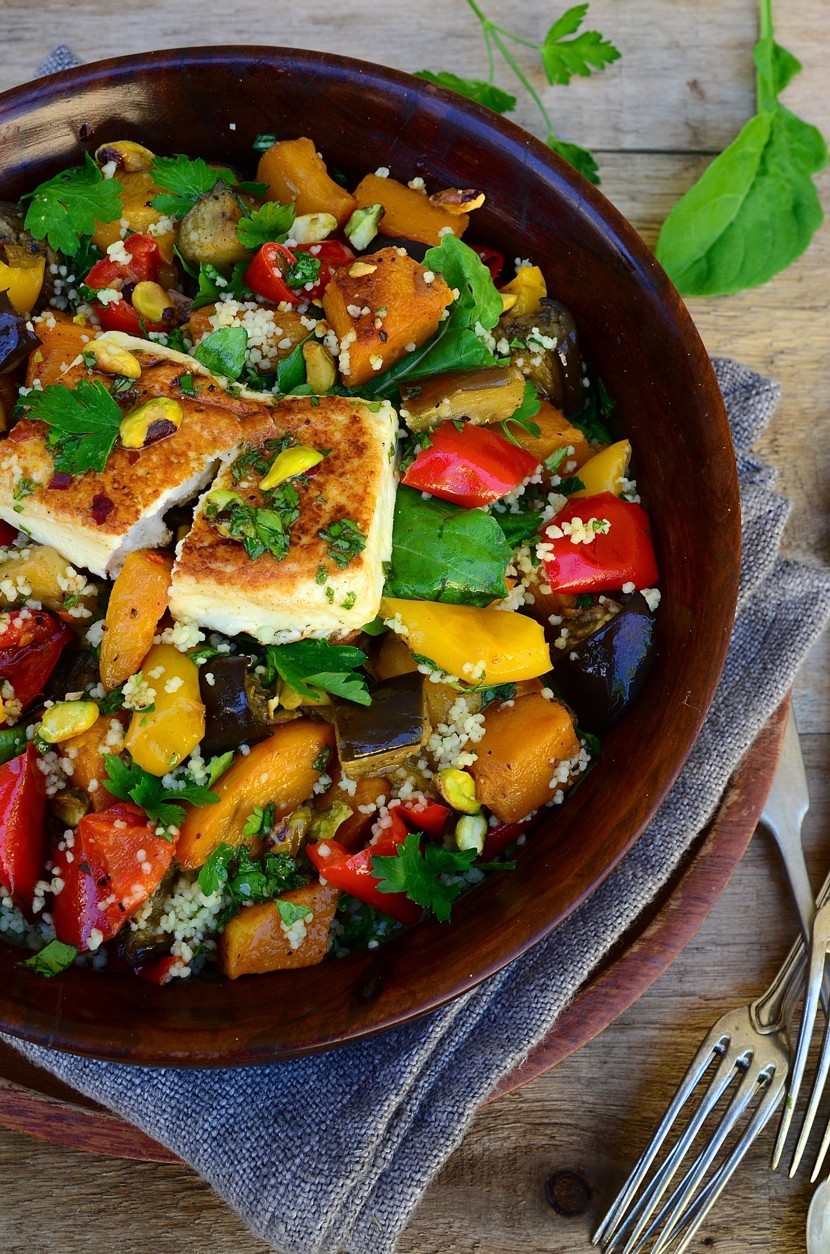 Roast vegetable salad with grilled feta
Serves 4 as a main
2 tablespoons olive oil
500g butternut, peeled and cut into chunks
1 red and yellow pepper, deseeded and roughly chopped
1 large aubergine, cut into 2cm pieces
1/2 teaspoon of each, ground cumin and coriander
pinch of dried red chilli flakes (optional)
1 cup couscous
1/2 teaspoon chicken stock powder
pinch of salt
1 bag (20g) wild rocket
1 tablespoon olive oil for frying
2 x 100g pieces feta (rounds will also be fine)
Dressing
zest of 1 lemon and juice of half (45ml)
3 tablespoon extra virgin olive oil
handful fresh mint and the same of flat leaf parsley, finely chopped
1 teaspoon honey
salt and plenty of black pepper
40g toasted pistachio nuts, half crushed and the other half roughly chopped
Preheat the oven to 200º C. Line a large baking tray with foil and grease lightly. Spread all the vegetables onto tray and drizzle with olive oil. Season generously with salt, black pepper, cumin, coriander and chilli. Roast for 40-45 minutes, or until the butternut and peppers are fork tender and nicely coloured around the edges.
In the meanwhile, place the couscous and chicken stock in a heatproof bowl, season with a pinch of salt and pour over just enough boiling water to cover. Wrap with cling film to seal completely and set aside to rehydrate for at least 10 minutes. Fluff the couscous with a fork to separate the grains. Chop the rocket really fine and toss through the couscous.
For the dressing, place all the ingredients in a bowl, whisk together and pour half over the couscous. Pour the remaining dressing in a small finger bowl to serve alongside the salad. Heat a tablespoon olive oil in a frying pan. When the oil is hot, add the whole feta pieces and pan fry until golden. Turn over carefully and brown the second side.
To assemble, spread the couscous out onto a large serving platter. Lay the roast vegetables and warm feta on top of the couscous and drizzle with the reserved pistachio dressing.