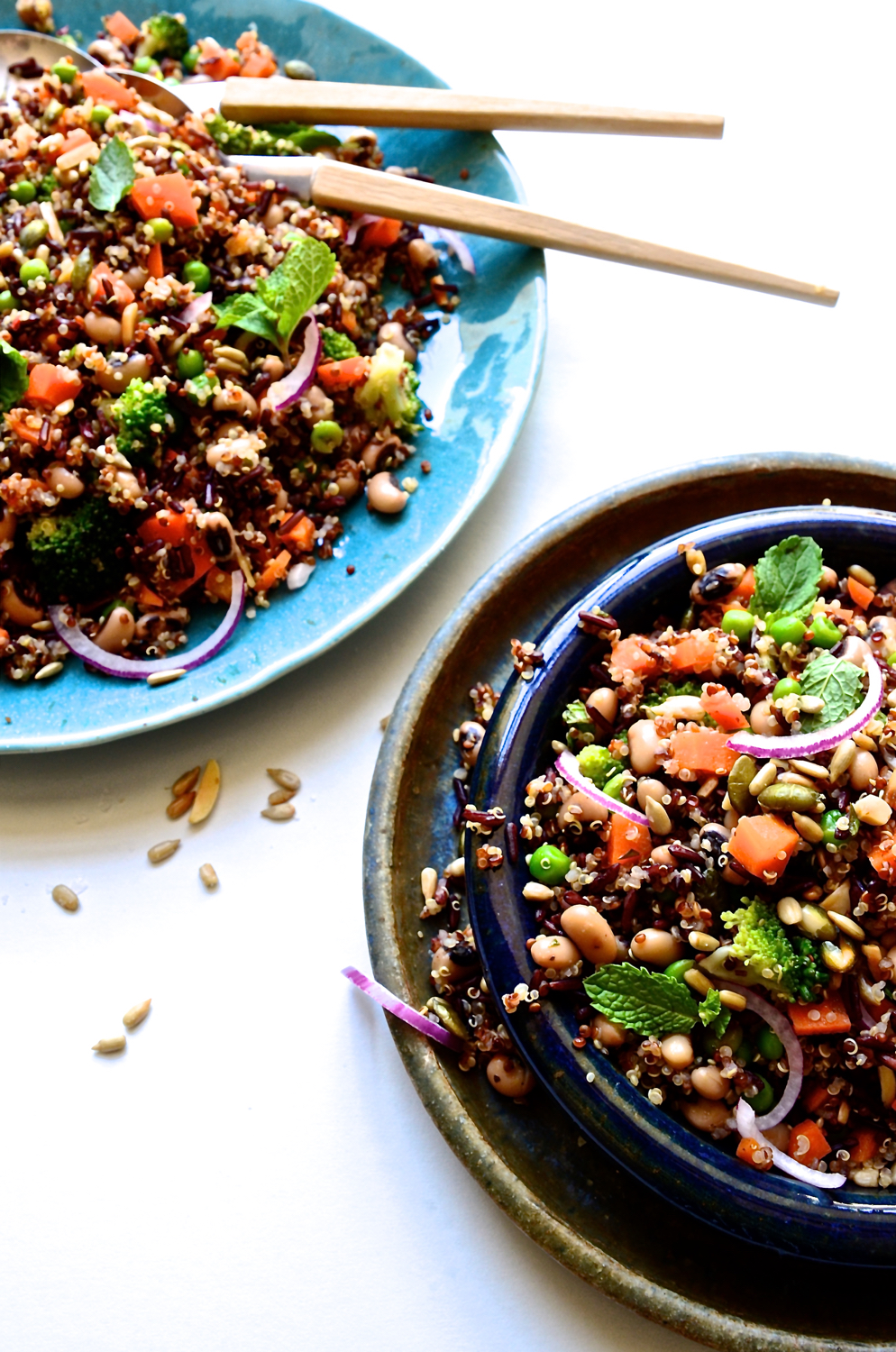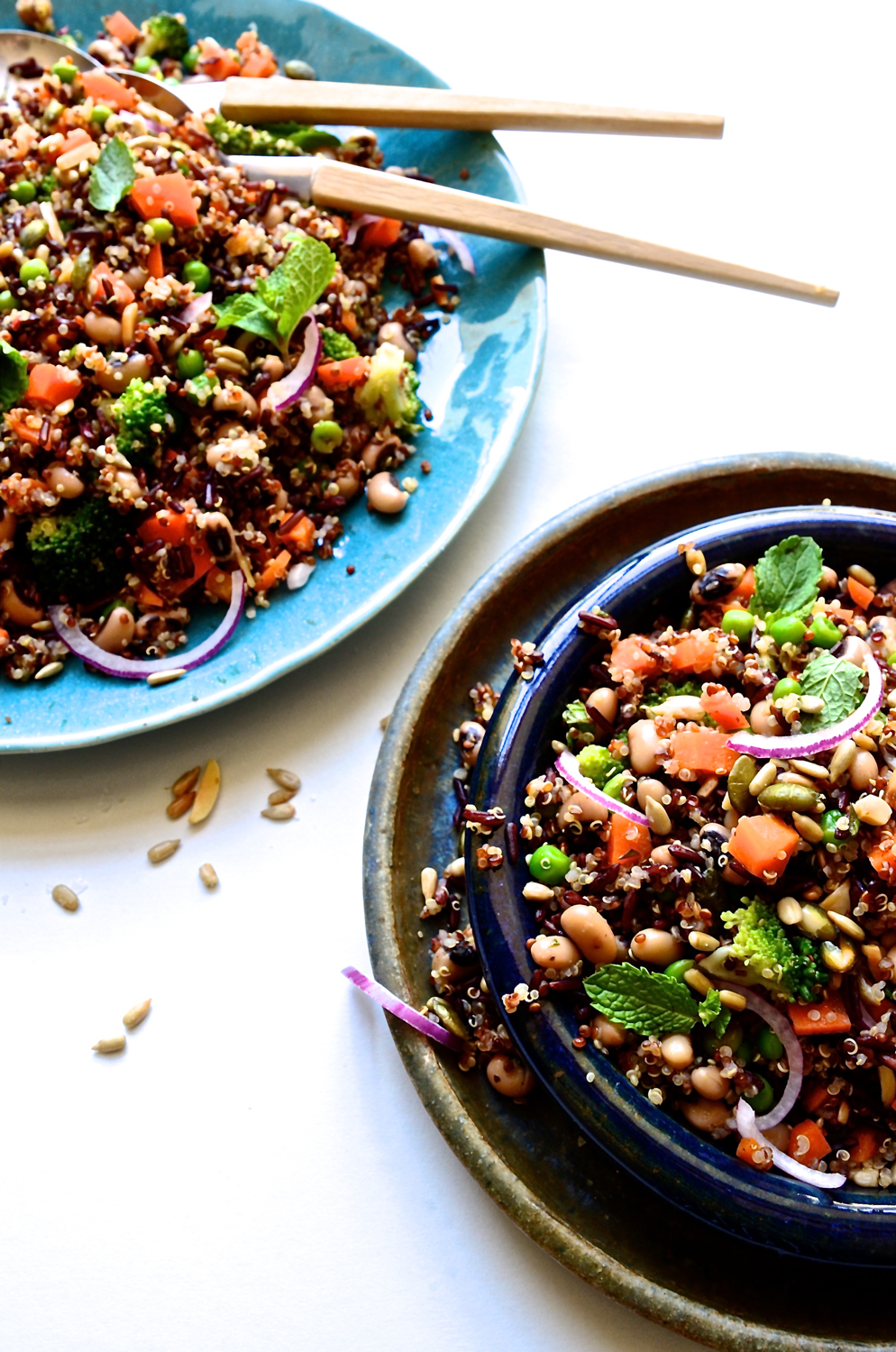 Bowl food is a one bowl wonder. This Asian inspired quinoa and black bean salad is the latest addition to our grain recipes. With multi-grains, black-eyed beans, crunchy veg, nuts and seeds, it vibrantly colourful and fresh. The minted soy and honey dressing is super versatile. One to keep.
When I think about Meat-free Mondays, there are several essentials. It should include at least one, better yet, several, plant-based proteins, a combination of vegetables and a handful of seeds and nuts. The challenge is to include enough protein. We're loving nutty quinoa, an ancient grain prized by the Incas and now considered a favourite superfood.
Quinoa is a popular substitute for rice, couscous or pasta. This gluten-free-grain is versatile and suitable for both savoury and sweet dishes. It's chewy, nutty and completely delicious, especially in salads. The two most commonly used are white and red quinoa. Red quinoa is slightly more earthy and turns a brownish colour when cooked. I've used a combination of both here. Added to this super nutritious grain is my current new favourite, black rice and black-eyed beans, both of which provide extra fibre, protein and texture. Look out for black rice at health food stores or Pick n Pay hypermarkets. If you're looking for another reason to buy black rice, this recipe for black rice pudding form Jamie Oliver's Superfoods book is a healthy, sweet temptation.
Quinoa and black bean salad
Serves 4-6
For the salad
1/4 cup white quinoa
1/4 red quinoa
1/2 cup black rice
1 cup black eyed beans, rinsed and drained
2 carrots, peeled and cut into tiny cubes
1/2 head broccoli, broken into tiny florets
1/2 cup petit pois peas
1/3 cup mixed seeds and nuts, toasted
a handful mint leaves
1/4 red onion, thinly sliced (optional) or 2 scallions, finely diced
Dressing
3 tablespoons lime juice
2 tablespoons flavourless vegetable oil  (either avocado, canola or walnut oil)
1 tablespoon sesame oil
2 tablespoons low sodium soy sauce
2 teaspoons freshly grated ginger
handful mint leaves, finely chopped
1 teaspoon honey
salt and pepper, to taste
Rinse and drain the white and red quinoa. Place in a saucepan with a pinch of salt and cover with 300 ml water. Simmer for 25-30 minutes until tender. Drain the cooked quinoa under cold water and spread out onto a board to dry. Rinse and drain the black rice several times as it has quite a high starch content. Place in the same saucepan and cover with 1 cup water. Simmer for about 25 minutes until the grain is tender but still has a bit of bite. Rinse under cold water and drain thoroughly.
In the same saucepan, add the carrots and boil rapidly in just a little water for 3-4 minutes. Add the broccoli to the carrots and cook for 2 minutes. Lastly add the peas, season lightly with salt and simmer for another minute. Plunge the vegetables into a bowl of ice water to stop the cooking process and to retain the colour. Once cooled, drain the vegetables.
In a large bowl, mix together the quinoa, rice, black eyed beans and vegetables. Add the mint, either whole or chopped and the red onion or diced scallions. For the dressing, whisk all the ingredients in a bowl and pour over the salad. Toss lightly until all the grains are well coated. Taste and adjust the seasoning by either adding more soy sauce or lemon juice.
Spoon into a serving bowl and scatter with the toasted seeds and nuts. Serve at room temperature.
BK Handy tip: Always add the nuts just before serving to retain the crunch.