Pumpkin pie waffles with orange and brandy syrup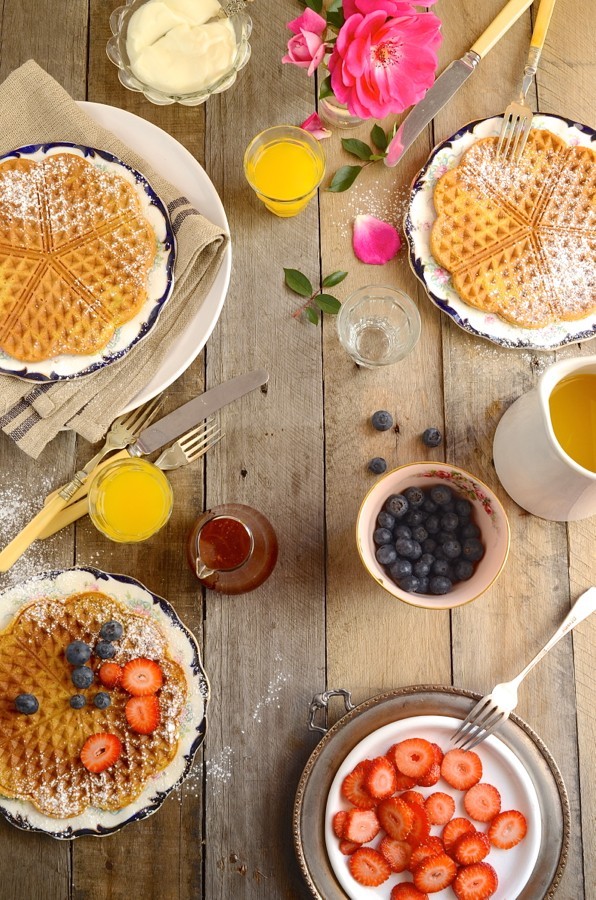 Weekend waffling! Monday to Friday breakfasts are literally a grab and go. Ho.w.e.v.e.r. The Weekend Brunch starts with these Pumpkin pie waffles, drenched in a sticky orange and brandy syrup. Clearly waffling is no longer relegated to roadhouse jaunts, but are an essential for committed members of the Breakfast Club. Waffles have hidden powers. They make kids exceptionally pleasant to live with and can even be used to coerce a polite response from those not blessed with a particularly sunny disposition. Admittedly, these waffles are dressed up all adult-like with the orange and brandy sauce, but are sure to delight even the most grumpy, I don't do breakfast, individuals.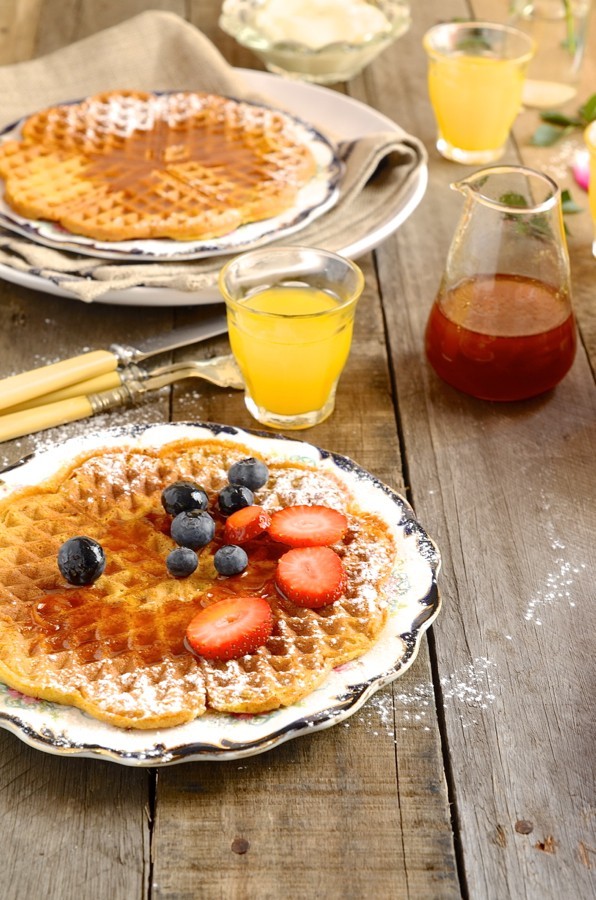 Let's talk about the waffles then. The batter is enriched with cooked pumpkin and spiced with all manner of delicious aromatics. It's quite like eating a pumpkin pie, but in waffle form. If you're not the proud owner of a waffle iron, don't panic! Cook them as you would regular crumpets or pancakes. Obviously they won't look as snazzy as the neighbour's, but they're  going to taste just as fabulous. And, since I have this handy little waffle gadget, I'm conjuring up all sorts of creative combinations. With summer calling, I can see this kitchen contraption, that has formerly only enjoyed a long, quiet and dusty shelf life, clocking up some serious breakfast miles before summer is done.
Now for the sauce. Yes, it has brandy in it and yes, we're going to eat it for breakfast! If this fills you with dread, just leave it out, which also applies if you're making it for the kids. The sauce is super-versatile and can be served with warm crepes and ice cream for dessert. As the sauce contains butter, it should be served warm.
If you think about it, this is a champion energy breakfast-bruncher. We've got vegetables, fruit, more fruit juice and a 'tot' happening in one. Served with my kitchen staple, thick Greek yoghurt and our quota of diary's also in there. Here's to the weekend waffle.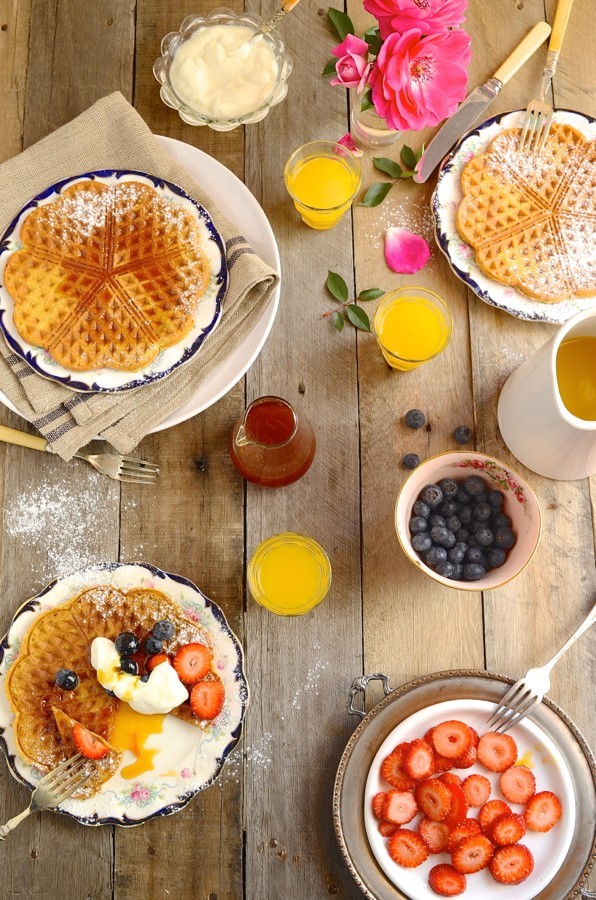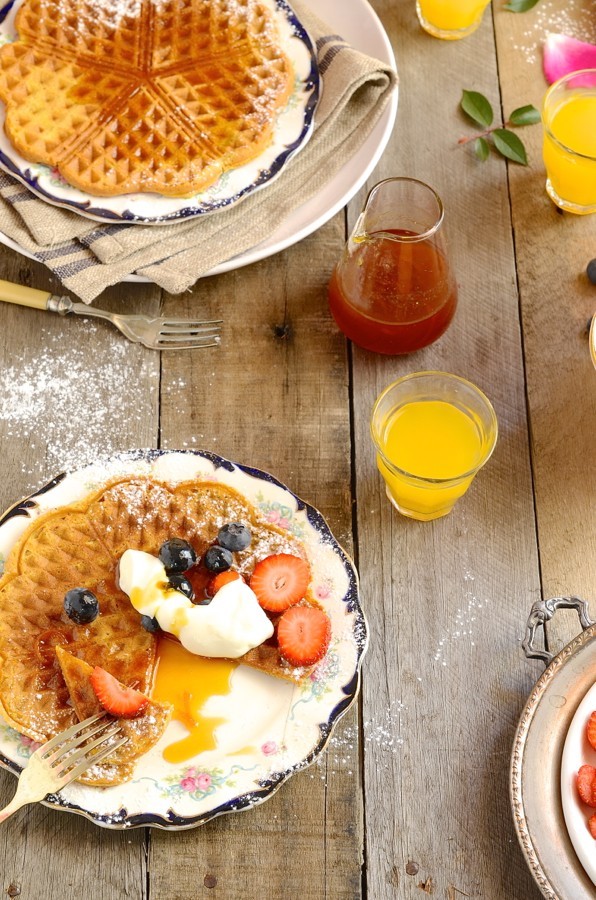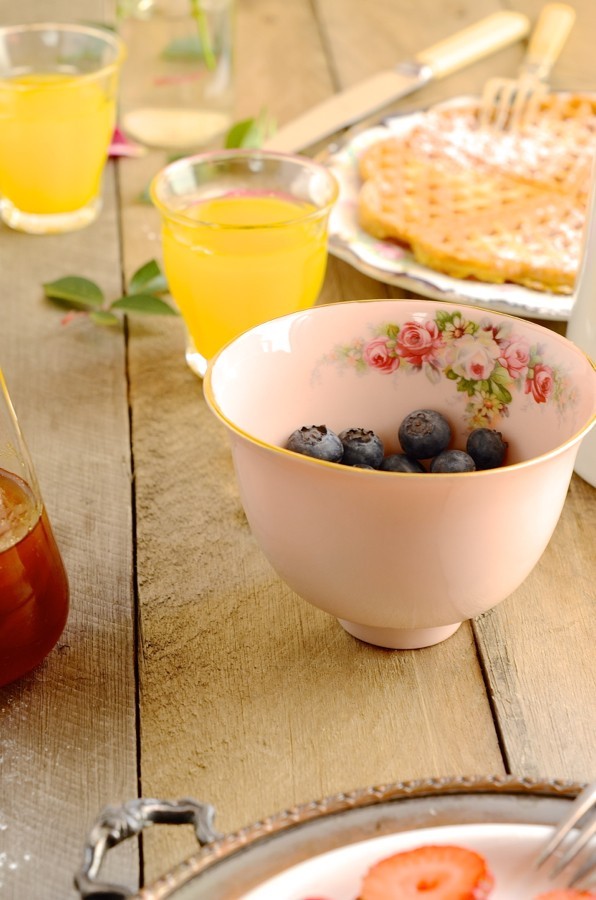 Pumpkin pie waffles & Orange Brandy syrup
Makes 6  large waffles
For the waffles
1 cup all-purpose cake flour
1 teaspoon baking powder
1/2 teaspoon bicarbonate of soda
pinch of salt
1 teaspoon cinnamon
1/2 teaspoon mixed spice
pinch of nutmeg
2 tablespoons castor sugar
1/2 cup buttermilk
1/3 cup milk
1 egg plus 1 egg white
2 tablespoons melted butter, cooled
1/2 cup cooked and cooled pumpkin puree
Sift all the dry ingredients together in a bowl. Whisk together the buttermilk, milk, 1 whole egg and melted butter. Pour the wet ingredients into the dry ingredients and whisk until well combined. Add the pumpkin and mix until smooth.
In a separate bowl, beat the egg white until stiff. Fold the egg white into the batter. Cook the waffles according to the manufactures instructions. I usually ladle in about 1/3 cup of batter per waffle. Serve while hot with the syrup or honey, fruit and Greek yoghurt.
Orange and Brandy Sauce
Makes about 200ml
100g castor sugar
300 ml freshly  squeezed orange juice
zest of 1 orange
2 tablespoons butter
45ml Brandy
Place the castor sugar in a small saucepan. Heat the sugar without stirring, but swirl every now and then. As the sugar starts to pool and dissolve, swirl through with a fork. Once all the sugar has dissolved, add the orange juice and zest. The caramel will seize up immediately, but will dissolve back into the sauce. Reduce the liquid down on quite a high heat until thick and syrupy, about 8-10 minutes. Whisk in the butter and brandy.