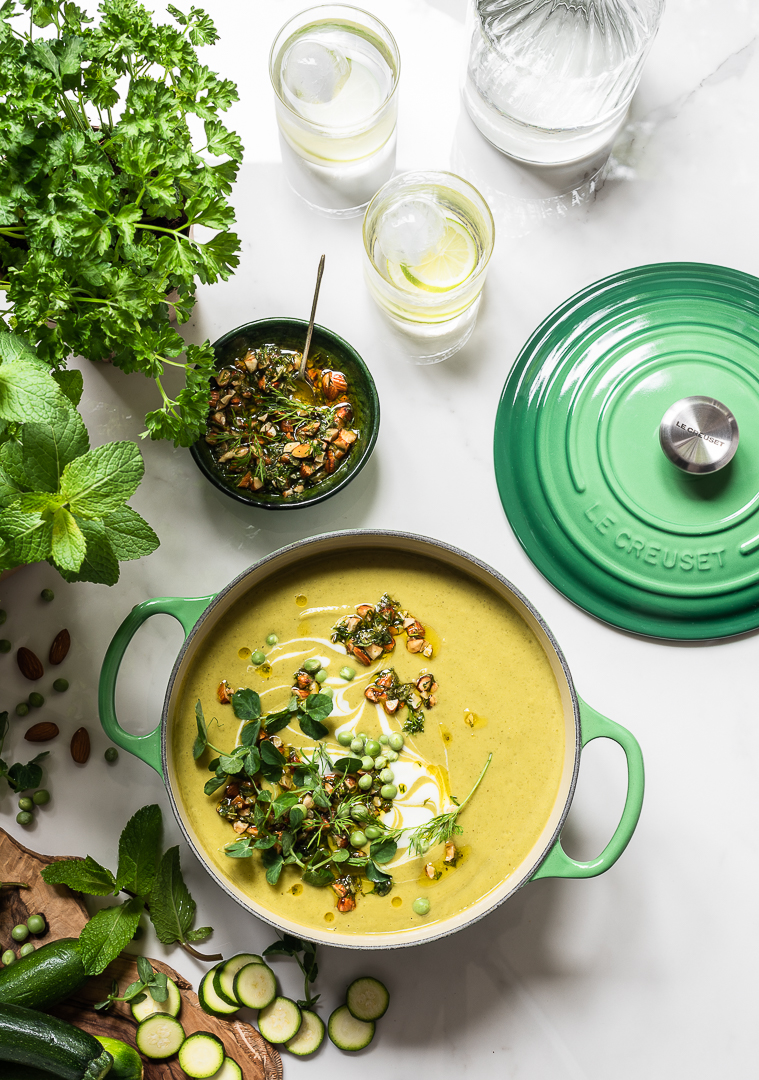 Although warm and comforting, qualities we associate with winter, this Pea and Zucchini Soup tastes pure spring. It's simple, green and very good. The recipe is breeze, quite perfect for Monday. Nothing complicated nor fussy. Once the onions are softened, it's in with the whole caboodle. Pop on the lid and you're 15 minutes away from done. As always, toppings are optional. But, it's the little things in life that make all the difference. So too with the minted almond salsa. It's lemony, nutty and extremely addictive. Delicious on grilled fish or chicken kebabs.
The recipe was developed for Le Creuset using the Signature Round Casserole in Bamboo.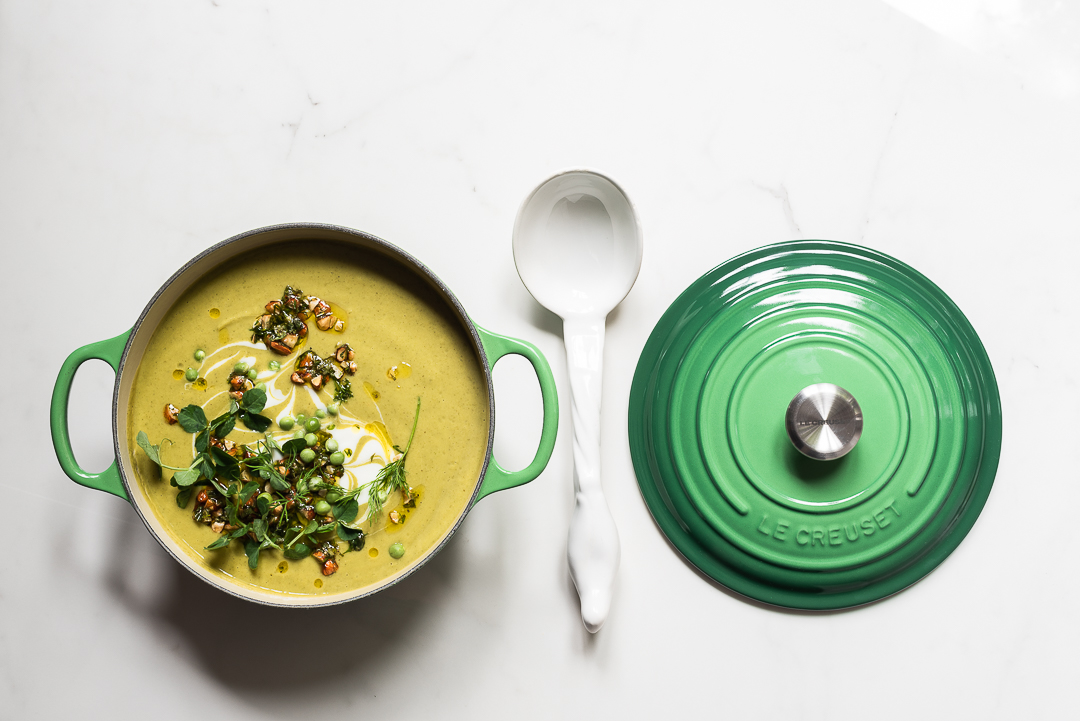 Pea and Zucchini Soup with Minted Almond Salsa
Serves 6
30ml (2 tablespoons) olive oil
1 brown onion, finely diced
200g (3 medium) zucchini, diced
300g (2¼ cup) fresh shelled peas or frozen garden peas
4 cups vegetable or chicken stock
20g (1 cup) fresh mint leaves
a generous handful flat leaf parsley
15ml (1 tablespoon) lemon juice
125ml (1/2 cup) natural yoghurt, plus extra to serve
sea salt flakes and freshly cracked black pepper
Minted Almond Salsa
100g almonds, roasted and roughly chopped
a large bunch of mint, leaves picked and finely chopped
several sprigs fresh dill, roughly chopped
zest of 1 lemon
45ml (3 tablespoons) lemon juice
60ml (1/4 cup) extra virgin olive oil
sea salt flakes and freshly cracked black pepper
Heat the olive oil in the casserole. Add the onion and sauté over a medium heat until softened, about 12-15 minutes. Tumble in the zucchini, season lightly, then cook for 3-4 minutes. Add the peas and stock, cover partially with the lid and simmer for 15 minutes.
Stir through the mint, parsley and lemon juice. Using an immersion blender, puree the soup until smooth. Add the yoghurt and heat through gently.
Ladle into bowls and serve with extra yoghurt drizzled on top and a spoonful of minted almond salsa.