Oyster Sauce Chicken Spring Rolls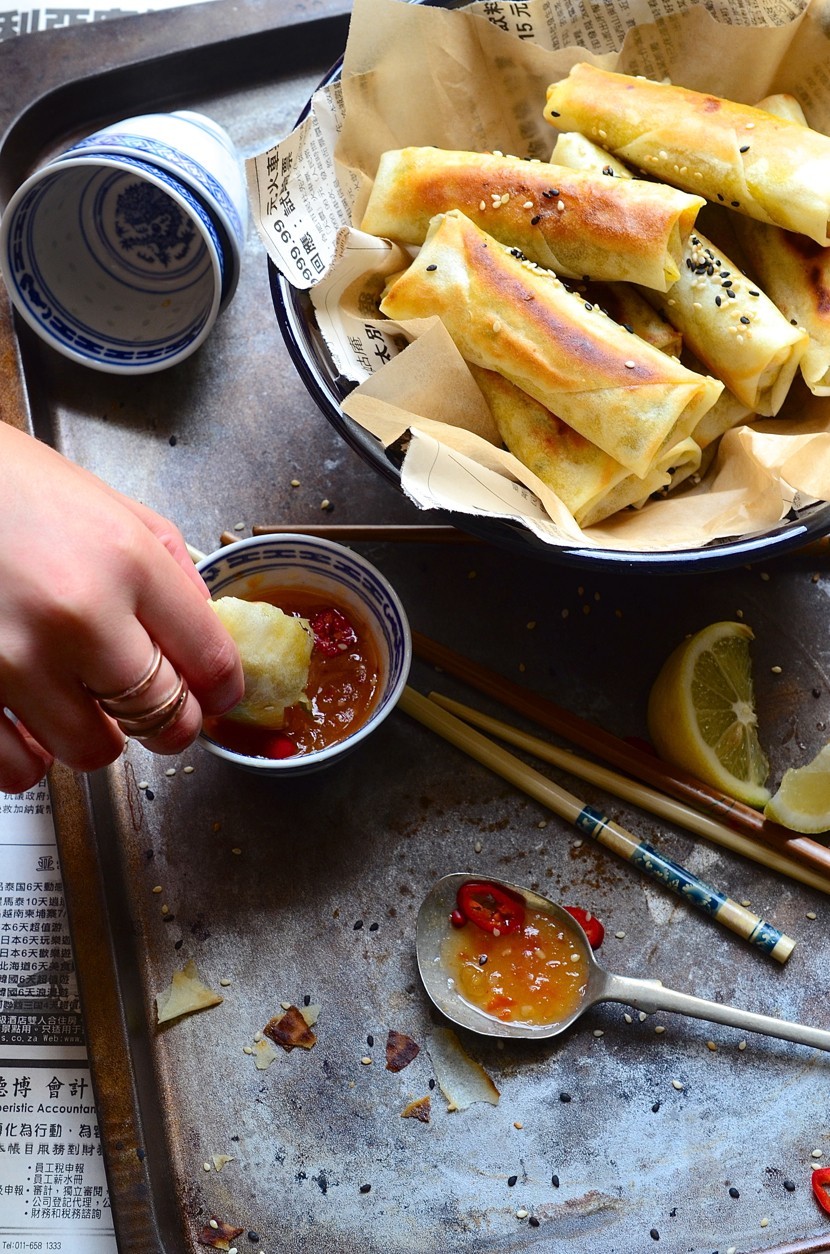 Hello again.  It's been rather quiet around here, but we're back and hurtling towards my most favourite time of year. With spring just around the corner, I thought it would be the perfect opportunity for some subliminal advertising…….Yes, it's Spring Rolling time.
There's something about savoury cravings that cannot be appeased by anything other than a salty snack. No amount of waiting until the feeling passes, a gallon of water (oh please!), or even a slice devilishly good chocolate cake will do the trick. If we're on the same bus, then perhaps I can interest you in these crispy golden spring rolls, crammed with succulent chicken and vegetables ? Yes? I thought so….While I have more of a sweet tooth than savoury, one bite of these spring rolls and any notion of Oh, I'll just have one, is completely impossible. Much like peanuts really. Do you know anyone who's ever had just one peanut?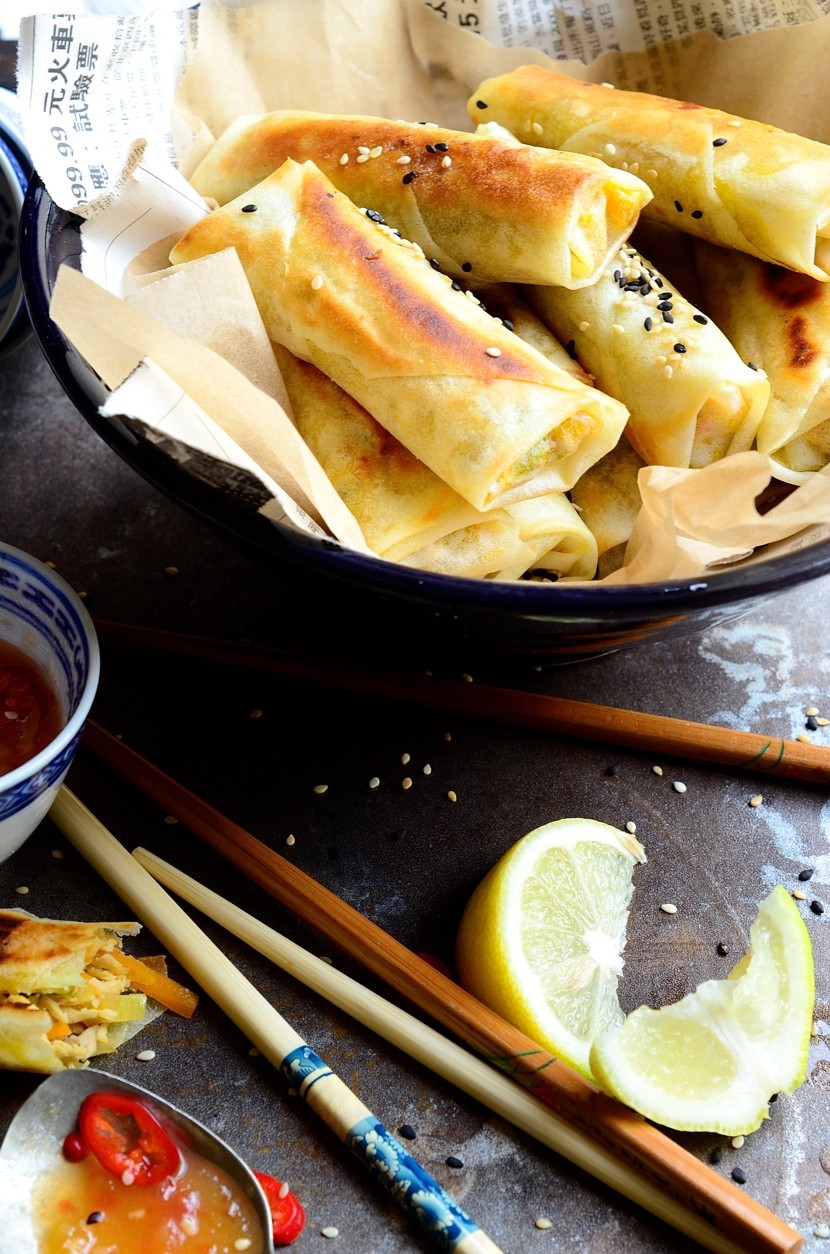 To emphasise just how good these are, it's also necessary to mention how bland most store-bought version can be. If you're left wandering what's actually in the filling, take it as a 'proceed with caution' sign. Chicken needs to taste like chicken, not crocodile or horse hoof, right? Thankfully, when you splinter into these spring rolls they're going to taste exactly like what they are – chicken and vegetables. The umami taste of oyster sauce flavours the chicken with sweet and salty notes. Added to that we have a hint of chilli, lime and sesame seed oil that take these spring rolls to another level. I've packed the spring roll wrapper with as many vegetables as possible, which provides both texture and a fresh veg-crunch.
All that's left to say is, make double. These spring rolls are freezer-friendly, which means you can have emergency snacks on hand at any time. Great for bookclub, non-invited impromptu guests, a night-in catching up on your fave series or with late afternoon drinks, sitting outside in the warming sun, waiting for spring to finally be here!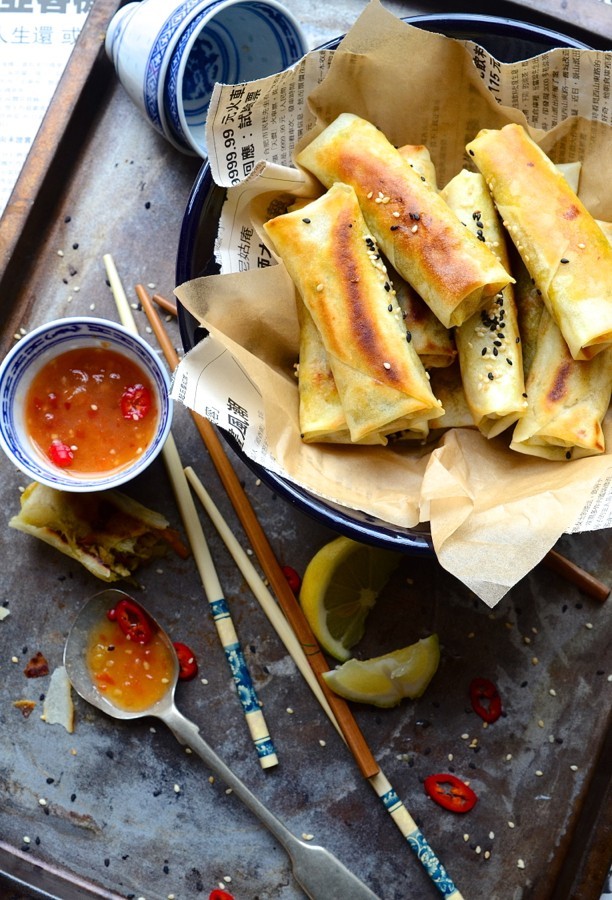 Truth be told, making spring rolls requires a little patience, but once you get the knack of folding and rolling, you can churn them out by the dozen. If you can fold a napkin, you're in. Fortunately 'Mrs Fatima' made the pastry for us, for which I'm eternally grateful. Lookout for it in the frozen foods section at Pick n Pay supermarkets. The pastry texture is very elastic which makes it relatively forgiving and easy to work with.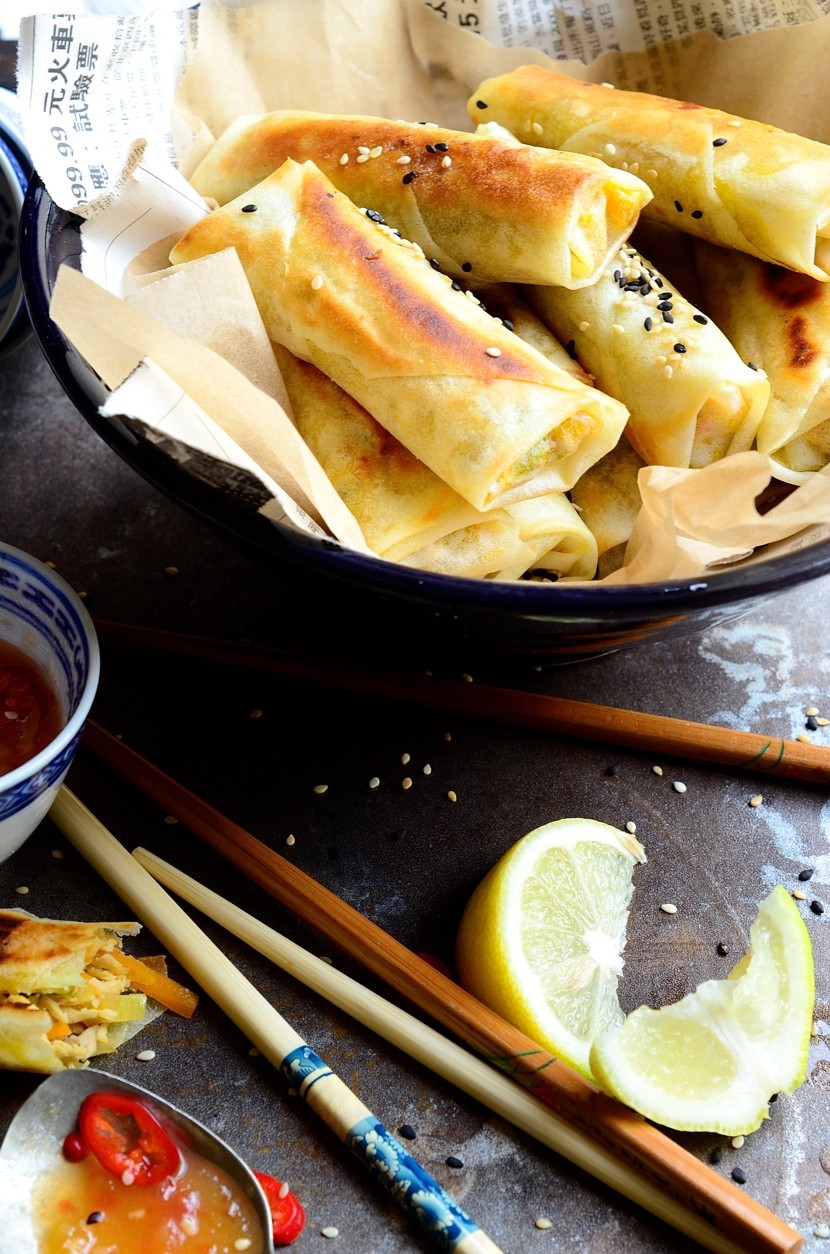 Oyster Sauce Chicken Spring Rolls
Makes 14
1 pack Fatima's spring roll pastry
1-2 tablespoon vegetable oil, plus extra for frying
1 teaspoon sesame oil
1 shallot, finely diced
2 medium carrots, julienned
2 courgettes, julienned
2 leeks, washed and diced
125g mushrooms, finely diced
zest and juice of 1 lime
2 chicken fillets, skinless and de-boned, cut into strips
3 tablespoons oyster sauce
2 tablespoons water
generous pinch of dried red chilli flakes
freshly ground black pepper
black and white toasted sesame seeds
sweet chilli sauce, for dipping
Heat the vegetable oil in a pan and sauté the shallot until softened. Add all the vegetables and stir-fry on high heat for several minutes. Season lightly with a little salt and freshly ground black pepper. Add the lime zest and juice to the vegetables and stir through. Remove the vegetables from the pan and place in a separate bowl.
Heat a little more vegetable oil and the sesame oil in the same pan and fry the chicken until cooked through. Add the oyster sauce, water, chilli flakes and black pepper. Stir to coat the chicken.
Remove the chicken from the pan, place on a board and chop into fine pieces. The spring roll filling needs to be quite fine, which will make rolling the pastry simpler and neater. Combine the vegetables and chicken and set aside to cool slightly.
Place a spoonful of the filling at the corner of each pastry sheet. Fold, roll and seal the edges with water, as per the instruction guide on the back of the packaging. Shallow fry in a little vegetable oil until golden on all sides. Turn the spring rolls often as they can darken quickly. Scatter with toasted sesame seeds and serve warm with a sweet chilli dipping sauce.