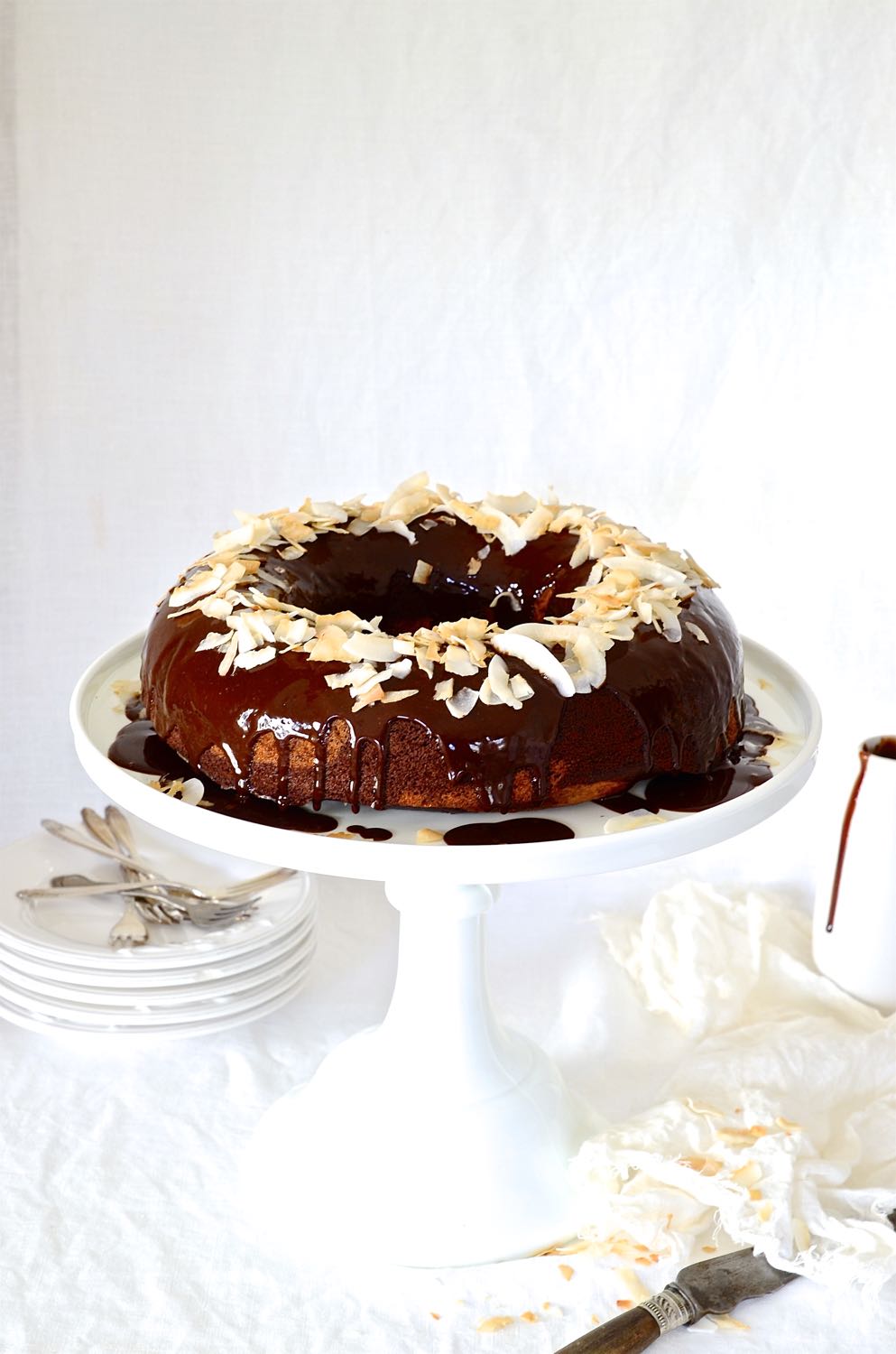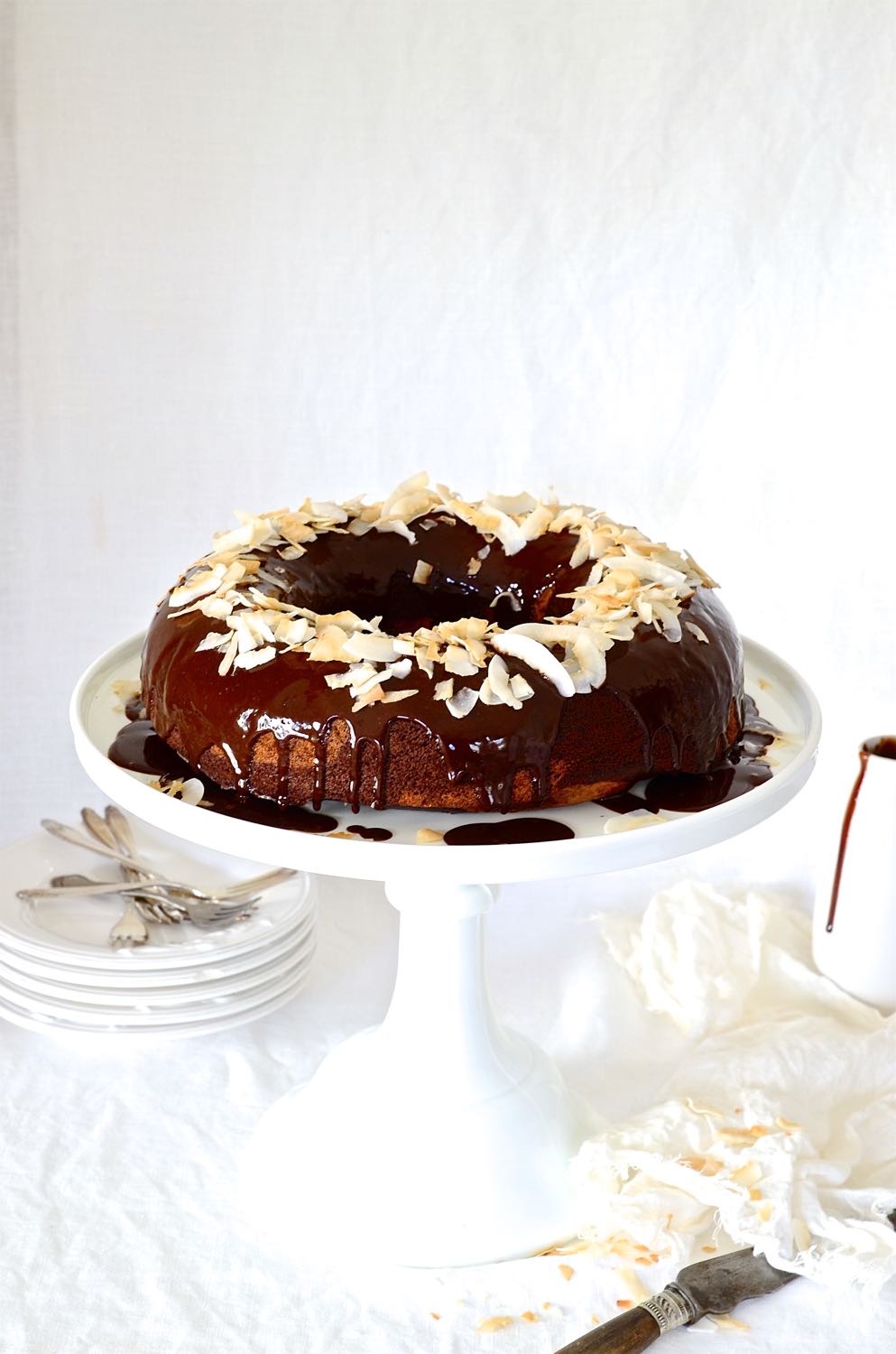 The recipe for this Marbled banana bread Bundt was inspired by our recent trip to Ireland. When travelling, most times, we prefer a family style B&B but this time round we opted for a conveniently located hotel. The breakfasts were just as I'd expected. Sausage, eggs and potatoes in all their Irish glory. It made for a very happy husband and excited teenagers. At the end of the buffet table was the chef's special – banana bread with chocolate spread.  I'll just say this. After polishing the potatoes and several slices of banana bread, we set off for the day's adventure.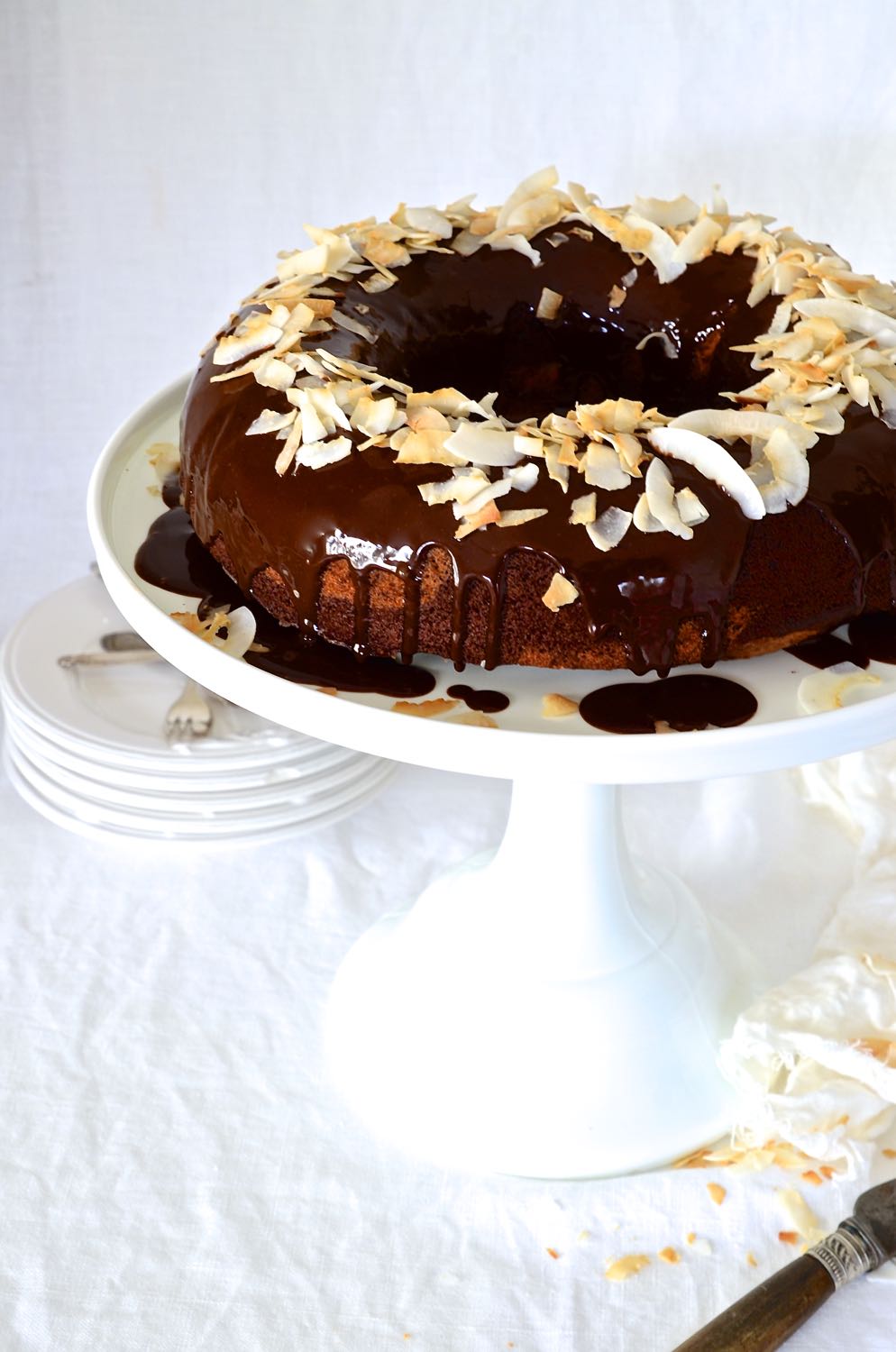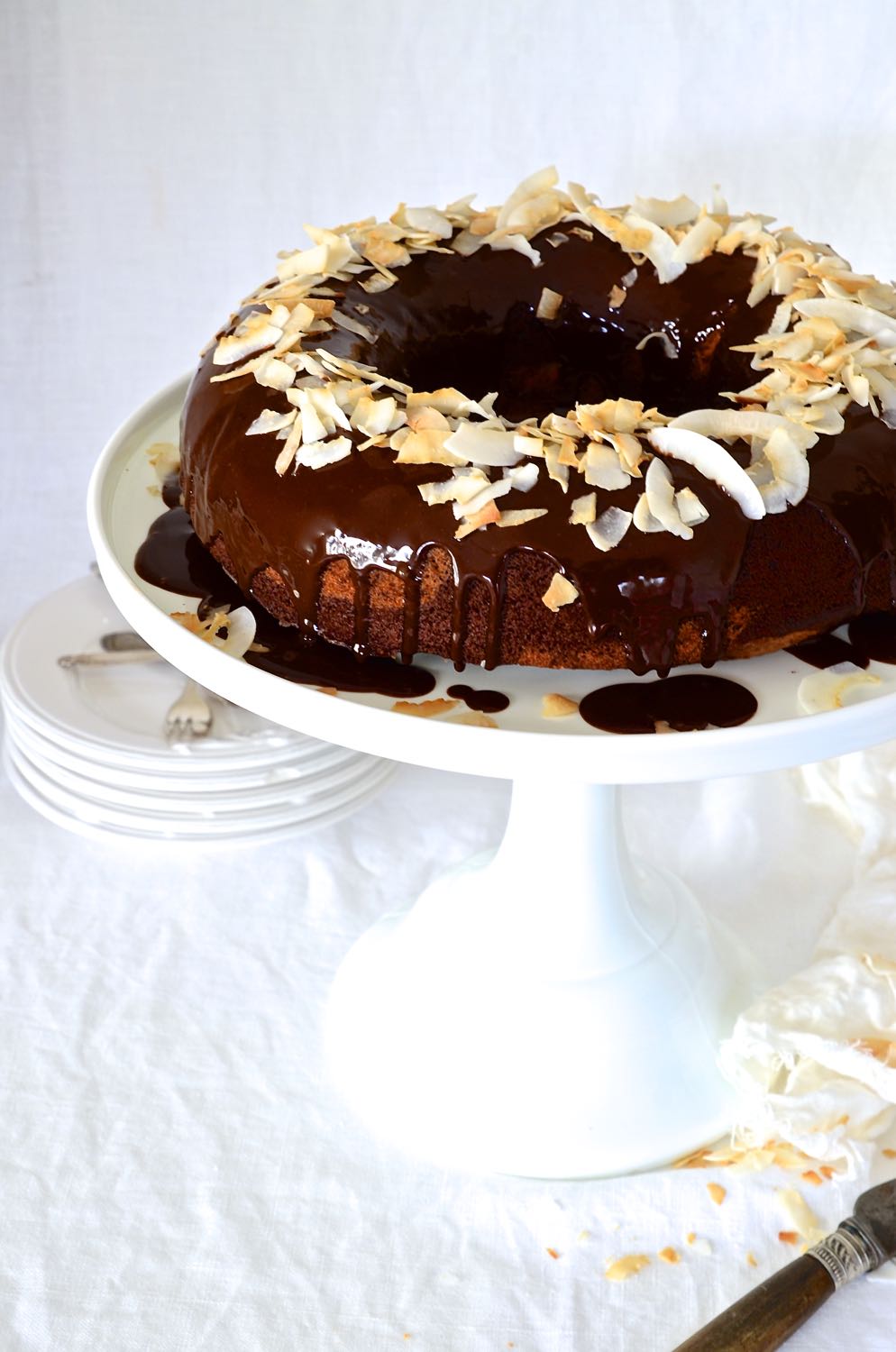 My banana bread Bundt cake pays homage to our time in Ireland and those indulgent hotel breakfasts, where having a slice of cake doesn't raise an eyebrow. The chocolate ganache drizzle is optional but really delicious. If you don't have a Bundt tin, a standard loaf tin will do equally well.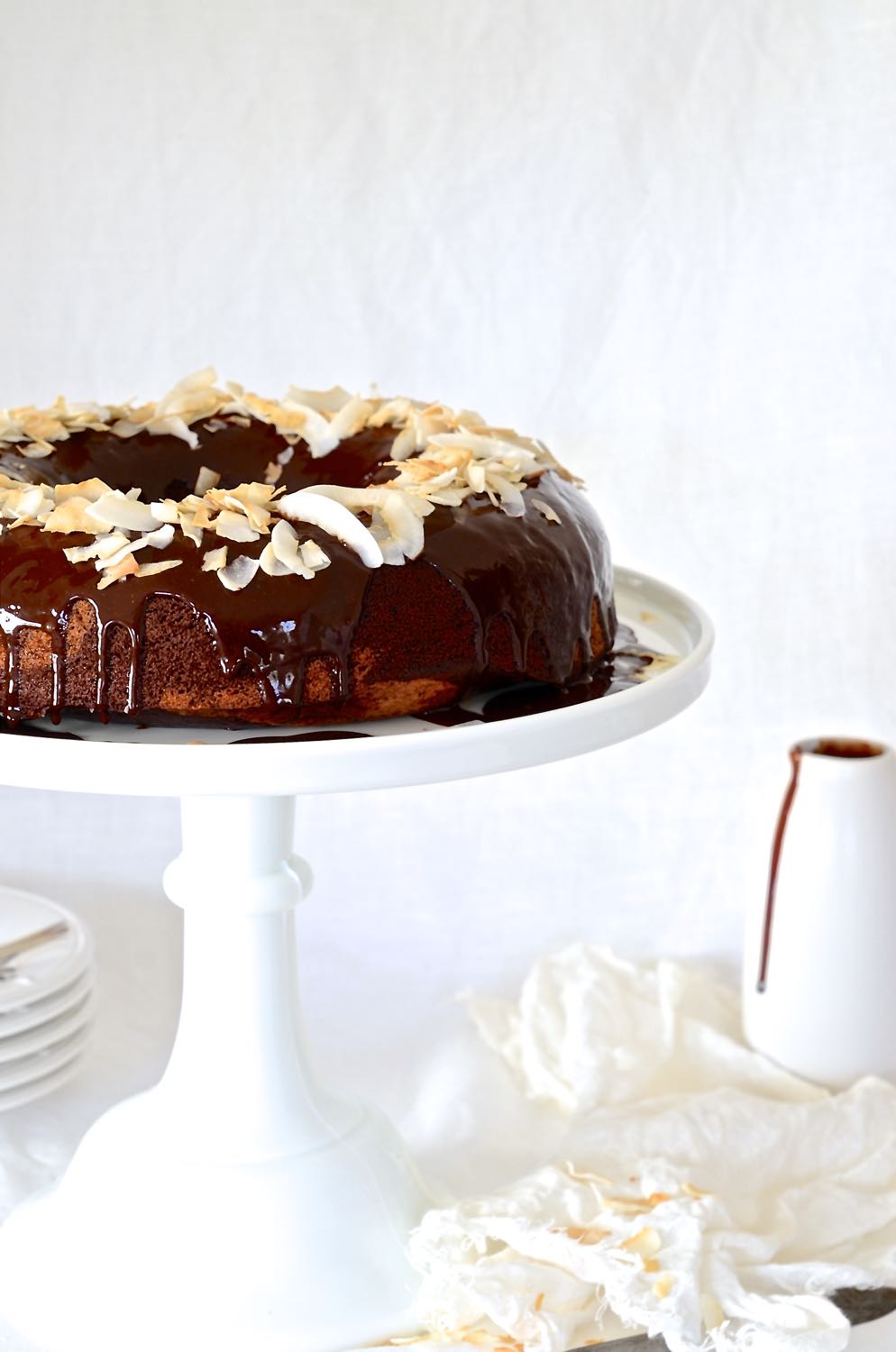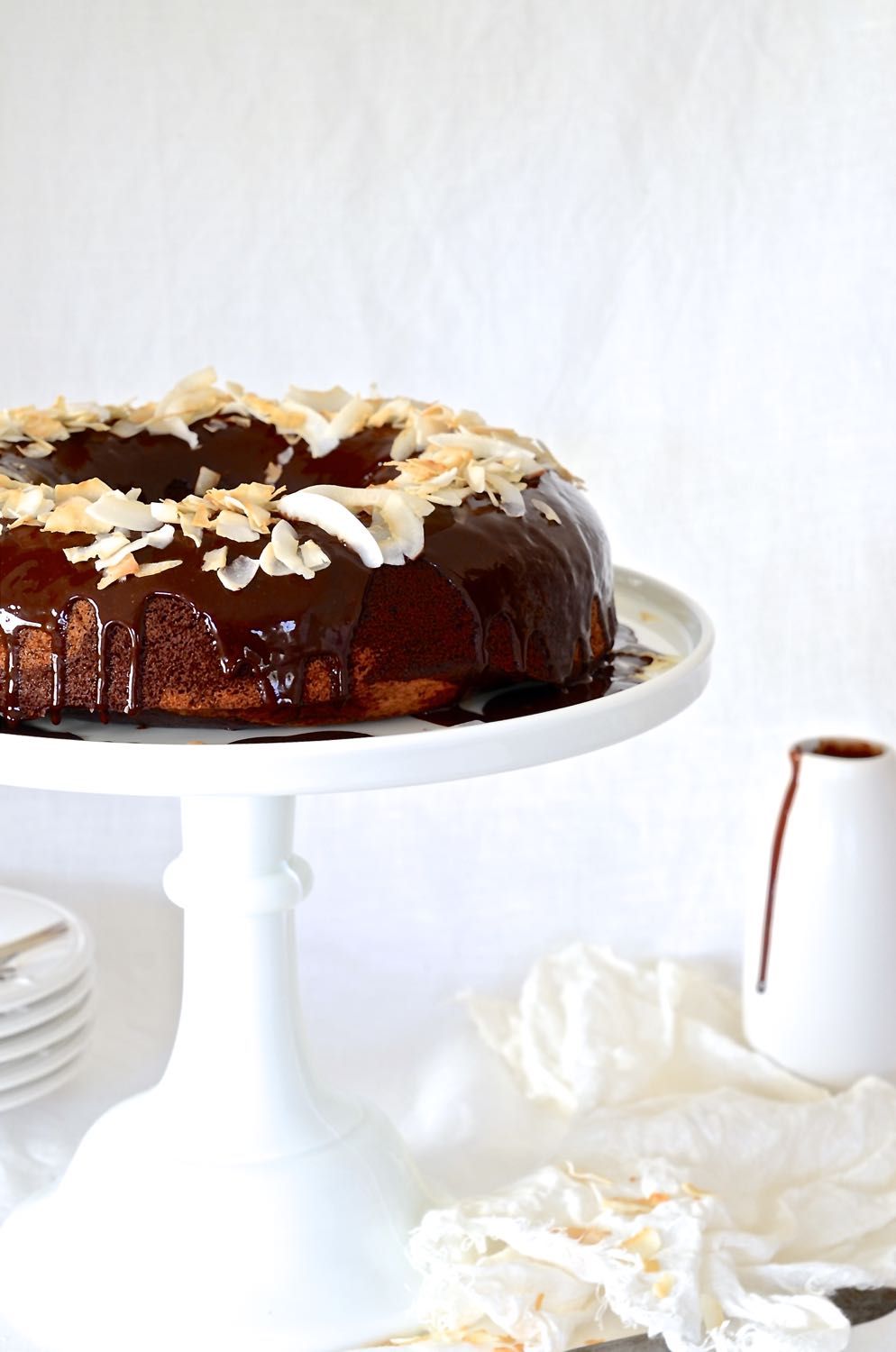 My banana bread Bundt cake pays homage to our time in Ireland and those indulgent hotel breakfasts, where a slice of cake is mandatory breakfast fare.
Marbled banana bread Bundt
Serves 12
70g butter
60ml (1/4cup) coconut oil or vegetable oil
1 cup light brown sugar
2 eggs
1 teaspoon vanilla extract
5 very ripe bananas, finely mashed
45ml buttermilk
1 3/4 cups all purpose cake flour
1/4 teaspoon salt
1 1/2  teaspoon cinnamon
1 teaspoon baking powder
1 teaspoon bicarbonate of soda
1/4 cup cocoa mixed with 60ml water to make up a paste
80g dark chocolate, chopped
Coconut ganache
60ml coconut milk
100g dark chocolate
1 teaspoon glucose or coconut oil
1/2 teaspoon cinnamon
toasted coconut shavings, to finish
Preheat the oven to 180º C. Grease a 25cm round Bundt cake tin with non-stick baking spray. In a mixing bowl, whisk together the butter, oil and brown sugar. Add the eggs and beat until well combined and creamy. Whisk in the vanilla, mashed bananas and buttermilk. The mixture will look as if it's curdled, but it'll correct once you add the flour.
Sift together the flour, salt, cinnamon, baking powder and soda. Add the dry ingredients to the wet and mix in gently. Divide the batter into two separate bowls. Mix the cocoa paste into one and fold in the chopped chocolate. Spoon the batter into the Bundt tin in alternate spoonfuls.When all the mixture is used up, swirl through with the back of a knife. Bake for 35 minutes or until a skewer comes out clean.
Set aside to cool in the tin, before turning out. To make the ganache, place the coconut milk, chocolate, glucose and cinnamon in a heatproof bowl. Set the bowl over a pan of simmering water and heat until the chocolate is completely melted and the ganache is smooth and glossy. Allow to cool and thicken up slightly before pouring over the cooled Bundt. Scatter with toasted coconut flakes.
BK Handy tip: If you are going to be using the coconut flakes, serve immediately as they loose their crisp texture when left in contact with the ganache. Alternatively, use chocolate shavings.