Greek yoghurt cake with granadilla syrup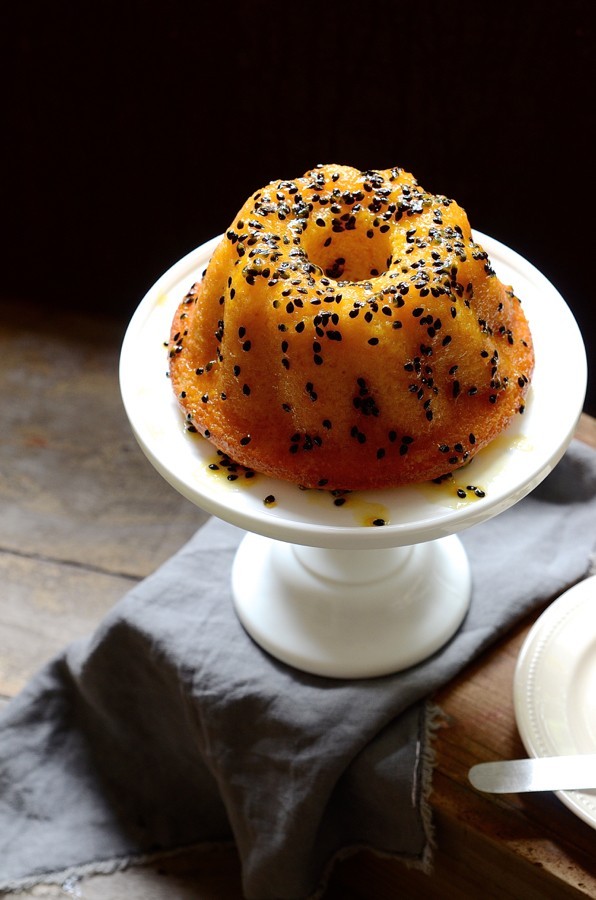 Sensory eating starts with sight and smell. Clearly you can't smell cake via a screen, so perhaps this'll help. It smells distinctly like ….what's the word again? Oh yes….. More! Hovering over to shoot this sunshine bundt, wafts of citrusy lemon and tart granadilla literally had my mouth watering. Pearly seeds cling to a luminous yoghurt cake drenched with granadilla soaking syrup. Cake Friday is back and it promises to be sticky and slightly nutty, which has everything to do with the ground almonds, not the baker mind you. With that straightened out, let's get into the kitchen.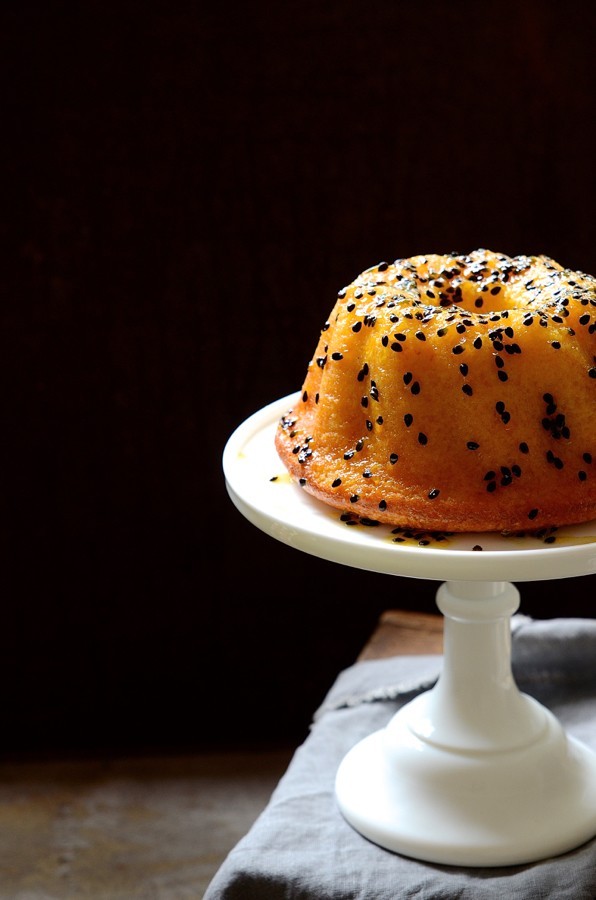 Cooking with the seasons makes perfect food sense. In the seasonal bag you're sure to find intensely flavoured produce that comes without the cost of additional air miles. Ask any food enthusiast. A trip down to the local market is almost an event! Crates of vegetables and fruit are precariously stacked, dressed in colourful hues with heady aromas hinting at their hidden offering. Fruit and cake fit like yin and yang, which brings me to this bundt cake.
As every baker knows, you can't wear a baking badge without having a reliable Greek yoghurt cake in your arsenal. To be all proper, you'd say repertoire, but I think arsenal is more appropriate, seen as this cake can double as a woman's secret weapon. You know what I mean? When she needs a trick up her sleeve…
There's something extraordinary about yoghurt cakes. Nigella's yoghurt pot cake is another favourite that I love to serve with a strong espresso after dinner and just as fabulous with a cup of mid-morning tea. In fact, anything that has Greek yoghurt in is destined to be great. Not only were the Greeks responsible for the Acropolis, they also gave the world Greek yoghurt, which is about as genius as the ruins! I'm almost certain my household accounts for the 50% increase in local Greek yoghurt sales last year. I add it to almost everything, from curries to cakes. It also happens to be our no 1 breakfast staple. In baking, it's creamy consistency yields a tender crumb and helps to reduce the amount of added fats, all of which undoubtedly help after a third 'only a slither for me, please' slice.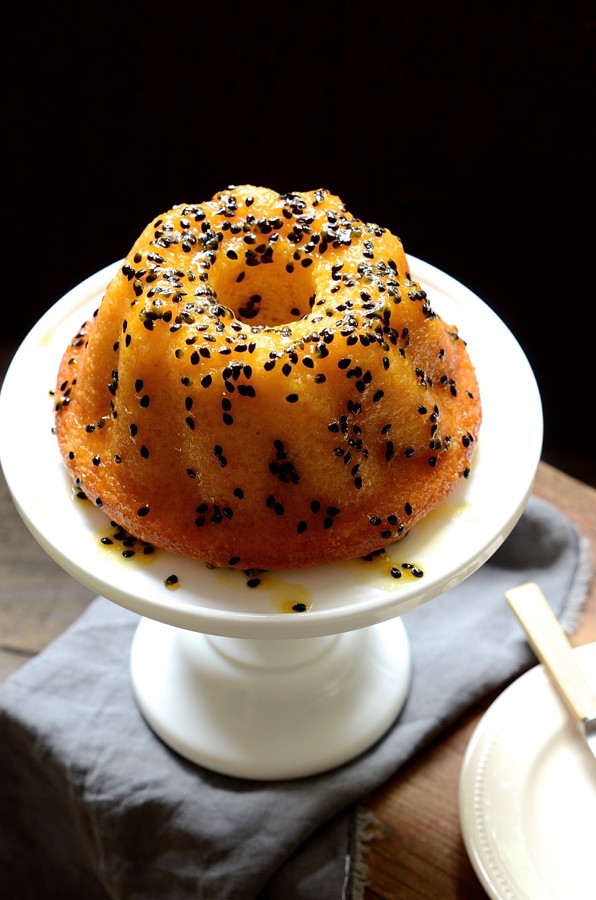 I love a generously frosted cake but occasionally, un-iced makes a deliciously light alternative. For all these 'undressed' versions, a syrup soaked cake is simply sublime. For the cake itself, I've used a combination of all-purpose flour, semolina and ground almonds. It's not as light in structure as a sponge but quite soft nonetheless. The slightly denser texture is perfect for soaking up the sticky granadilla syrup. A pot of softly whipped cream served alongside will make this a very special teatime treat indeed. There's something about a bundt that I find completely irresistible. Whoever thought that a cake with a hole in the middle would becoming a thing? To justify my growing collection of Bundt tins, I'm going to be trying out Nicole's Chai spiced bundt with rum raisins. Find the recipe for it on her beautiful blog, The Spice Train. If you don't have a bundt cake tin, a loaf pan will work just as well. Happy weekend baking.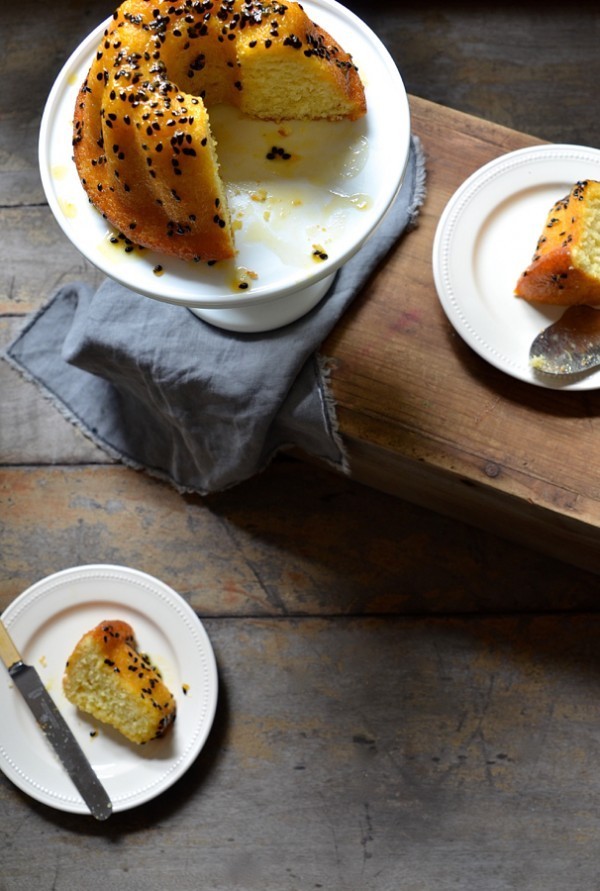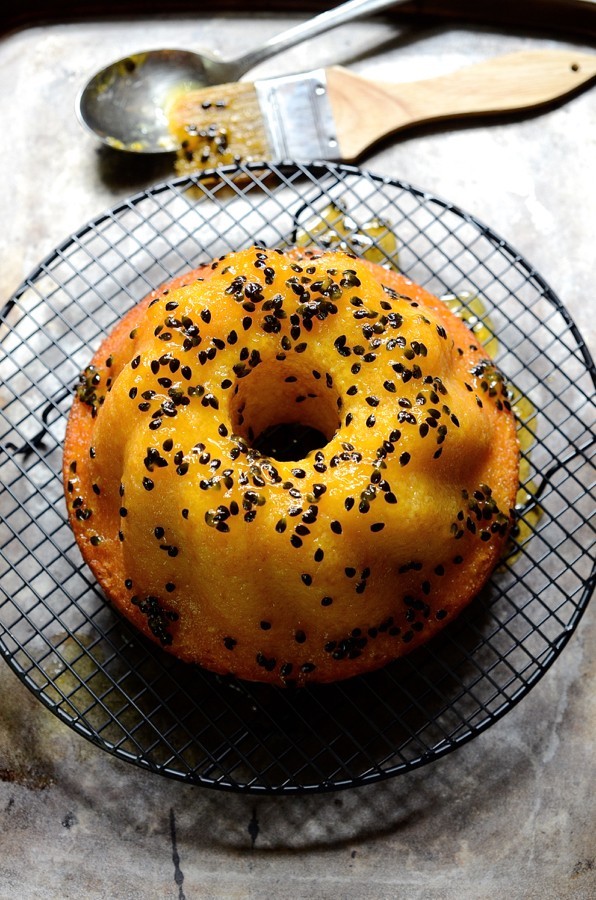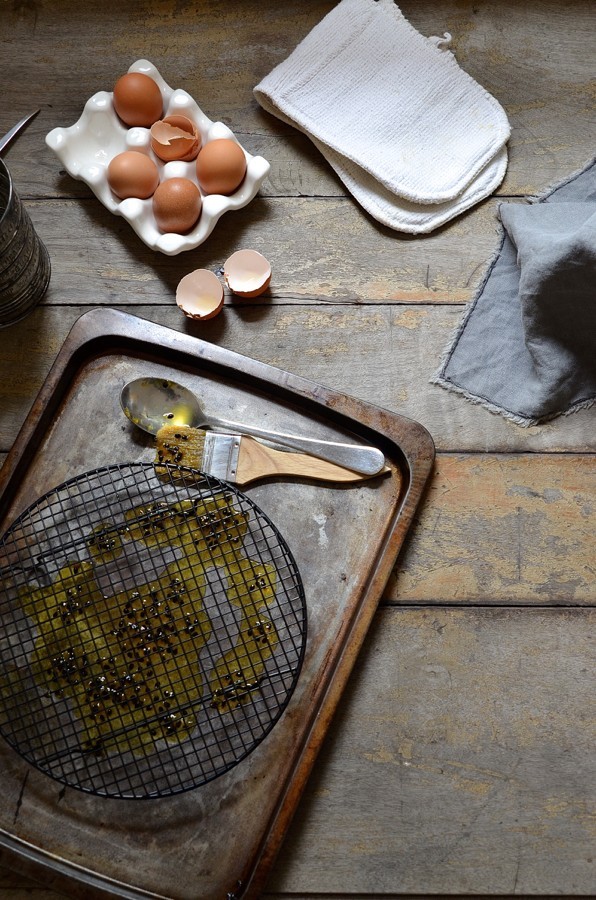 Greek yoghurt cake with granadilla syrup
Serves 10
80ml (1/3 cup) flavourless vegetable oil
2 whole eggs (size XL)
200g Greek yoghurt
140g castor sugar
zest of 1 lemon
2 tablespoons lemon juice
1 teaspoon vanilla extract
170g (1 cup plus 2 tablespoons) self raising flour
60g (1/3 cup) semolina
50g (1/3 cup) ground almonds
1 teaspoon baking powder
pinch of salt
Granadilla syrup
100g (1/2 cup) castor sugar
125ml (1/2 cup) water
60ml (1/4 cup) freshly squeezed lemon juice
125ml (1/2 cup) fresh granadilla pulp
Preheat the oven to 180º C. Grease or spray a bundt tin with  non-stick cooking spray. In a large jug, whisk together the oil, eggs, yoghurt, lemon juice, zest and  vanilla extract. Use a balloon whisk to ensure the ingredients are well combined.
In a separate bowl, sift together the flour, semolina, ground almonds, baking powder and salt. Tip the unsifted ground almonds into the flour. Pour the wet ingredients into the sifted flour and mix until the batter is smooth. Pour into the greased tin and bake for about 40 – 45 minutes. The baking time will depend on the depth of your bundt tin, so check for doneness after 35-40 minutes.
Set the cake aside to cool in the tin for at least 10 minutes before carefully turning out. If the cake is too hot, it will stick to the base of the tin and you'll loose the defined scallop shape.
In the meanwhile, make the granadilla syrup. Place all the syrup ingredients in a small sauce pan and bring up to the boil. Boil on quite a high heat to reduce the liquid. If you're using fresh granadilla pulp, skim any foam or scum off the top as the syrup bubbles away. Reduce down by half until slightly thick and syrupy. Brush the sides of the warm cake with the syrup and slowly pour the remainder over the top of the cake. Serve at room temperature with whipped cream or mascarpone.