Greek yoghurt cake with granadilla syrup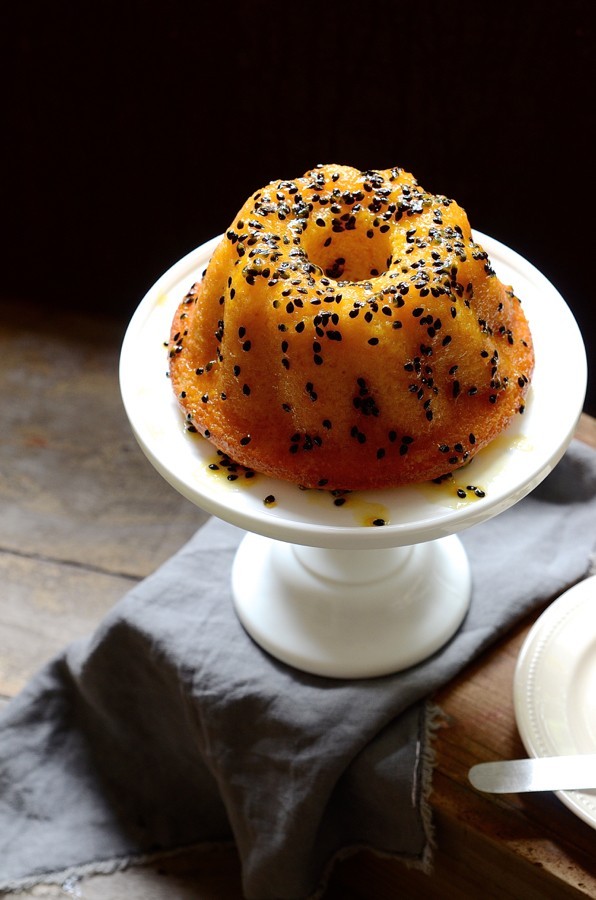 There's something quite wonderful about yoghurt cakes. I think the first yoghurt cake I made was Nigella's yoghurt pot cake.  What I loved most, was the simplicity of it. The crumb is tender and light but with a richness that comes from using double cream yoghurt. There's nothing complicated or challenging about a Bundt either. It's simple baking that does away with complicated layers and frosting. I've doused my Greek yoghurt cake with a tart granadilla syrup and it tastes rather fabulous.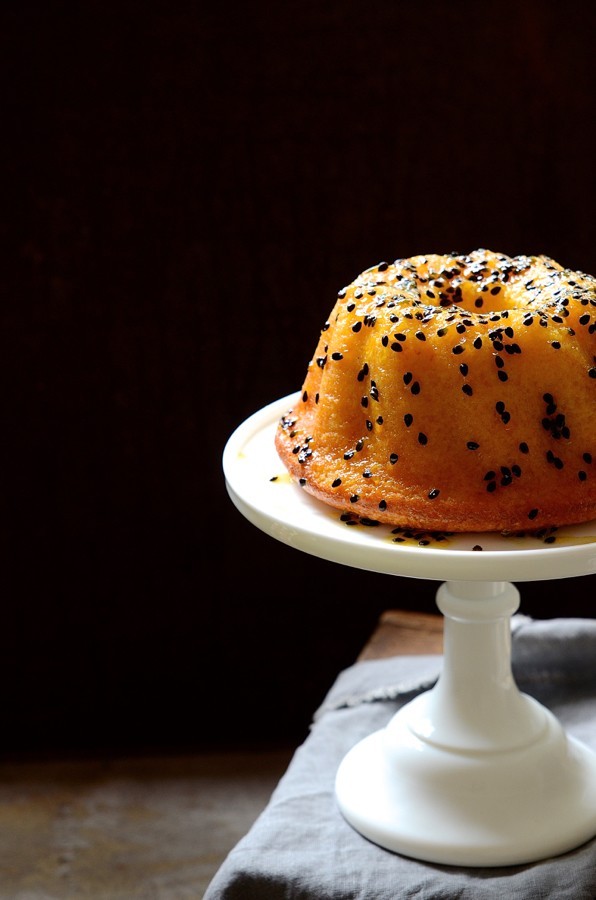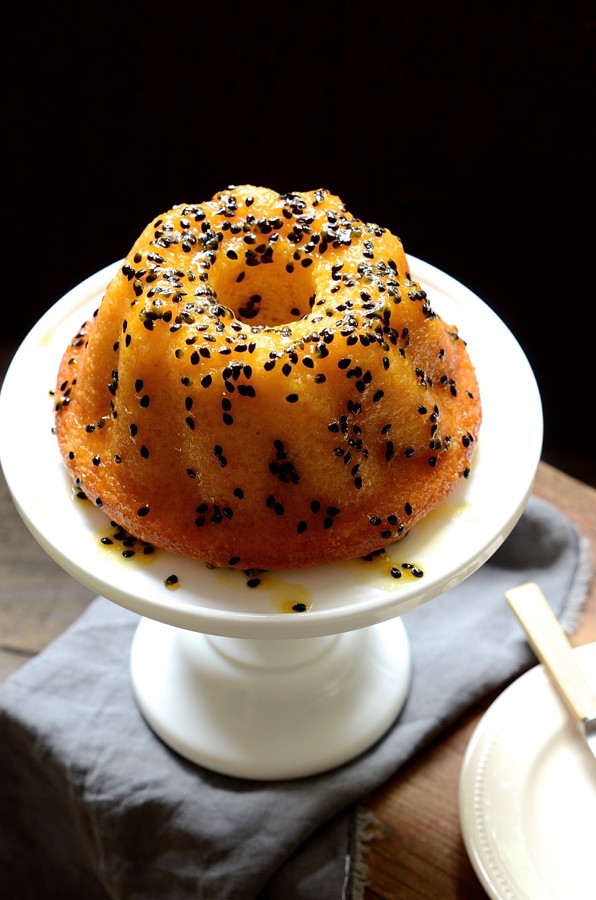 There's something about a bundt that I find completely irresistible. Whoever thought a cake with a hole in the middle would become a baker's classic? To justify my growing collection of Bundt tins, I'm going to be trying out Nicole's Chai spiced bundt with rum raisins. Find the recipe for it on her beautiful blog, The Spice Train. If you don't have a bundt cake tin, a loaf pan will work just as well. Happy weekend baking.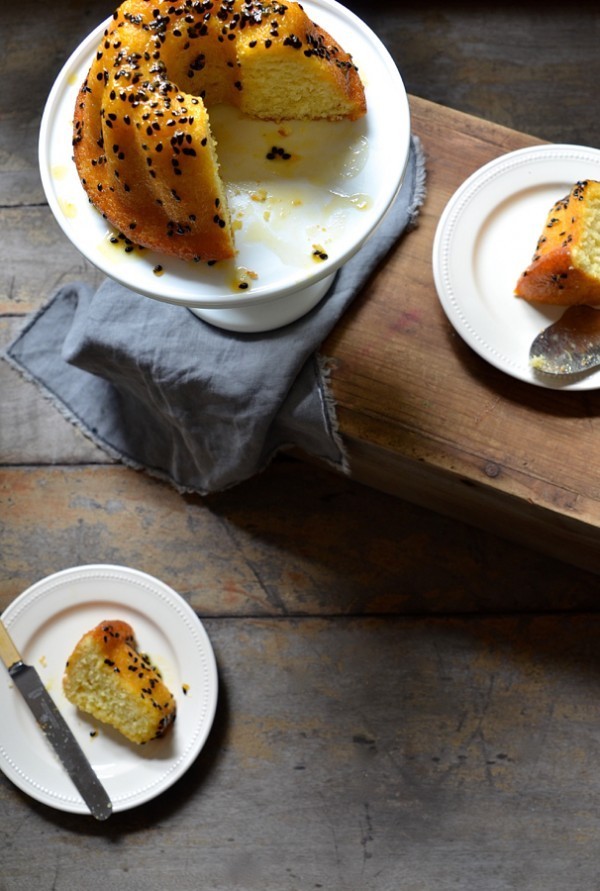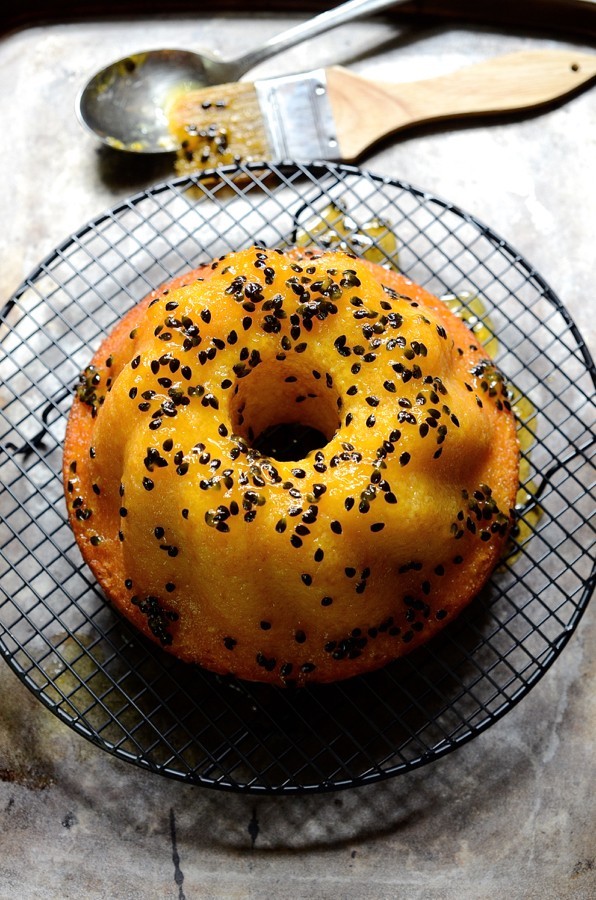 Greek yoghurt cake with granadilla syrup
Serves 10
80ml (1/3 cup) flavourless vegetable oil
2 whole eggs (size XL)
200g Greek yoghurt
140g castor sugar
zest of 1 lemon
2 tablespoons lemon juice
1 teaspoon vanilla extract
170g (1 cup plus 2 tablespoons) self raising flour
60g (1/3 cup) semolina
50g (1/3 cup) ground almonds
1 teaspoon baking powder
pinch of salt
Granadilla syrup
100g (1/2 cup) castor sugar
125ml (1/2 cup) water
60ml (1/4 cup) freshly squeezed lemon juice
125ml (1/2 cup) fresh granadilla pulp
Preheat the oven to 180º C. Grease or spray a bundt tin with  non-stick cooking spray. In a large jug, whisk together the oil, eggs, yoghurt, lemon juice, zest and  vanilla extract. Use a balloon whisk to ensure the ingredients are well combined.
In a separate bowl, sift together the flour, semolina, ground almonds, baking powder and salt. Tip the unsifted ground almonds into the flour. Pour the wet ingredients into the sifted flour and mix until the batter is smooth. Pour into the greased tin and bake for about 40 – 45 minutes. The baking time will depend on the depth of your bundt tin, so check for doneness after 35-40 minutes.
Set the cake aside to cool in the tin for at least 10 minutes before carefully turning out. If the cake is too hot, it will stick to the base of the tin and you'll loose the defined scallop shape.
In the meanwhile, make the granadilla syrup. Place all the syrup ingredients in a small sauce pan and bring up to the boil. Boil on quite a high heat to reduce the liquid. If you're using fresh granadilla pulp, skim any foam or scum off the top as the syrup bubbles away. Reduce down by half until slightly thick and syrupy. Brush the sides of the warm cake with the syrup and slowly pour the remainder over the top of the cake. Serve at room temperature with whipped cream or mascarpone.