Hello friends! It's been a while, hasn't it? This year has been busier than I could've imagined. It's been manic recipe testing, then retesting and shooting in preparation for my new cookbook.  It launches early 2024 which seems a long way off, but we'll be there in two ticks. We're also knee deep in concrete and dust as the kitchen undergoes a long overdue renovation. I cannot wait to welcome you back for our monthly cooking classes. Thank you for being so patient! In the meanwhile, here is the recipe for my Frangipane Pear Tart with Poached Pears. It's rather perfect for afternoon tea or Sunday lunch dessert.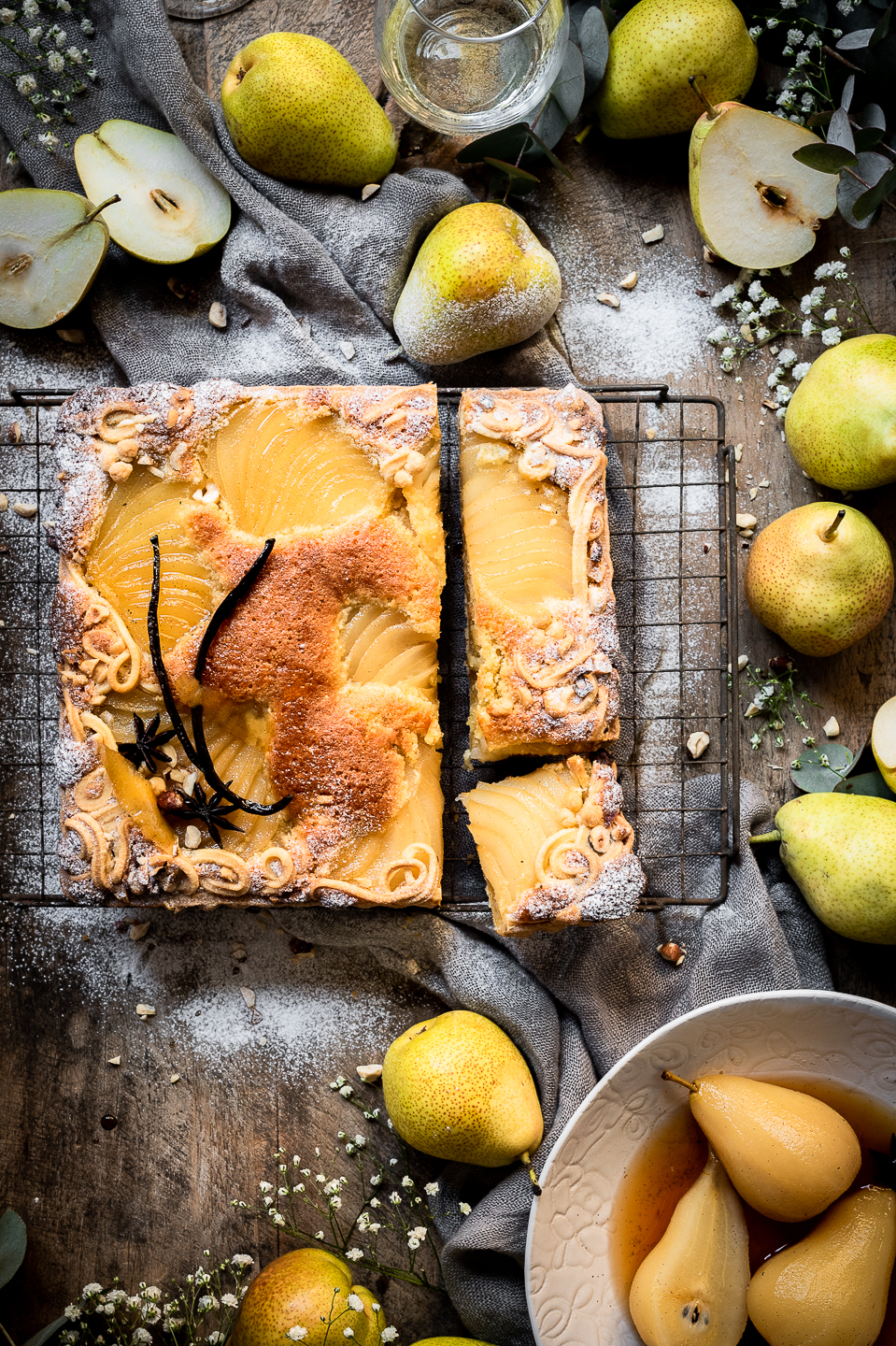 If the thought of making pastry and frangipane seems too much of a project,  you can always serve the poached pears with softly whipped cream or vanilla bean ice cream, in which case, reduce the poaching liquid until syrupy and thick. I've used a sauvignon blanc for the poaching liquid, although a dry-style chenin with fruity aromas of pear, quince and apple makes for a beautiful pairing. a lovely change from the more traditional, heavier reds. What I really love about this frangipane tart, besides the combination of almonds, pears and buttery pastry, is the all in one bake method. No blind baking or soggy bottom story either. It's a keeper. For summer, swap the pears with gorgeously sweet red plums or apricots.
The recipe was developed for Le Creuset using their Toughened non-stick Square Cake Tin. It's perfect for cakes, brownies and sliced bars.


Frangipane Tart with Poached Pears
Serves 8-10
Pastry
 250 g cake wheat flour
30 ml (2 tablespoons) icing sugar
¼ teaspoon fine salt
150 g salted butter, cold
1 egg yolk
45 – 60 ml ice water
 Frangipane Filling
 175g salted butter, softened
175g castor sugar
3 eggs (xl)
175g almond flour
20 ml (4 teaspoons) cake wheat flour
20 ml Frangelico liqueur (optional) or 1½ teaspoons vanilla extract
Poaching Liquid
250 ml (1 cup) water
750 ml (3 cups) white wine (Sauvignon Blanc)
110 g (1/2 cup) soft brown sugar
1 vanilla pod, split and seeds scraped
3 star anise
peel of 1 lemon
4 – 5 Bosc pears, firm but ripe, peeled
40 g hazelnuts, roughly chopped
icing sugar, for dusting
For the pastry, place the flour, icing sugar and salt in a processor. Pulse to aerate. Add the butter and process until the texture is roughly crumbed. Whisk the egg yolk and 45 ml water together, then add to the flour. Pulse to combine. Drizzle in the remaining water if the dough is slightly crumbly. Turn out and press together lightly. Wrap in cling film and chill for 1 hour.
For the frangipane, cream the butter and castor sugar together until pale. Add the eggs and mix to combine. Add the almond flour and cake flour and whisk until creamy. Fold through the Amaretto, if using, or vanilla extract.
For the poached pears, place all the poaching ingredients in a deep saucepan. Bring up to a simmer, stirring to dissolve the sugar. Lower the pears gently into the liquid and poach for 20-25 minutes, turning the pears several times to ensure even cooking. Remove from the heat and cool in the liquid.
On a floured board, roll the dough out to a 3 mm thickness. Line the Le Creuset Square tarte trayon the base and sides. Dock the pastry base with a fork and chill until firm.
Preheat the oven to 200 C. Spread the frangipane evenly over the pastry case. Halve and core the pears. Slice thinly, then arrange over the frangipane. Scatter the hazelnuts around the sides. Bake for 10 minutes, then reduce the temperature to 180 C and bake for a further 45-50 minutes. Cover with foil for the last 10 minutes if browning too rapidly.