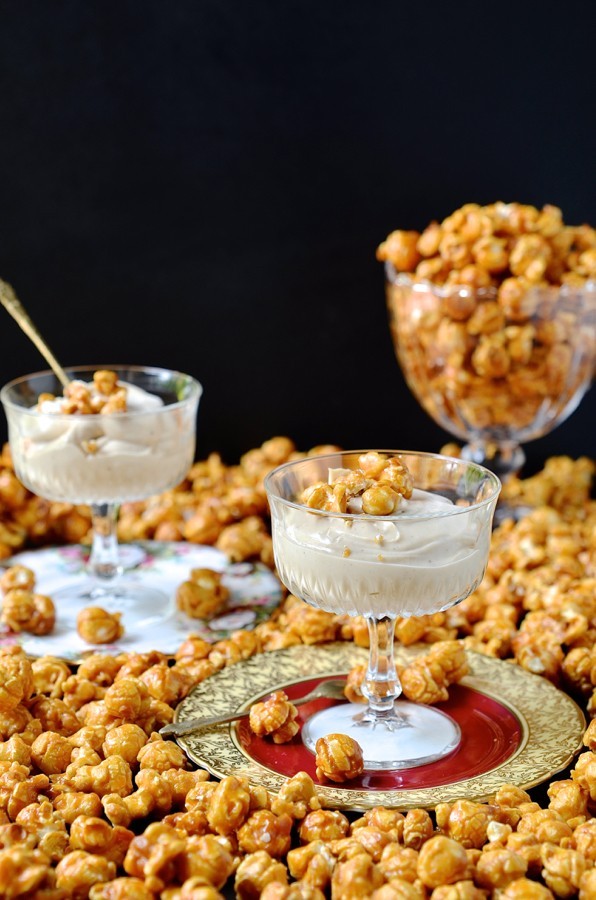 Lusciously creamy peanut butter mousse made with coconut cream, peanut butter, honey and vanilla. Could there possibly be an easier dessert? Just 4 ingredients, one bowl and a balloon whisk? These voluptuously whipped puds should take exactly 40 seconds to make, if you refrain from intermittently dipping your fingers into the bowl for a taste! Thankfully these mousse pots also lean towards indulgently healthy. It's gluten, dairy, and refined sugar-free, without the popcorn of course, which is an optional extra! Useful to bear in mind is that healthy doesn't necessarily mean calorie-free. Rather, the calories in this dessert include good-for-you nutritional value. This principle is somehow lost on my always-starving teenagers. Once food has been labelled 'healthy' all limits and restrictions are lifted and continuous grazing is the order of the day.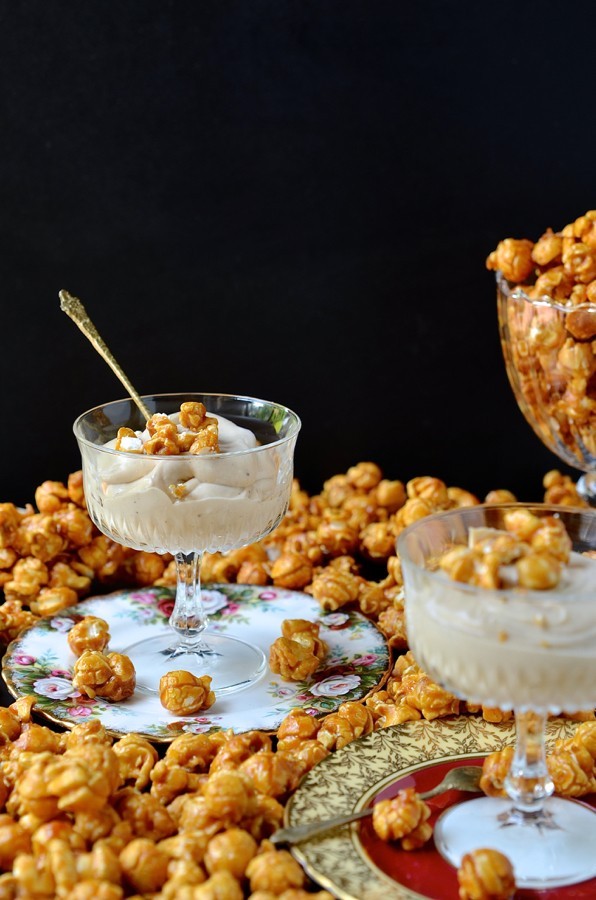 These peanut butter mousse desserts happened by default, as many unlikely kitchen success stories tend to. As a responsible adult I'm constantly reminding my girls that Readers are leaders. New note to self – pay closer attention to words of advice and instruction. Last week I opened a tin of coconut cream in place of lite coconut milk. An easy mistake to make with a store cupboard crammed full of coconut products. Clearly reading the label would've helped. As no respectable cook likes to waste, my next random thought was peanut butter. I know, a little odd right? In actual fact, no matter what the question, the answer should always be peanut butter! Anyhow, this is how we ended up with the peanut butter mousse. Sweetened with honey or maple syrup and gently flavoured with vanilla, this is my most delicious mistake I've made in a while. I also added a pinch of salt which does wonders combined with the peanut butter. So the next time you're in a fix or looking for a last minute dinner party dessert, why not try this simple mousse? I've piled on caramel popcorn as I simply couldn't resist the massive Christmas candy canisters lining the shelves at Woolies. These white centred puffs with a crunchy caramel exterior create the most sensational contrast to the creamy peanut butter mousses.
A quick note on the method. For best results, refrigerate the coconut cream for several hours. It definitely helps to thicken the consistency. As it's quite rich, I recommend a dainty portion size.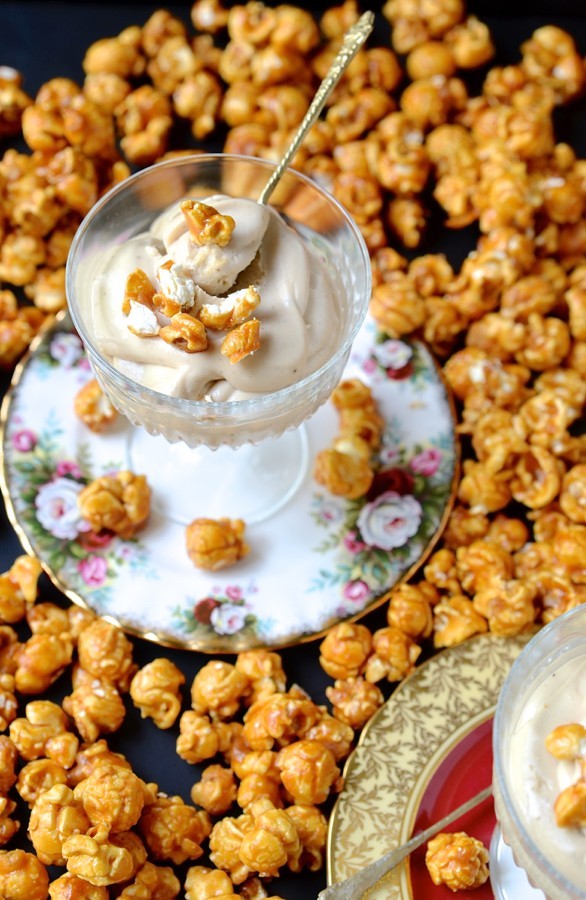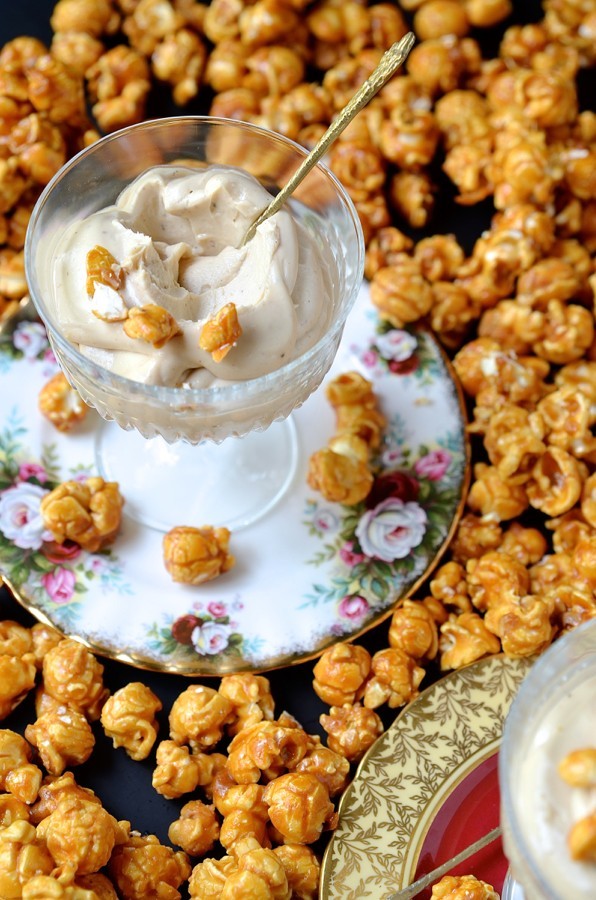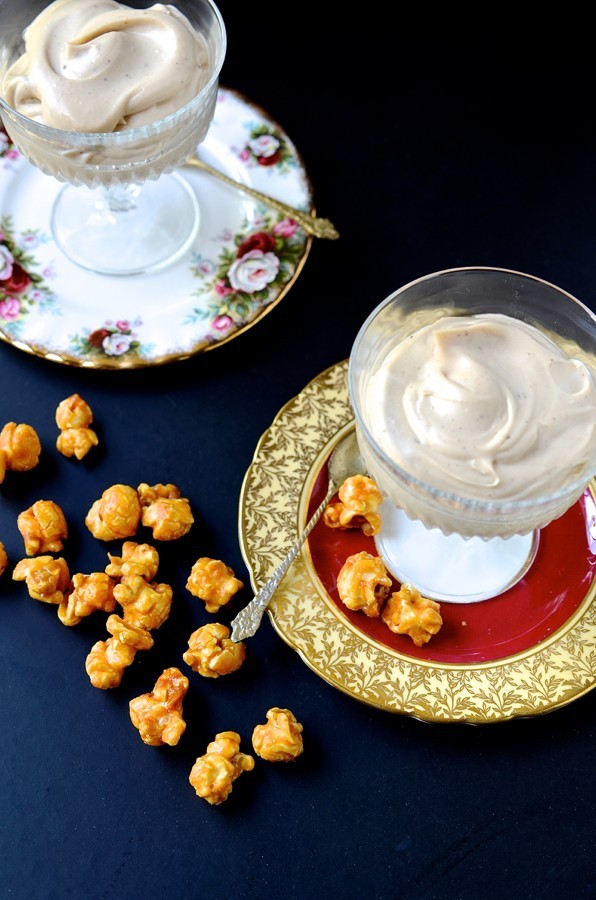 Four Ingredient Peanut Butter Mousse
Serves 4
400g tin coconut cream
1/4 cup smooth peanut butter
2 – 3 tablespoons honey (depending of how sweet you like it)
1/2 teaspoon vanilla paste or extract
pinch of salt
Scoop the coconut cream off the top and discard any of the water that remains at the bottom of the tin. Place all the ingredients in a bowl and whisk until well combined and creamy. Pour into serving glasses or small shot glasses. Refrigerate until firm. Serves as is or with roughly crumbed caramel popcorn or roasted nuts.