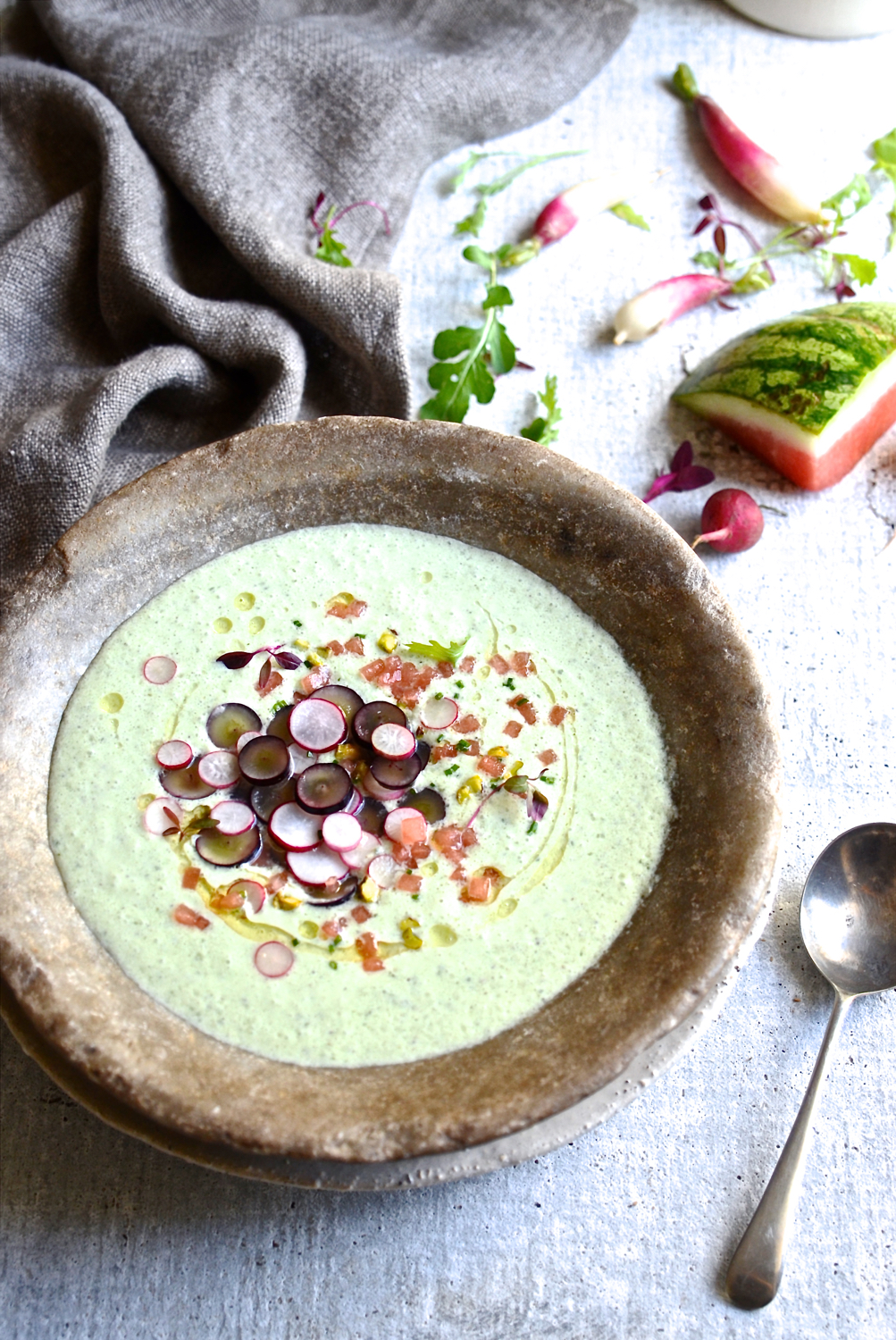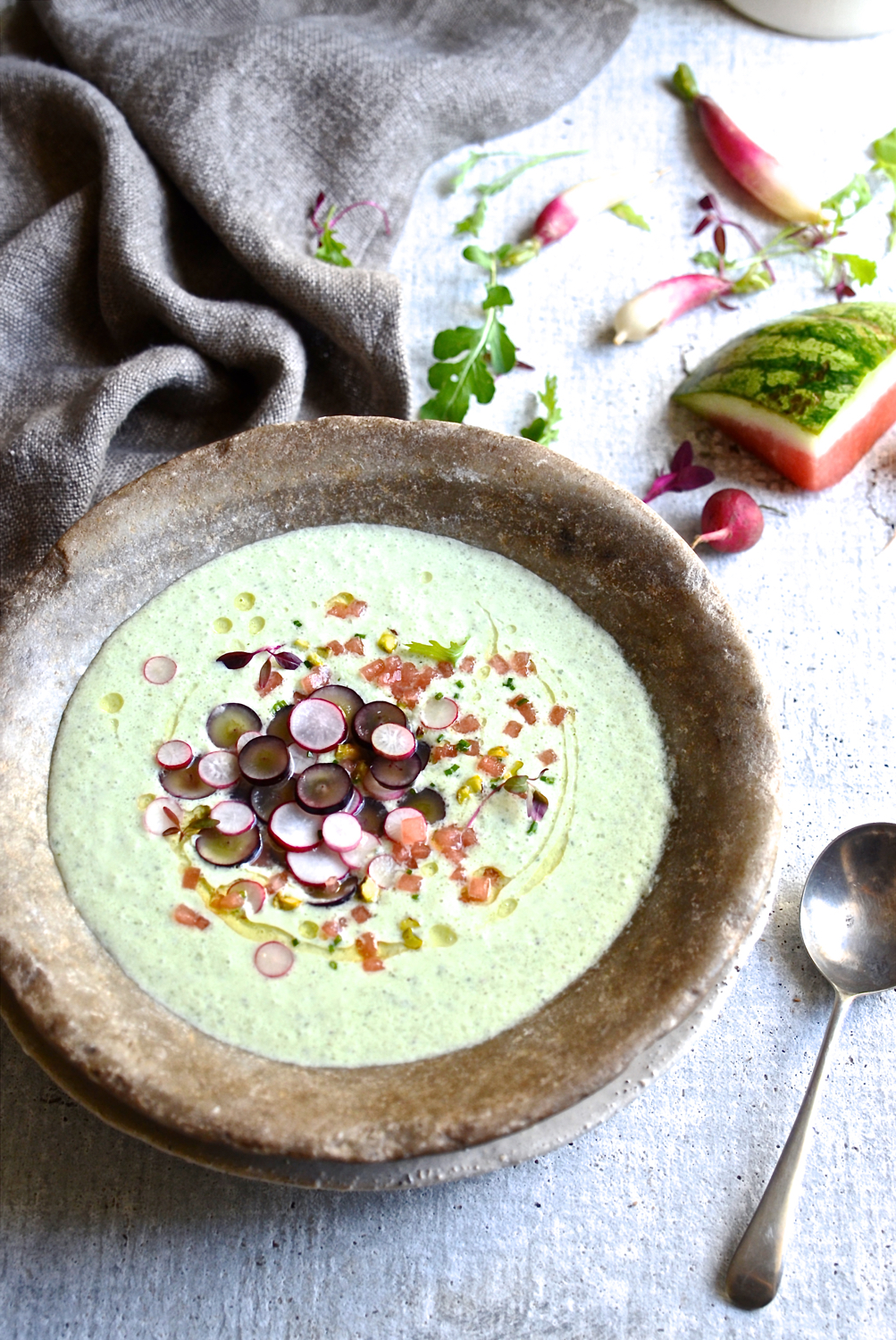 Don't you just love recipes that require a blender and a bowl? Absolutely. Today we're playing it cool and simple with a chilled cucumber soup, bejewelled with a cheeky grape and watermelon salsa. Pale pistachio pools of rehydration. As always, using fresh local ingredients results in the best tasting food and what better than summery pink watermelon and candy crush black grapes? Now Monday isn't just meat-free, we're going heat-free too. No cooking!
Cooks are often asked to choose their favourite or most useful kitchen gadget. Simple you'd think, until you have to choose. I love reading through the lists, ranging from knives to trusty Kitchen Aid mixers – the household workhorse of most pastry chefs and generally all those 'bonkers for baking' fans. If I were to pick my most indispensable appliance, first prize would go to the food processor. That said, at least one processor is turfed out every year. Very disappointing and expensive, but not altogether surprising.
Powering my way through gallons of nice cream concoctions, cocoa-nibbed chocolate bliss balls and enough hummus to supply a falafel den in Tel Aviv, destruction is to be expected. My latest addition, a dinky-sized blonde Kitchen Aid, has been churning out nut butters, smoothies and impressive homemade nut flours. As yet, it's still whizzing happily away so I'm holding thumbs that we'll become long-standing friends.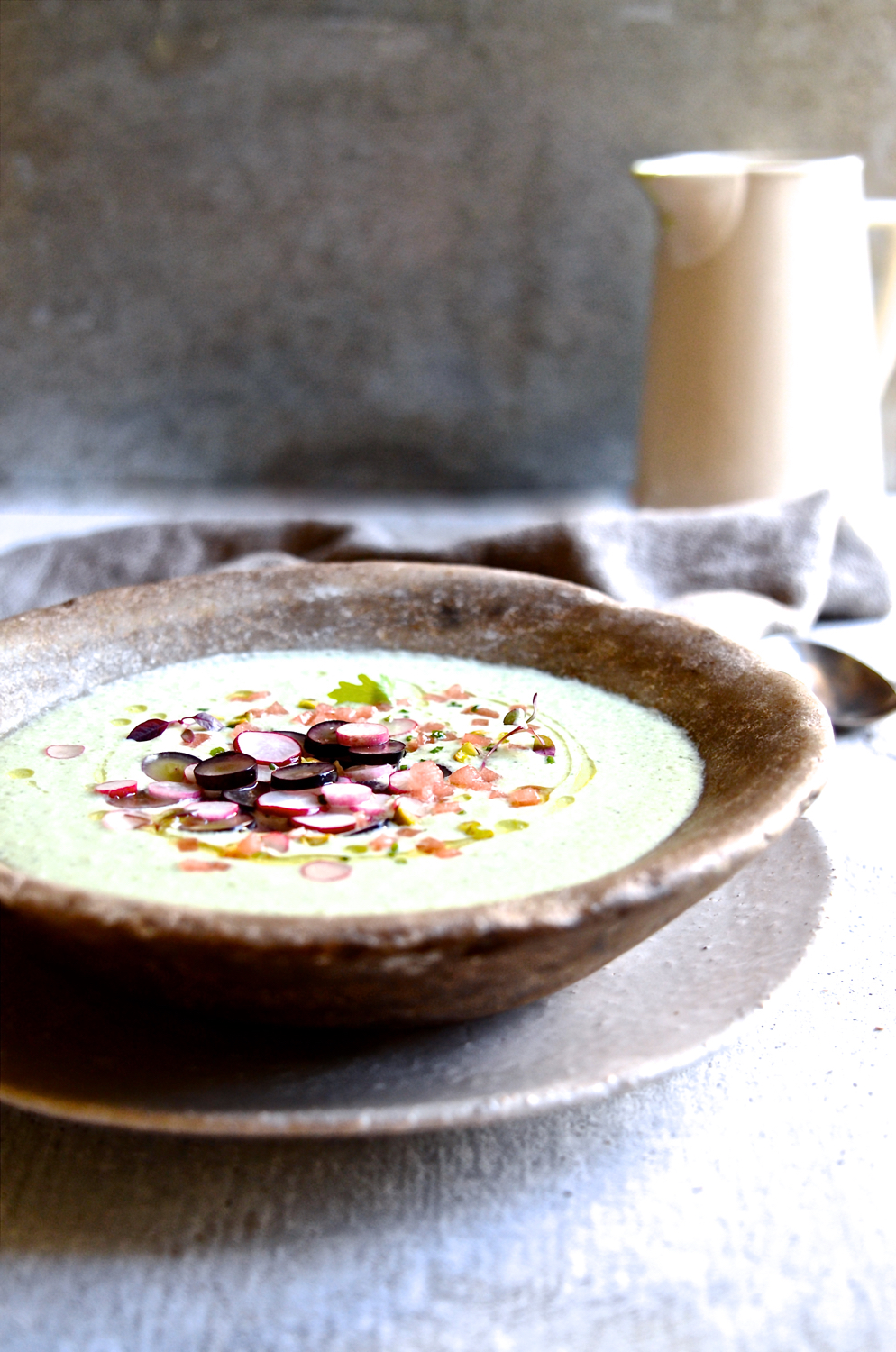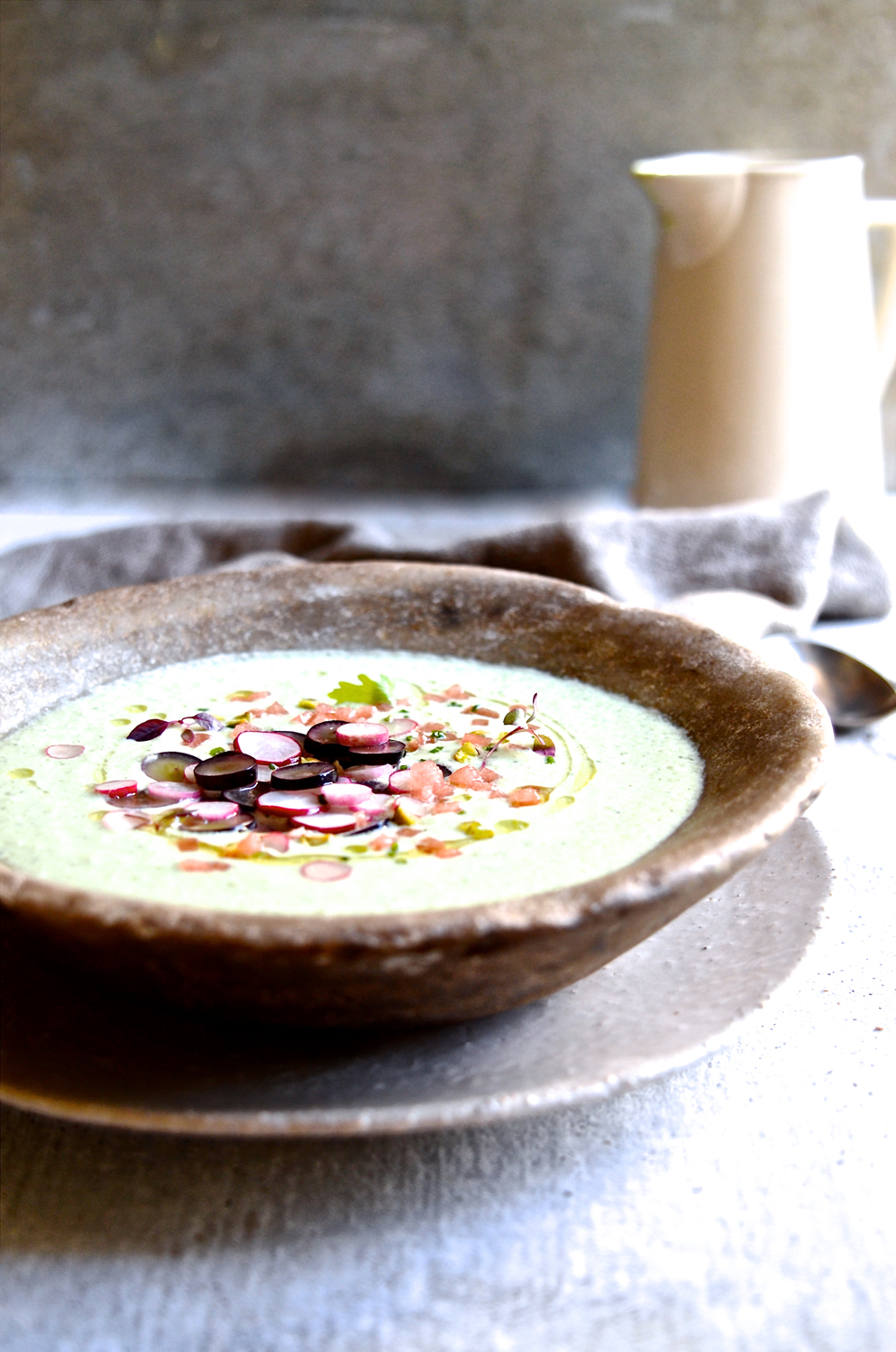 Onto the soup. Joining my ever growing list of things to make in a blender, this chilled cucumber soup is a current favourite, especially when it's hot as Hades outside. A few points to consider when making the soup is the best quality everything – Extra virgin olive oil, fresh herbs, crisp cucumber and full fat Greek yoghurt. Honest and Simple. Same applies to the fruit salsa. It's all about freshness and quality. The combination of vegetables and fruit might sound an unusual partnership but it's this contrast that makes for sensational food. I use fresh mint, lemon and tarragon to brighten the flavour and baby radishes for sharpness and a subtle burn. This soup is a real surprise and a refreshingly good one at that.
This soup is excellent paired with Glen Carlou's unwooded chardonnay, as recommended by my good friend and wine connoisseur, Michael Olivier.
Chilled cucumber soup with grape and watermelon salsa
Serves 6-8
1 large English cucumber, skin on, deseeded and roughly chopped
3 cups (750ml) Greek yoghurt
3 spring onions, diced
1 clove garlic, minced
a handful fresh mint
2 teaspoons chopped chives
1 teaspoon fresh tarragon, chopped
juice of 1/2 lemon (about 2 tablespoons)
2 tablespoons olive oil
sea salt flakes and freshly ground black pepper
3/4 cup chilled water
For the grape and watermelon salsa
1/2 cup black grapes, thinly sliced into rounds
4 radishes, finely sliced
a wedge of watermelon, deseeded and cut into 5mm cubes (to make about 1/3 cup)
2 tablespoons toasted pistachio nuts, roughly chopped
chopped chives, for finishing
extra virgin olive oil, for drizzling
micro herbs, optional
Grate the cucumber on a large grate. Season lightly with sea salt flakes and set aside for 10 minutes.
Press together lightly to remove excess water from cucumber.
Place the cucumber and all the remaining soup ingredients, except the water, in a processor and blitz until smooth.
Taste and adjust the seasoning either by adding a little more salt or lemon juice to brighten the flavours.
Add about 3/4 or up to 1 cup cold water to the soup to thin it out slightly. It should be the consistency of cream but not too runny.
Chill the soup for several hours.
To make the salsa, combine the grapes, radishes and watermelon in a bowl.
When ready to serve, whisk the soup briefly with a balloon whisk Pour into glass tumblers or shallow soup bowls.
Arrange the grape and watermelon salsa on top, scatter with chives and pistachio nuts. Drizzle with extra virgin olive oil and serve immediately.