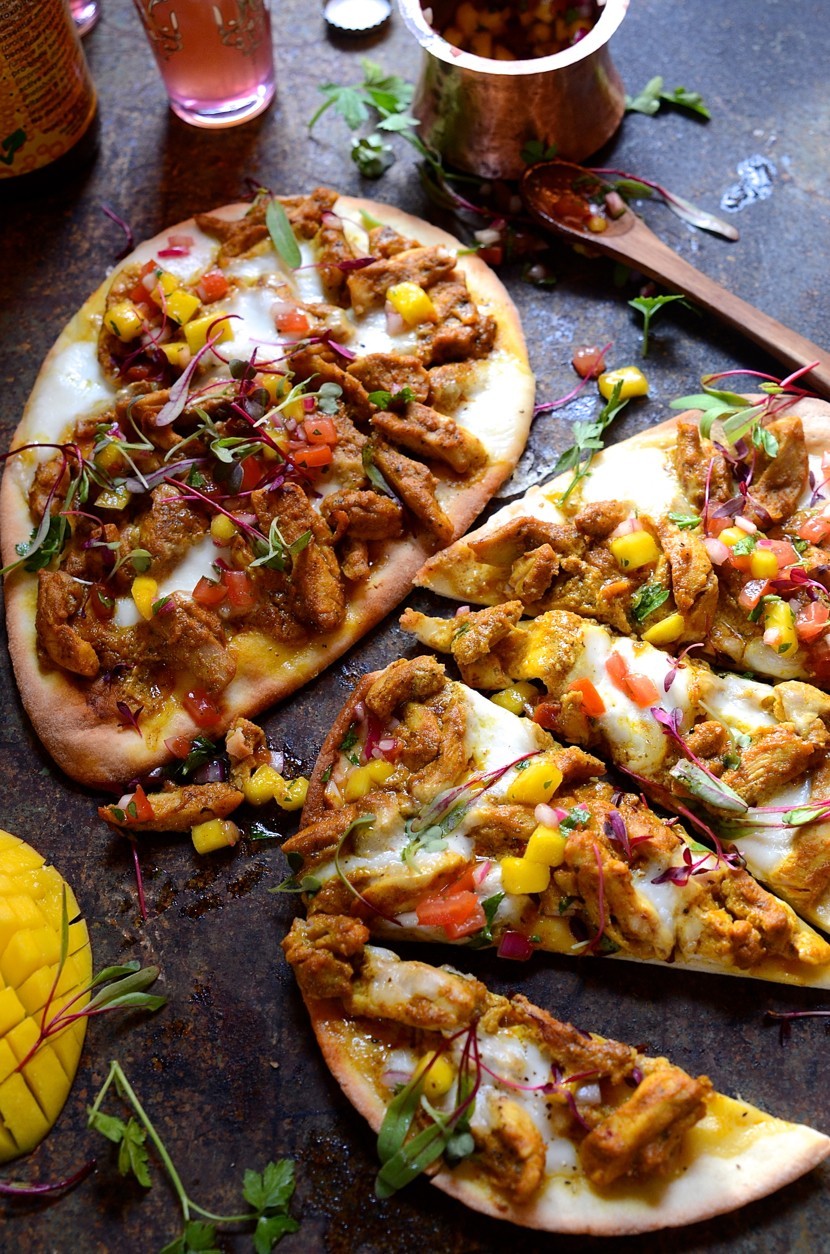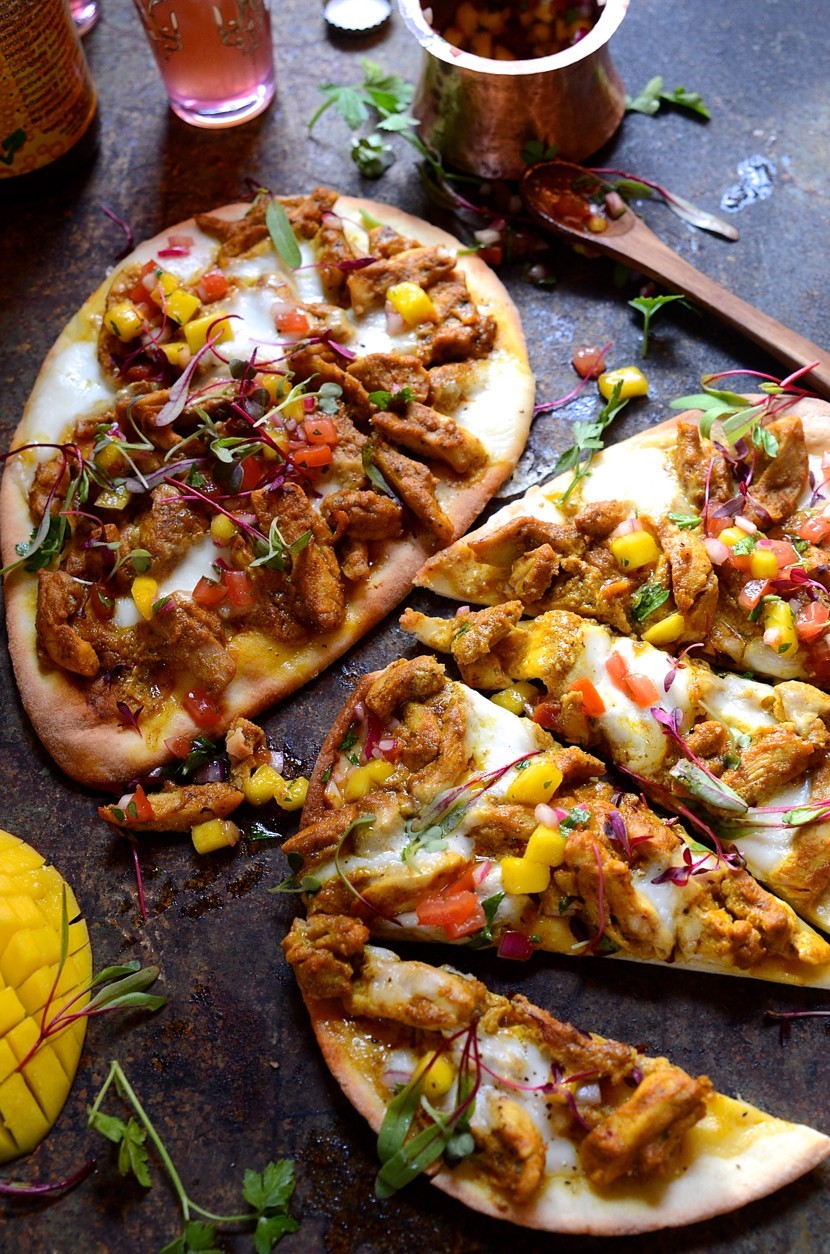 Quick suppers are about taking as many short cuts possible, without compromising on taste or flavour. My Spicy chicken korma naan bread pizza with melting mozzarella and mango and tomato salsa ticks all the boxes.
A good spice paste id the quickest route to big flavours without the fuss. A homemade curry paste is my preferred choice, but for this speedy pizza we're all about simplifying and saving time. I've added some chilli and freshly grated ginger to the paste, which gives the chicken korma a little extra heat. If you don't have these two ingredients, the paste alone should do, then nip in at Woolworths for their ready made naan bread. The salsa however, is absolutely e.s.s.e.n.t.i.a.l. You'd think it could go without, but give it a try. You'll be so glad you did. The combination of spicy korma with fresh chutney salsa is beyond.
This spicy Korma pizza is a fusion of two family favourites – curry and pizza. While not conventional by any means, a little latitude goes a long way in keeping everyone happy. This week had been particularly busy, as most end of school terms are, so this was on the supper table tonight. I'm not sure if everyone was famished, but these pizzas disappeared in minutes.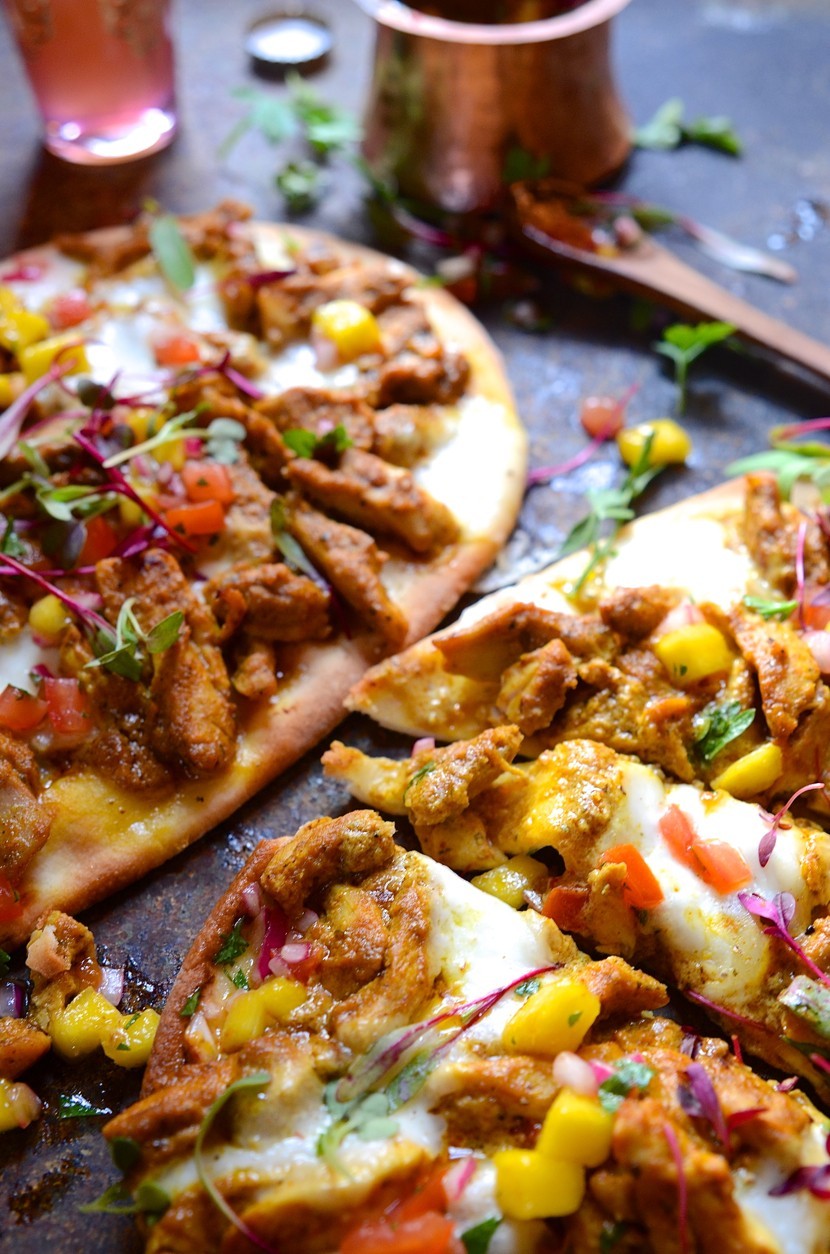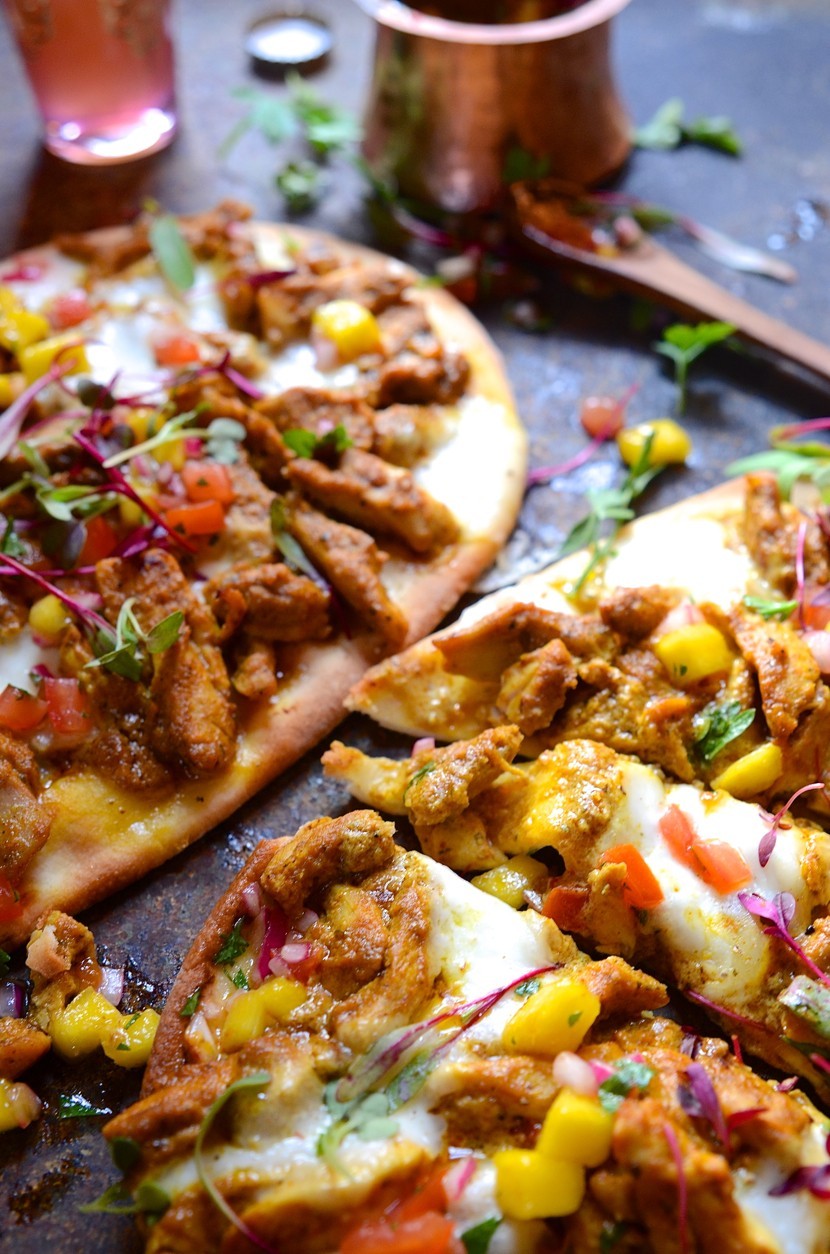 Chicken korma naan bread pizza
Makes 2
2 tablespoons korma paste
1 thumb sized piece of ginger, grated
a pinch of red chilli flakes
8 chicken thighs, skinless and deboned
juice of half a lime
1/2 cup Greek yoghurt
bocconcini mozzarella
2 large naan breads
For the salsa
1 mango cheek or 2 small nectarines, diced
2 ripe Roma tomatoes, deseeded and cut into small dice
1/2 red onion, finely chopped
several stems flat leaf parsley, roughly chopped
1 tablespoon fruity chutney
1 tablespoon olive oil
a squeeze of lime juice
salt and pepper, to taste
Preheat the oven to 240º C. Brush the naan bread lightly with olive oil and place on a lined baking sheet. Bake for 6-7 minutes until golden and crisp. In the meanwhile, start with the korma. Mix together the korma paste, ginger and red chilli flakes. Slice the chicken thighs into narrow strips and coat in the paste. If you have the time, you can prepare the chicken in the morning and leave it to marinade for the entire day, which will improve the flavour tremendously, but a few minutes will do just fine for a midweek rush.
Heat a tablespoon of olive oil in a pan and once the oil is hot, add the chicken. Cook on a high heat until the chicken is nicely browned and cooked half way through. Season with salt and turn over to brown and cook through on the second side. Spritz with lime juice and stir in the yoghurt. Simmer for several minutes and then remove from the heat.
Spread the chicken korma over the crisp naan bases. Tear the bocconcini mozzarella balls into pieces and dot in-between the chicken. Bake for 7 minutes until the mozzarella is melted and the naan bases are heated through.
For the salsa, mix all the ingredients together and season lightly with salt and pepper. To serve, spoon the chutney salsa over the hot pizza and finish off with a scattering of micro herbs, if you like.