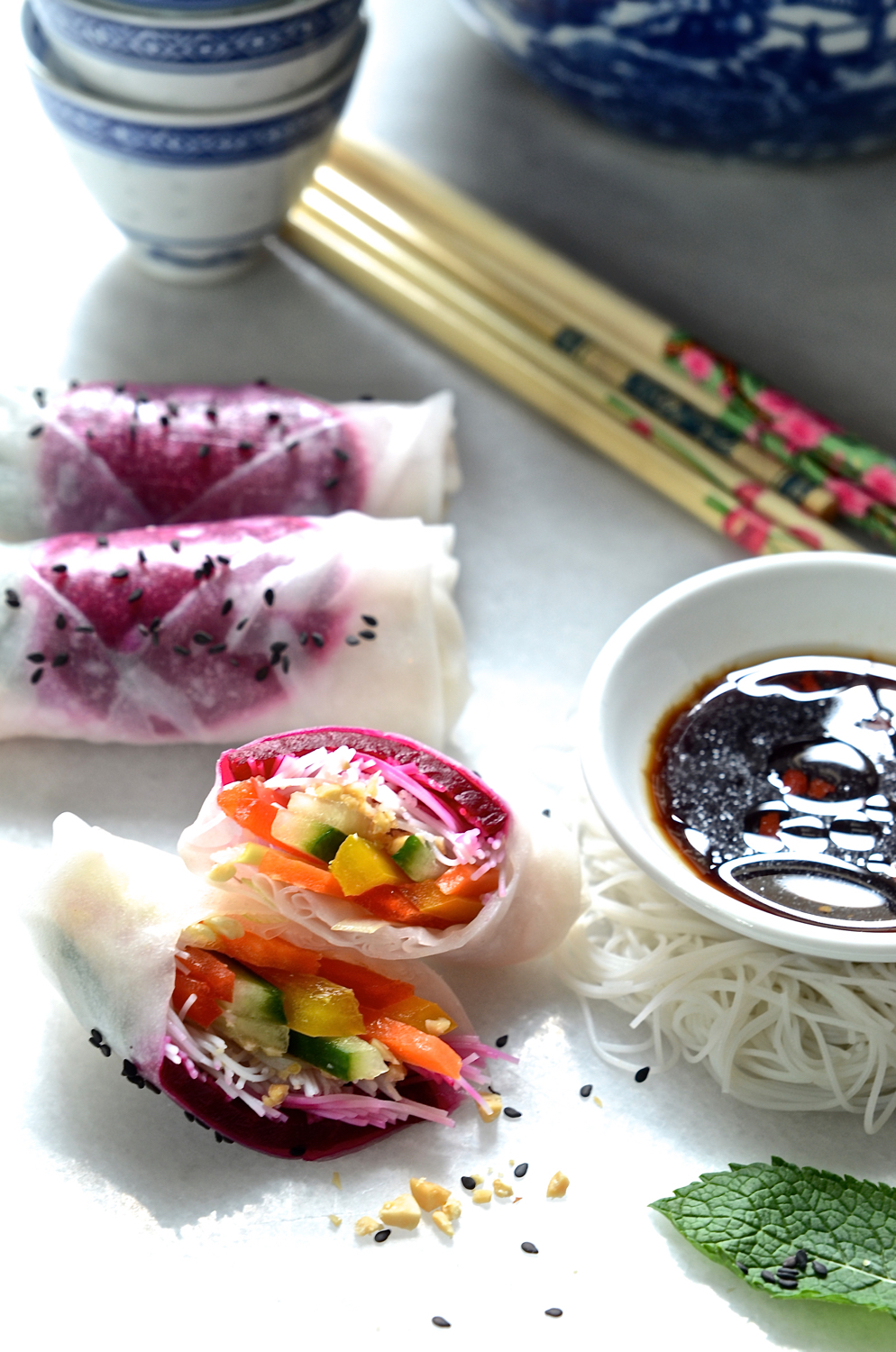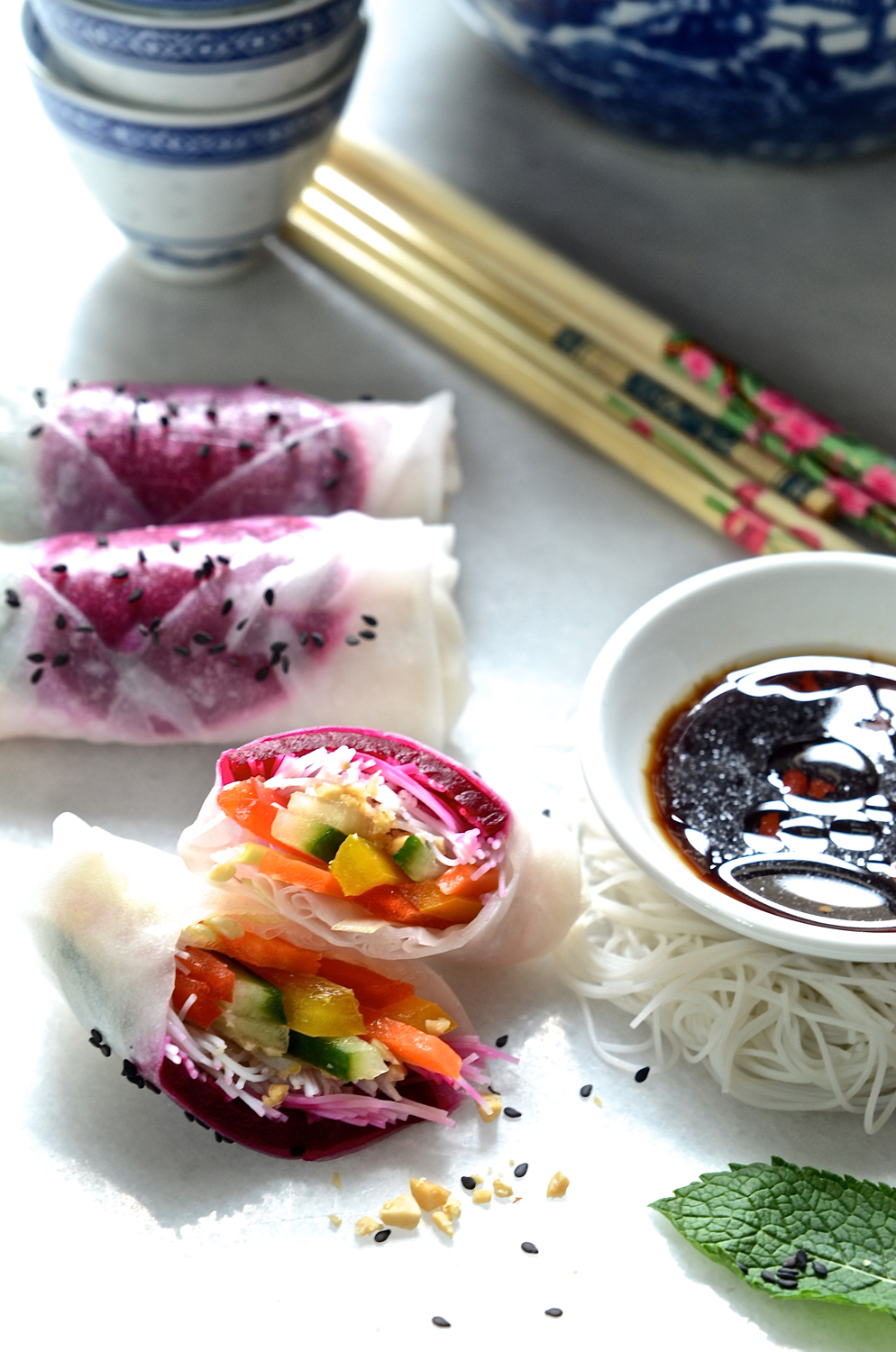 Translucent wraps with wafer-thin beetroot tucked around a generous filling of rice noodles, crisp vegetables, sprouts and roasted peanuts. The citrusy soy dipping sauce provides the essential balance of sweet-salty-heat that's quintessentially Thai. These beetroot rice paper rolls are clean cuisine, the type of food that's a joy to eat.
Raw food highlights fresh clean flavours. These rice paper rolls are also gluten-free. You could of course add avocado and purple basil. Shredded chicken and mango slithers are lovely if you're not doing vegan. Vary the filling combinations according to what's seasonal. Scattered with black sesame seeds, these wraps make great summer canapés and can be prepared well in advance. If you're making them ahead of time, cover the filled rice paper rolls with cling film and chill for several hours. Ingredient quantities are not overly specific  If you're averse to double dippers, serve them with individual dipping sauce bowls.
Beetroot rice paper rolls with sesame dipping sauce
Makes 12
generous handful rice  (vermicelli) noodles,
2  – 3 cooked beets, sliced into thin rounds
1 red and yellow sweet pepper, deseeded and julienned
1/2 cucumber, quartered lengthways, deseeded and julienned
1 large carrot, peeled and julienned
2 -3 scallions, cut into slithers
sprouts of your choice
salted, rosted peanuts, crushed
fresh mint leaves
Dipping sauce
3 tablespoons light soy sauce
1 tablespoon sesame oil
2 tablespoons lime juice
zest of 1 lime
pinch of dried, red chilli flakes
Place the dried rice noodles in a heatproof bowl and cover with boiling water. Set aside for about 8 minutes, until they are completely soft. Drain.  Rinse the beetroot rounds under cold water and drain the moisture off by placing on a carlton towel. This will prevent the colour bleeding throughout the wrap. Line the julienned vegetables up into several piles and trim the edges to make them all more or less the same length. Fill a large, flat bowl with lukewarm – medium hot water. Soak 1 rice paper sheet at a time for just less than a minute. Check that it is soft, before removing from the water and lay on a clean dish towel or chopping board.
Starting from the bottom, lay a beetroot round and a large sprig of mint, followed by some rice noodles. Next up is some sprouts, the crushed peanuts and finally, a sparse handful of mixed vegetables. Fold up from the bottom, then fold the sides, inwards rolling upwards to finish the roll. Continue until you have used up all the filling ingredients. Place the wraps on a serving board or platter and scatter over the black sesame seeds.
For the dipping sauce, whisk all the ingredients together and pour into a dipping bowl and serve alongside the vege-rolls.
Note. This recipe was inspired by Dana from The Minimalist baker – http://minimalistbaker.com/rainbow-spring-rolls-with-ginger-peanut-sauce/