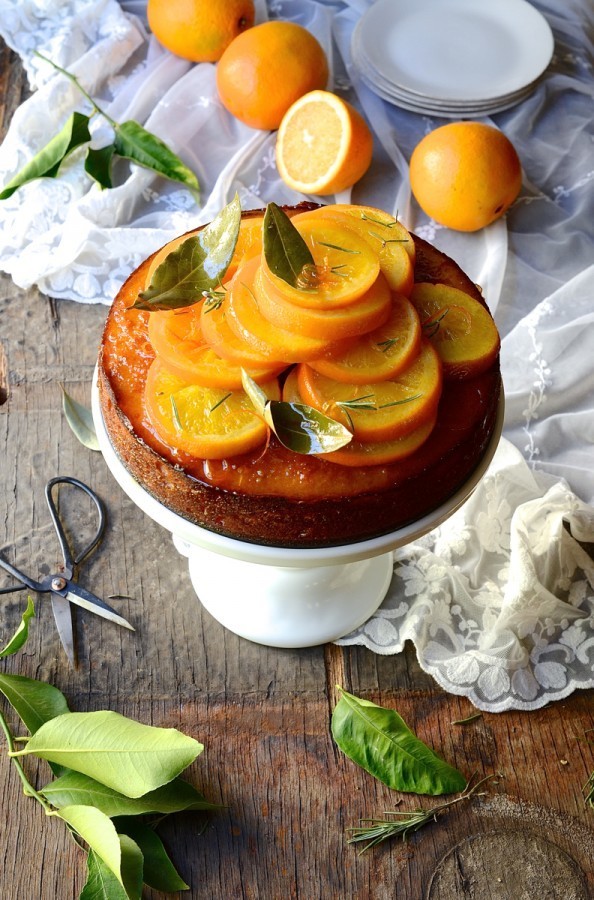 It's mid-August and the count down to Spring has begun. Before we bid farewell to winter, I simply have to share the recipe for this semolina cake. It epitomises the essence of local winter fruits with bright citrus flavours. The taste of pure orange lingers long after the last delectable mouthful. For this Middle Eastern inspired cake I use the whole orange – skin, flesh, the whole shebang. All the essential oils of an orange lies in the skin and it's this intensity that we're after. You only need to peel an orange for the aroma to fill the air. Like nature's perfume neatly packaged in an orange globe.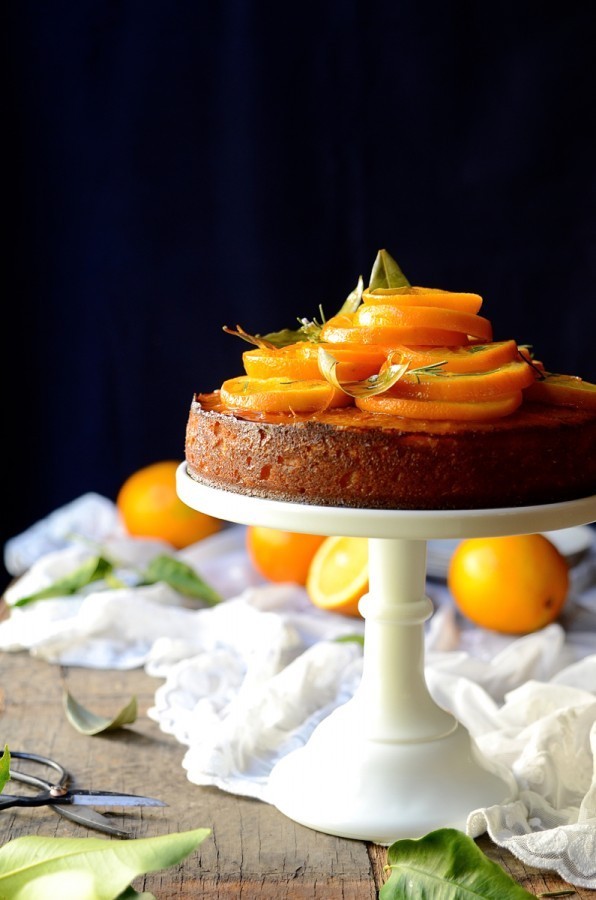 Although I love a traditional frosted cake, I often prefer unadorned fruit cakes, plain and simple. I'm particularly fond of Middle Eastern bakes. They're heavier than sponge cakes and most often contain semolina and ground nuts. Perhaps it's a combination of all of these components that make this orange cake so special. That and the rosemary infused soaking syrup. Combining fruit and herbs makes perfect food sense, creating layers of complex flavours. This sticky herbal reduction seeps into the crumb making it one of my favourite seasonal bakes.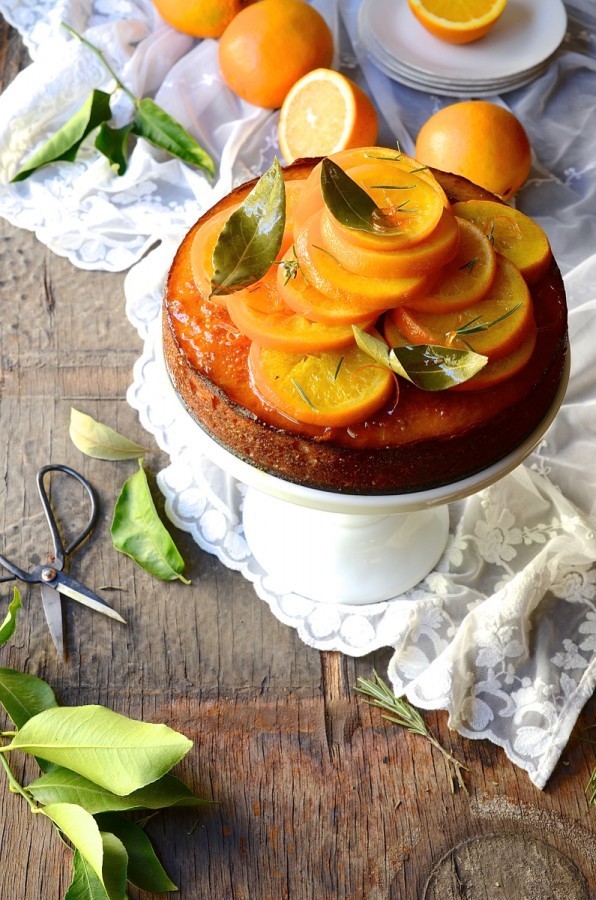 One could easily expect the taste to be on the bitter side, but boiling the oranges whole in several changes of water removes all trace of bitterness. What's left behind is softly poached orange flesh. A quick blitz in the food processor creates a smooth puree that incorporates evenly into the cake batter. I've used cake flour, almond flour and semolina in this recipe, all of which boost the taste and texture. Semolina flour is slightly more granular than cake flour but well suited to denser cakes such as this. Most syrup-soaked cakes keep well and taste even better the day after. It's heavenly served with some softly whipped cream and lemon curd on the side. Orange season is coming to an end so I'd make this delectable cake sooner rather than later.
For more delicious fruited cake recipes that don't require a baker's badge, this blueberry tea loaf is superb. Simple, honest and incredibly good.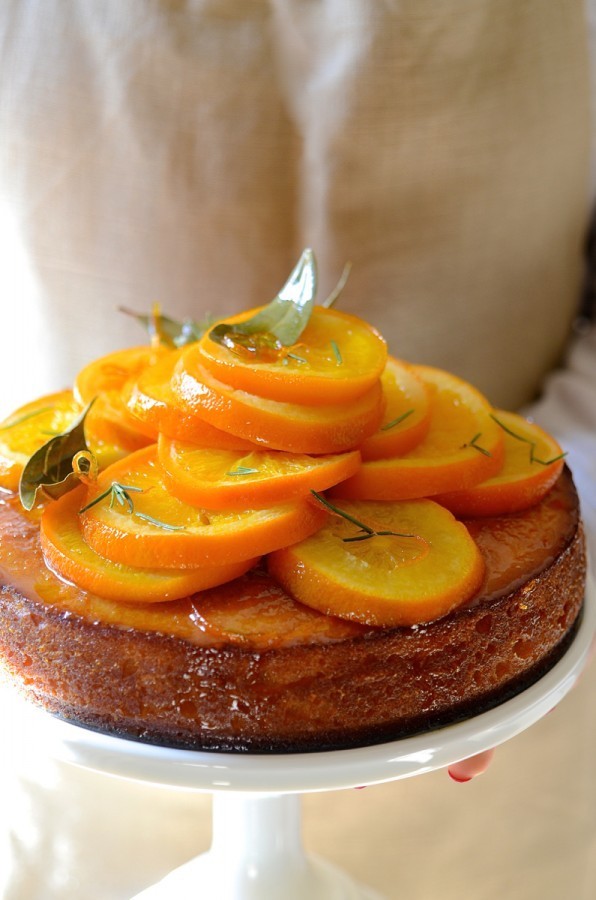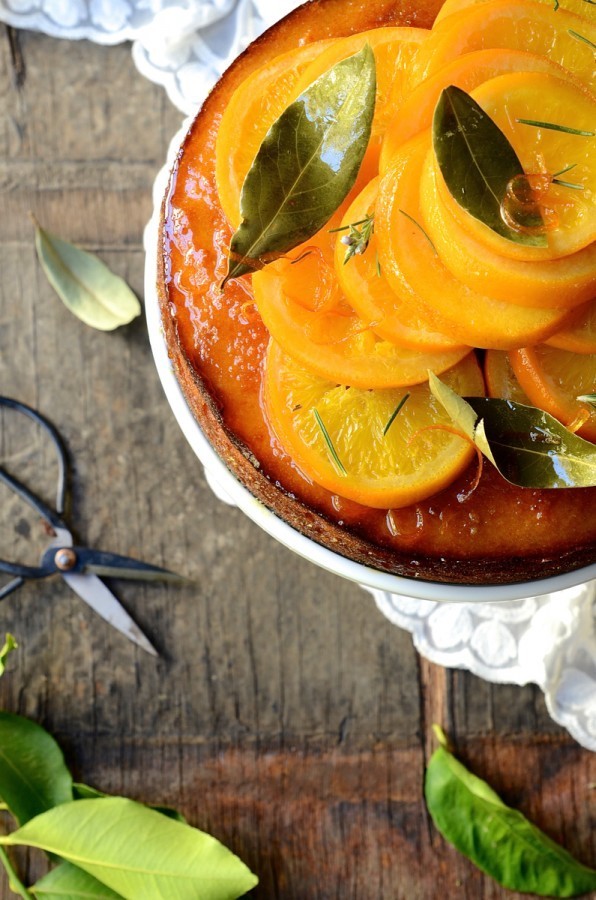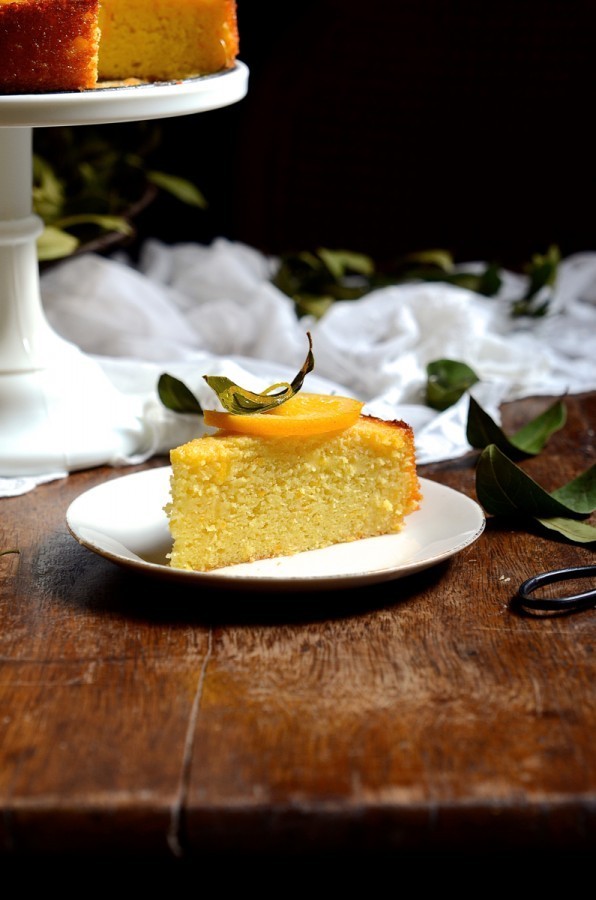 Semolina orange cake with rosemary soaking syrup
Semolina orange cake with rosemary syrup
Ingredients
Semolina orange cake with rosemary soaking syrup


For the cake


2 whole oranges
140g (1 stick plus 2 tablespoons) butter, softened
300g (1¼) cup castor sugar
3 eggs
1 teaspoon vanilla extract
90g (3/4 cup) ground almonds
150g (3/4 cup) semolina
130g (3/4 cup) all-purpose cake flour
1 teaspoon baking powder
¼ teaspoon salt


Soaking syrup


400ml fresh orange juice (juice of 4 large oranges)
60ml freshly squeezed lemon juice
½ cup castor sugar
60ml (1/4 cup) honey
zest of 1 orange
2 stems rosemary
3 bay leaves
Instructions
Place the 2 whole oranges in a large saucepan and fill with enough water to cover. Bring up to the boil, then drain and fill with fresh water.
Repeat this process twice more to remove the bitterness from the oranges. On the last repeat, boil for about 45 minutes until the oranges are completely soft.
Drain and set aside to cool completely. Remove the hard ends, slice and discard any pips are hard membrane. Place the flesh of 1½ oranges in a processor and blitz until smooth. (discard the remaining half)
Preheat the oven to 180º C. Grease and line a 23cm loose-bottom cake tin.
Cream the butter, castor sugar and vanilla until pale. Add the eggs one at a time beating well between each addition.
Sift all the dry ingredients together. Add the sifted flour to the creamed butter and whisk together. Lastly, add the orange puree and beat until the batter is smooth.
Transfer the batter to the baking tin, smooth over the top and bake for about 65 minutes or until cooked through.
To make the soaking syrup, place all the ingredients in a saucepan and boil on a high heat for about 12-15 minutes. At the end of the cooking time, measure the syrup out. You should aim to have about 350ml. Top up with hot water if need be. Set aside to cool.
Slowly ladle the cooled syrup over the hot cake waiting, for it to absorb before adding the next ladle.
Cool in the tin and serve at room temperature with softly whipped cream.