No bake oat and chocolate cookie cups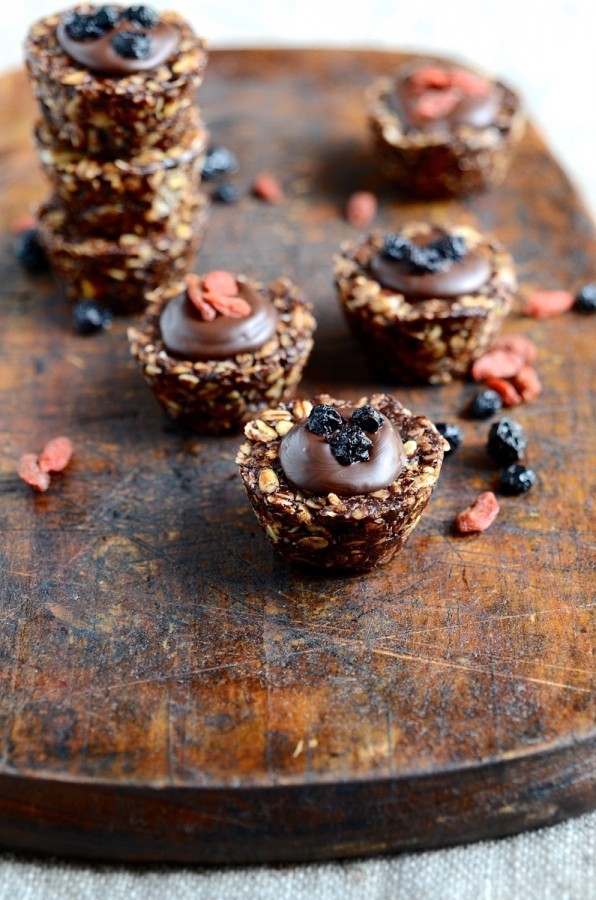 I'm not even going to try and sell these no bake oat and chocolate cookie cups. In fact, when you're this darn cute, who needs publicity? I'm completely hooked, as are my girls who on hearing they're heathy, scoffed the entire batch in one day! Jammed into these nifty little no-bake cookies (yes, another no-bake recipe), are a host of good-for-you ingredients. They're finished off with a splodge of dark chocolate, goji berries and dried blueberries!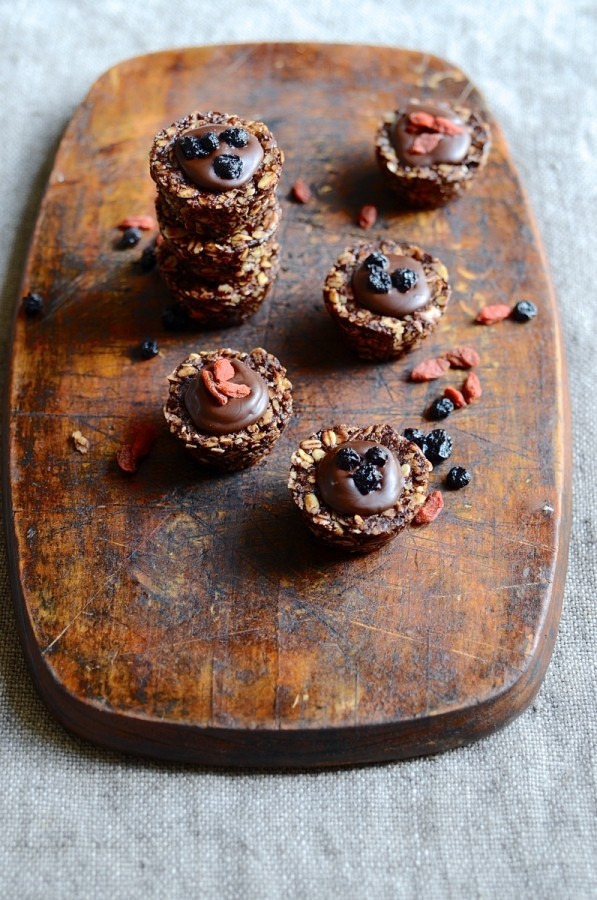 The idea for these no bake cookie cups came from Food Network's The kitchen. Several weeks ago, Katy shared one of her most loved childhood recipes that went by the name of cow-pile cookies? Odd as that sounded, the simple no bake method was the hook. Never one to scoff at easy recipes, I knew these chocolate cookies would be happening soon…. When a sweet craving hits and instant gratification is needed, this is the recipe you want in your arsenal.
Not soon after the 'It's five o clock…… somewhere' chorus, I was off to the kitchen to test the famous cow-pile cookie recipe. A couple of minutes later the baking sheet was lined with rich, chocolatey oat cookies. Obviously no one waits for cookies to cool so I ate the first one hot, the second lukewarm and the third, cooled. Here's the verdict. They're easy as punch to make but overly sweet. Moving forward, I decided to hit them with the healthy stick so that we can eat a whole bunch – guiltlessly. And now they're juuuuust right. Loving these cookie cups!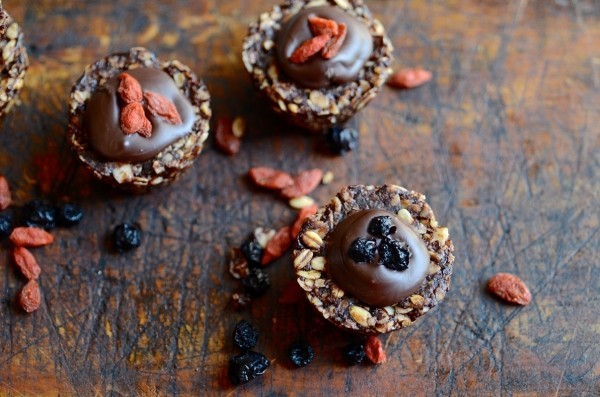 I've sub'd the butter for coconut oil, reduced the sweetness drastically and replaced the sugar with honey. Things are looking more respectable already. A hefty handful of almond flakes and nut butter added crunch and boosted the flavour. And because a cookie is always better with chocolate, a blob of dark chocolate studded with goji berries or whatever else takes your fancy, goes on top. Instead of flat cookies, I pressed the sticky oat mixture into mini muffin tins to make handy-sized cookie cups. If you don't have mini muffin tins, just spoon the cookie mixture onto a greased baking sheet and leave to cool. Easy, healthy and very more-ish.
For more no-bake ideas, these two recipes are perfect to add to your quick and easy recipe collection: Caramel and walnut chocolate tart and Muscovado cream chocolate tart with frosted berries.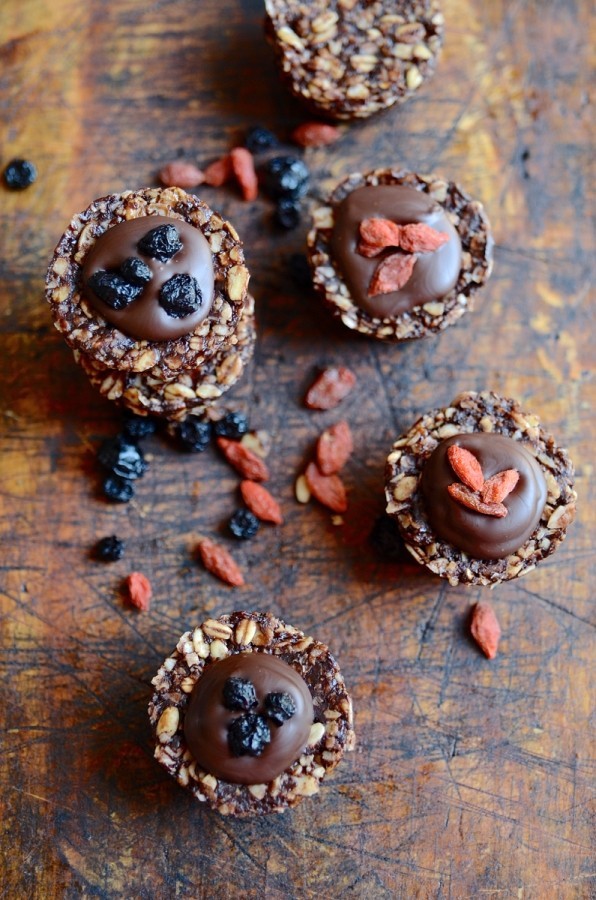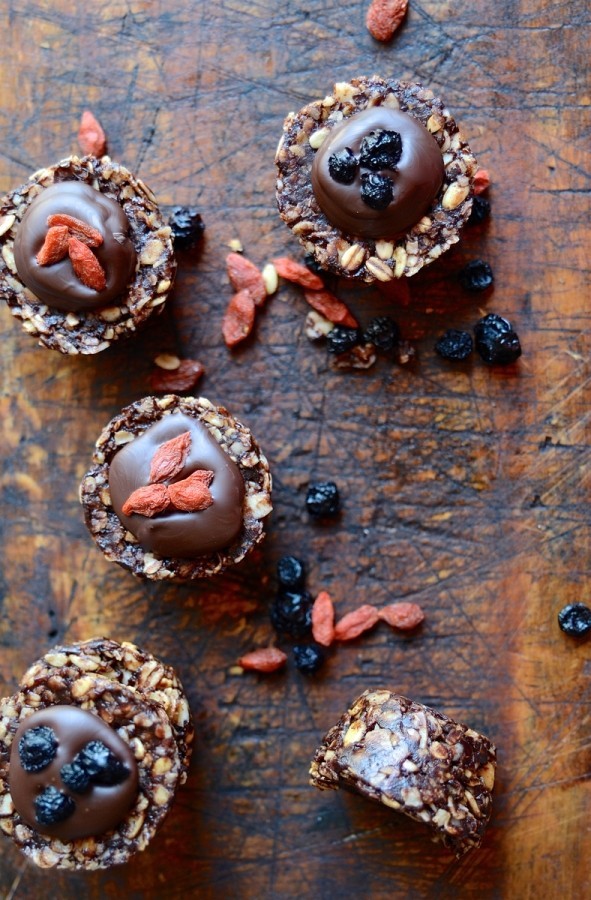 No Bake oat and chocolate cookie cups
No bake oat and chocolate cookie cups
Prep time:
Cook time:
Total time:
Ingredients
No Bake oat and chocolate cookie cups


3 tablespoons (45ml) cocoa powder
¼ cup (60ml) almond or any other nut butter
2 tablespoons (30ml) almond milk or regular cow's milk, if you prefer
3 tablespoons (45ml) coconut oil, melted
¼ cup (60ml) honey or maple syrup
pinch of salt
1 cup porridge oats
½ cup whole rolled oats
½ cup almond flakes
50g dark chocolate, melted
1 tablespoon of each, dried blueberries and goji berries
Instructions
In a saucepan, combine the cocoa, nut butter, milk, coconut oil, honey and salt. Bring up to the boil, whisking all the while.
Remove from the heat and stir through the oats and almond flakes.
Place tablespoon amounts onto a prepared baking sheet or press into a greased 12-hole mini muffin tin. Chill until firm before un-moulding.
Spoon a small amount of melted chocolate onto each cookie cup and stud with berries and set aside until firm.
Store in an air-tight container in the fridge.