Granola choc-nut super bars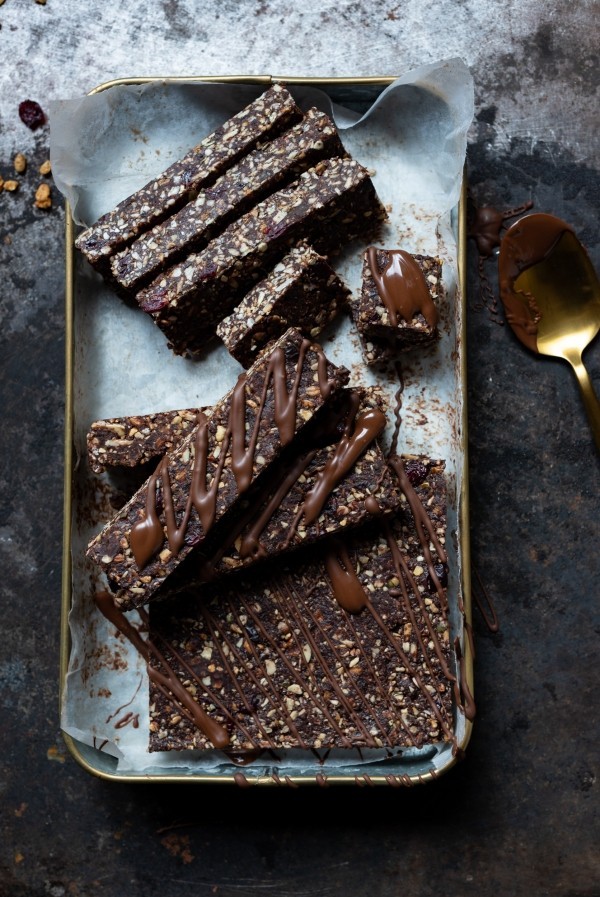 It started 30 years ago, about the same time as my first visit to Israel. Unsure of what food to expect on a traditional working Kibbutz, I figured snacks would come in handy, which saw me cramming granola bars into unimaginably tight luggage spaces. Turned out, I was right. Granola bars are always a good idea.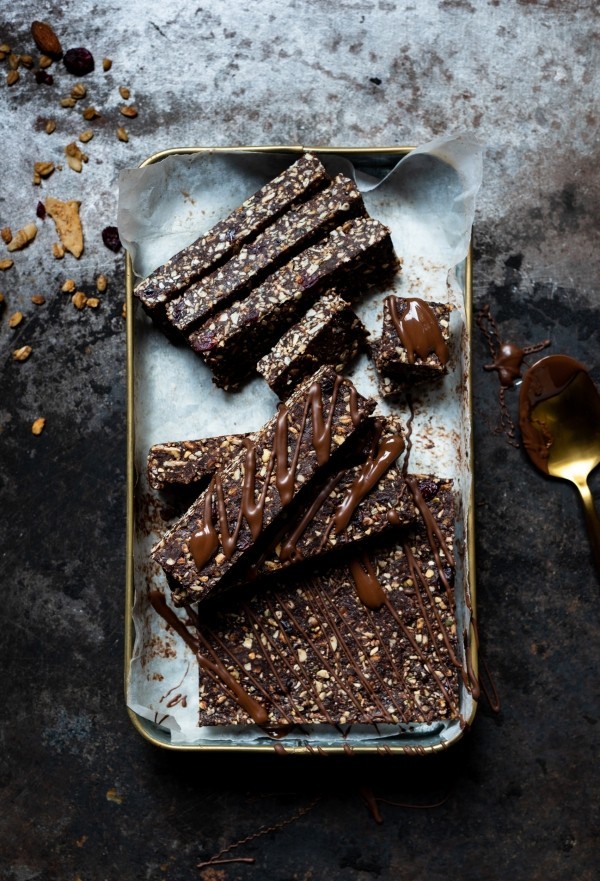 Since then, I've made more granola bars than I can remember. Some exceptionally good and others, best forgotten. These granola choc-nut super bars are currently our new favourite bars. I planned on making them for an up-coming cooking class, but they're so good and simply had to be shared.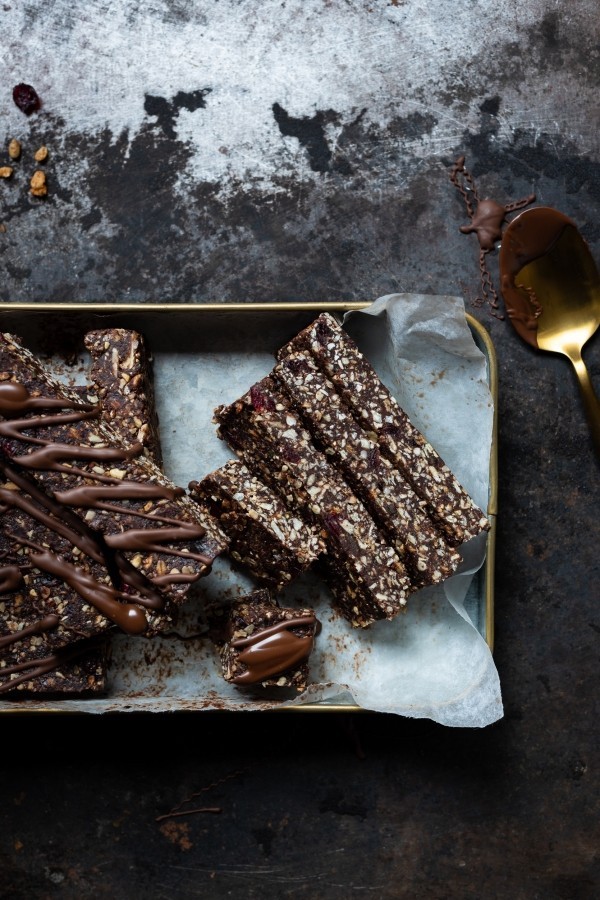 As chief cook in the house, I have rules. Not complicated ones, but challenging, it seems. Any thoughts of weekly meal prep are a lost cause. What's meant to last a week barely makes it to day three. Honestly, I think day two is a stretch. I've even resorted to sticking post-it instructions on food. Mostly it says, DON'T EAT! FOR A SHOOT. I did however manage to keep a tray of these granola bars hidden long enough to shoot the next morning. After that, it was business as usual. They keep best chilled, for up to one week.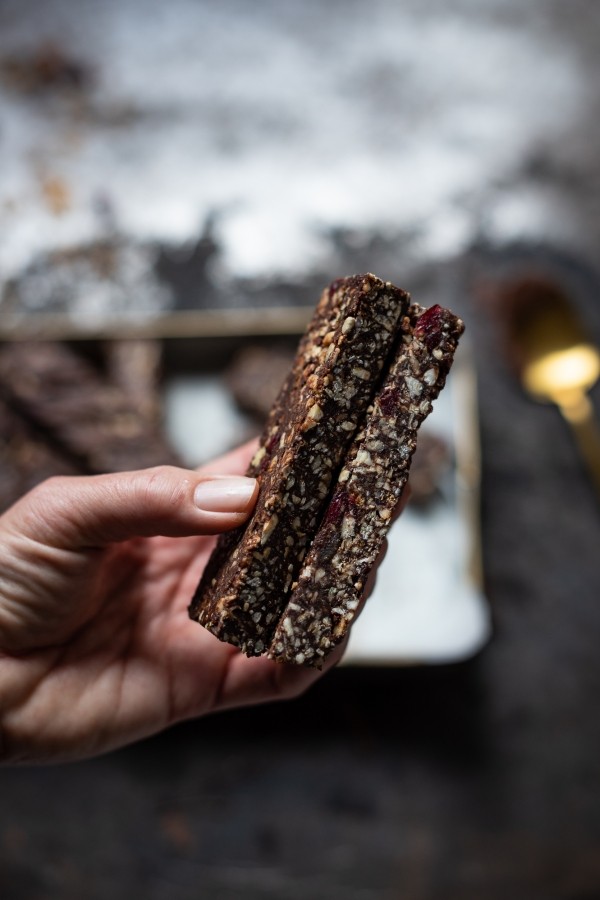 What you can expect from these chocolatey treats.
Dark cocoa richness
Homemade granola
Sticky Medjool dates
Toasty nuts and seeds (almonds, pecan, sunflower & pumpkin seeds)
Pops of fruity cranberries
Cook's note: I use this Granola recipe. For a vegan friendly version, remember to replace the honey with maple syrup or a suitable substitute. Afrikoa happens to stock vegan-friendly dark chocolate, which I highly recommend. You can order on-line or find their range at selected retail outlets.
Granola choco-nut super bars
300g (2 cups) vegan granola, or other preferred type
60g (1/2 cup) sunflower seeds, toasted
70g (1/2 cup) pumpkin seeds, toasted
50g (1/2 cup) pecan nuts, toasted
30ml (3 tbls) cocoa powder
1 teaspoon ground cinnamon
pinch of sea salt flakes
180g (12 large) Medjool dates, pitted
15ml (1 tbls) maple syrup
60ml (4 tbls) Lemcke coconut oil, melted
30ml (2 tbls) hot water
5ml (1 tsp) vanilla extract
100g dark chocolate (70%), melted
45g (1/3 cup) almonds slithers, toasted
1Ž/2 cup dried cranberries
Line a 25cm square baking tin with parchment paper. Extend the paper on opposite ends by 4cm to create 'handles' which makes lifting the chocolate slab out, easier.
Place the granola, sunflower seeds, pumpkin seeds, pecan nuts, cocoa, cinnamon and salt in a processor. Blitz until to a coarse breadcrumb texture. Tip the granola into a mixing bowl.
Add the dates to the processor and blend until broken down and sticky. Add the maple syrup, coconut oil, hot water, vanilla and melted chocolate. Pulse once more to combine.
Add the chocolate mixture to the granola, along with the almonds and cranberries. Mix thoroughly until the granola is evenly coated.
Tip the mixture into the tin and press down firmly to compact. Chill for at least 2 hours. Loosen the sides with a smooth-bladed knife and transfer the slab to a wooden board.
Slice into bars. Store the Granola choc-nut bars in the fridge in an airtight container.
For the chocolatiers, among us.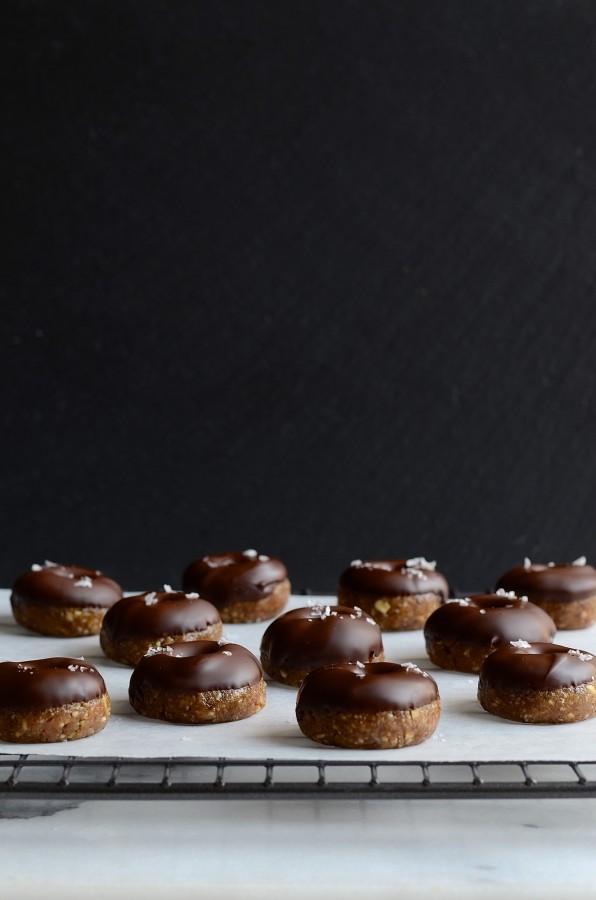 African Amarula gilded chocolate truffles